Sure, a home needs to be practical. But that doesn't mean that it has to be boring. Injecting some high impact wall and flooring treatments into your space will set it apart from the ordinary.
Paint some interesting graphic feature onto your wall

While a bedroom, or any room for that matter, should contain no more than three colours, this warm spectrum of painted hues presents an ideal balance of visual interest. It lights up the sleeping quarters with a striking ensemble of hexagonal shapes, and all without compromising on the restful nature of the bedroom.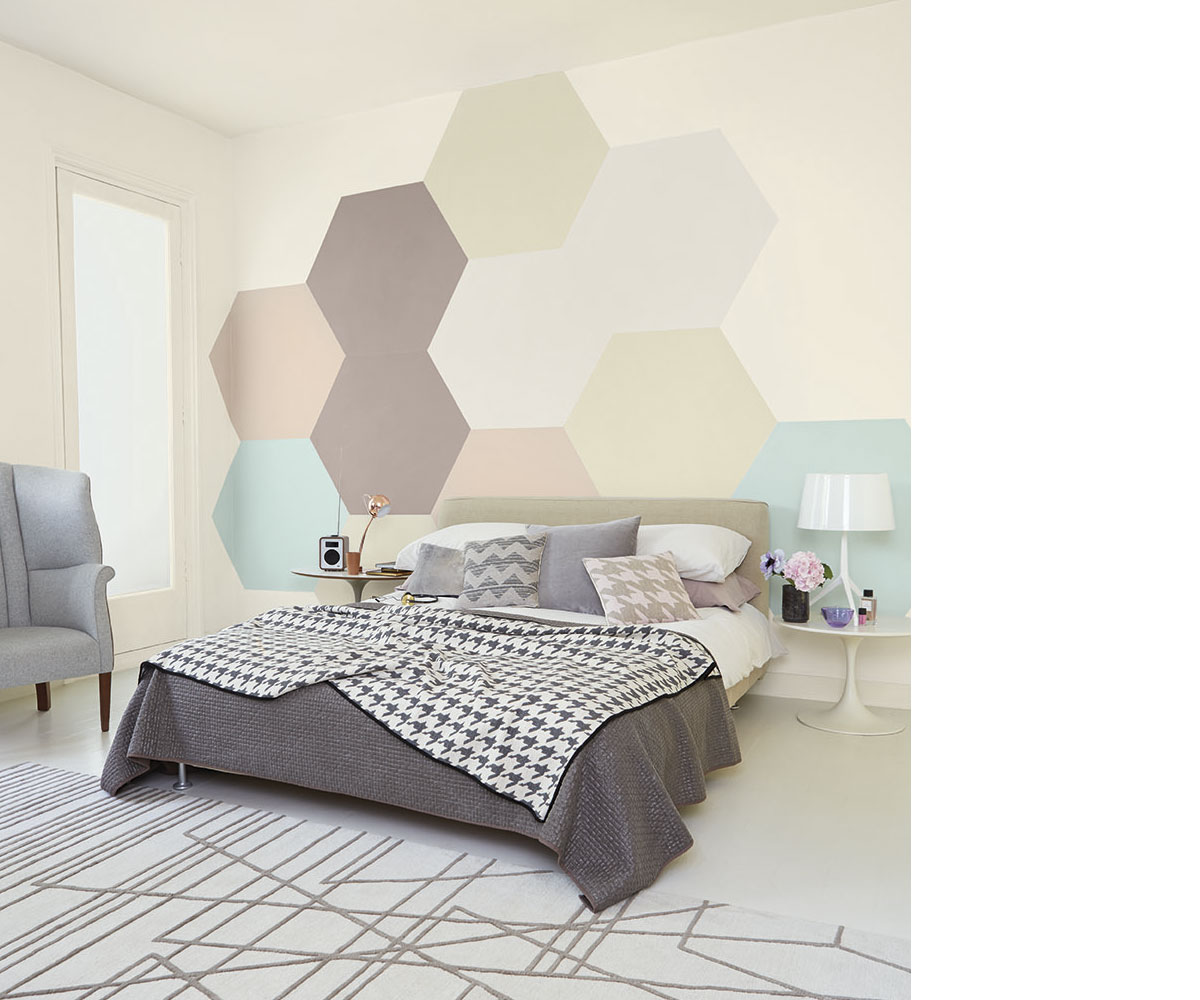 Image credit: Dulux
Sparkling with simple elegance, these painted diamond motifs make a great DIY weekend project. Simple tools like paper and a level ruler are all it takes to get started. For more details, check out Dulux Singapore's instructional video. 
Remember that punchy, patterned wallpaper can pile on the visual drama
An overkill of busy-looking wallpaper can cramp your home's style and most of all, make it look cluttered. It's best to identity areas you want to highlight and then wallpaper that part of the wall with the bolder prints.
Brick walls have become quite the go-to style in recent years but if you are looking for something less permanent, wallpaper would be your best bet. Installation would be more straightforward and removal will also cost less when you want to swap it for another style.
Pick stunning room-transforming tiles 
There are three main tile designs in this kitchen and each has a role to play. Peranakan-style tiles demarcate the freestanding island counter from the main kitchen counters, which are helmed by a honeycomb-tiled backsplash. Neutralising all these strong motifs are the wide flooring tiles that are in grounding cement screed style.
Monochromes like black-and-white stripes or checks will always render a very strong look and when applied in this living area, it exudes a sassy sixties vibe. The glossy finish further adds a glamorous and space-enlarging effect.
Go for laminates with woodgrain finishes to add an elegant flair
Making a stylised statement here is the laminate divider that sports intricate-looking shapes. Recessed lighting helps to play up the details of the woodgrain finish and casts a cosy resort-inspired style to the bedroom.
The natural beauty of a veneer backdrop speaks for itself by illuminating the study with a sense of sophistication. These woodgrain strips are further highlighted by the streamlined line-up of the white shelving.
This was adapted from an article originally written by Disa Tan in the July 2016 issue of SquareRooms.