With a typical HDB flat costing an average of $50,000 to refurbish, it can be cause for financial anxiety. Whether you are considering a minor cosmetic revival or a major overhaul, solid planning and research is critical, here is an approximate price guide to help you stay within budget and still realise your renovation dream. 
Flooring materials

Whether you choose to use tiles, laminates or natural stone for your home, the right one can add depth and interest to any interior. From marble to mosaic, different flooring materials come with different price tags. Total cost depends on size of area as well as the type of material chosen, and the cost of labour which includes foundation and placing of tiles.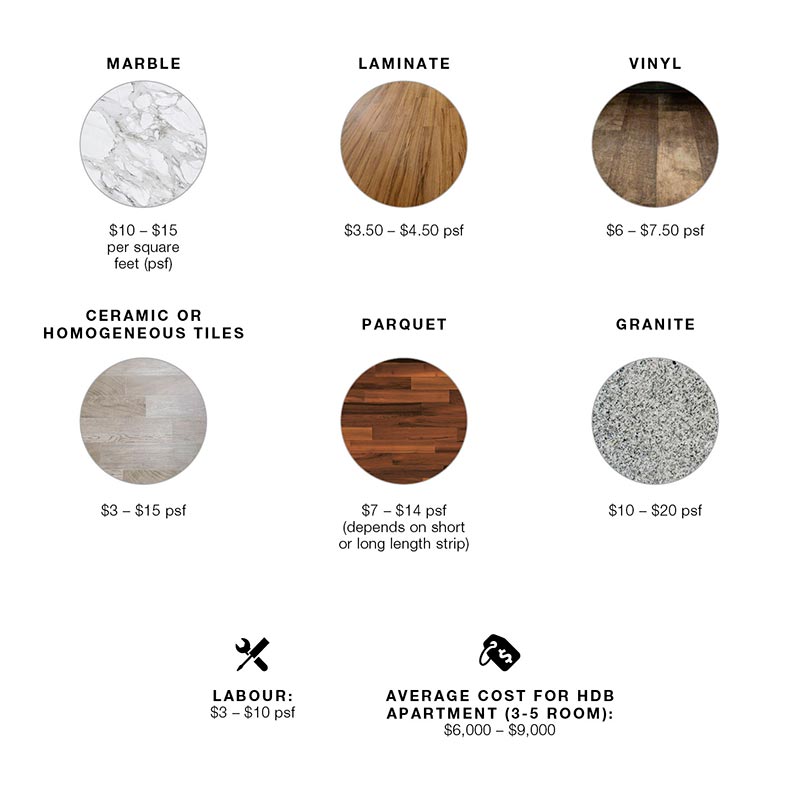 Hacking of walls

Demolishing walls, partial or full, helps to free up space in a particular area or replace existing concrete walls with lighter and more sophisticated dividers. Costs depend on the size, thickness and amount of hacking needed.

Fixtures

Deciding on the right lighting and plumbing fixtures for renovation can make a big difference in both the style and function of your living space. The costs involved come down to the amount of installation work required, such as the number of power points, lighting points and cable points. Concealment of wires and plastering are usually billed separately. Prices for fixtures depends on their quality, size, type and brand.
Electrical points: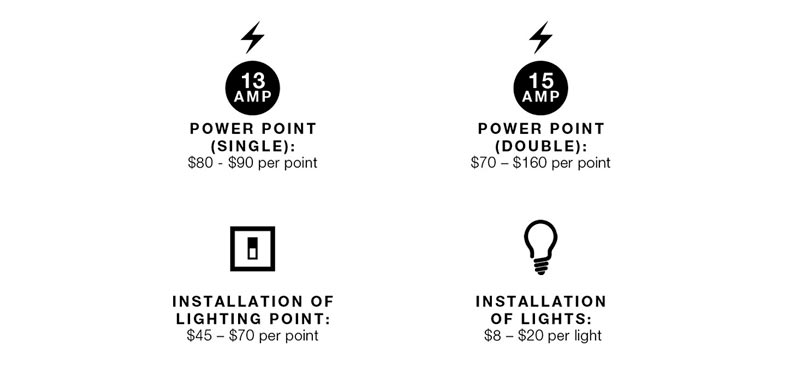 Fixtures: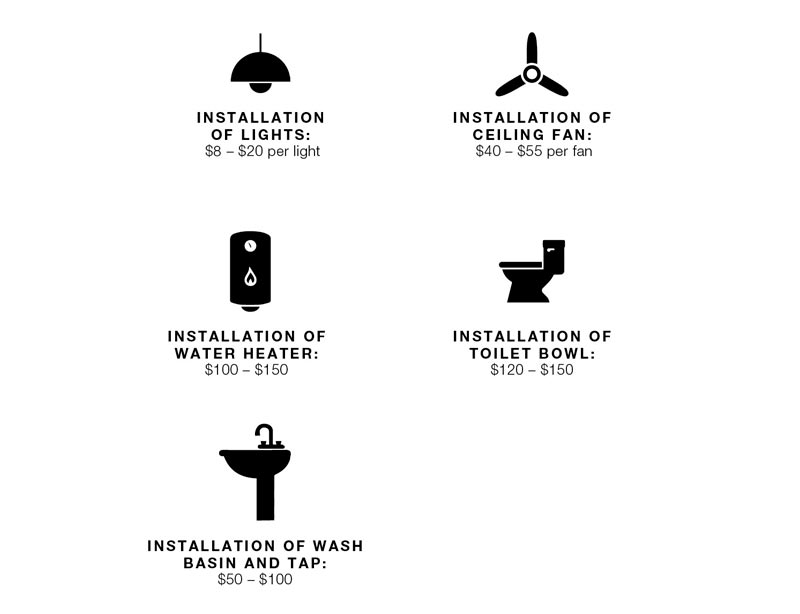 Disclaimer: Costs are based on estimates from various sources and interior designers. Prices may vary depending on merchant, quality and type of work required.
Cabinets and storage

Besides keeping things neat in your home, cabinets add life and lend a distinctive character to your home's interior, particularly when it comes to the kitchen. The cost of building cabinets depends on the materials used and the amount of workmanship required.
Living Room

Kitchen


Study


Bathroom

Financing your renovation

Savings alone may not suffice when it comes to financing a renovation. The next best alternative would be to raise the amount via a loan. A renovation loan usually has a considerably lower interest rate compared to personal loans, as well as less stringent income requirements. Most of the major banks and financial institutions in Singapore offer renovation loans, with the maximum amount granted capped at $30,000. Interest rates vary between 4.38% to 5.38% per annum for a five-year loan tenure.
Here's an overview of reno loan rates at press time:
POSB: 4.38%
DBS: 4.88%
RHB: 5.37%
CIMB: 5.37%
Maybank: 5.38%
OCBC: 5.38%
This was adapted from an article originally written by Puvanes Balakrishnan that appeared in Key To Your Home 2016