In most contemporary homes, kitchens often see use as a space for family and friends to cook, eat and unwind after a long day at work. For this reason, it is no exaggeration to claim that these spaces are the social centres of each and every home, regardless of their shape, size, or look. However, first impressions are lasting ones, be sure to create a kitchen that will stun your loved ones, rather than a space that they will shun.
Here are 7 kitchens with absolutely stunning designs for you to get inspired by.
1. Home oasis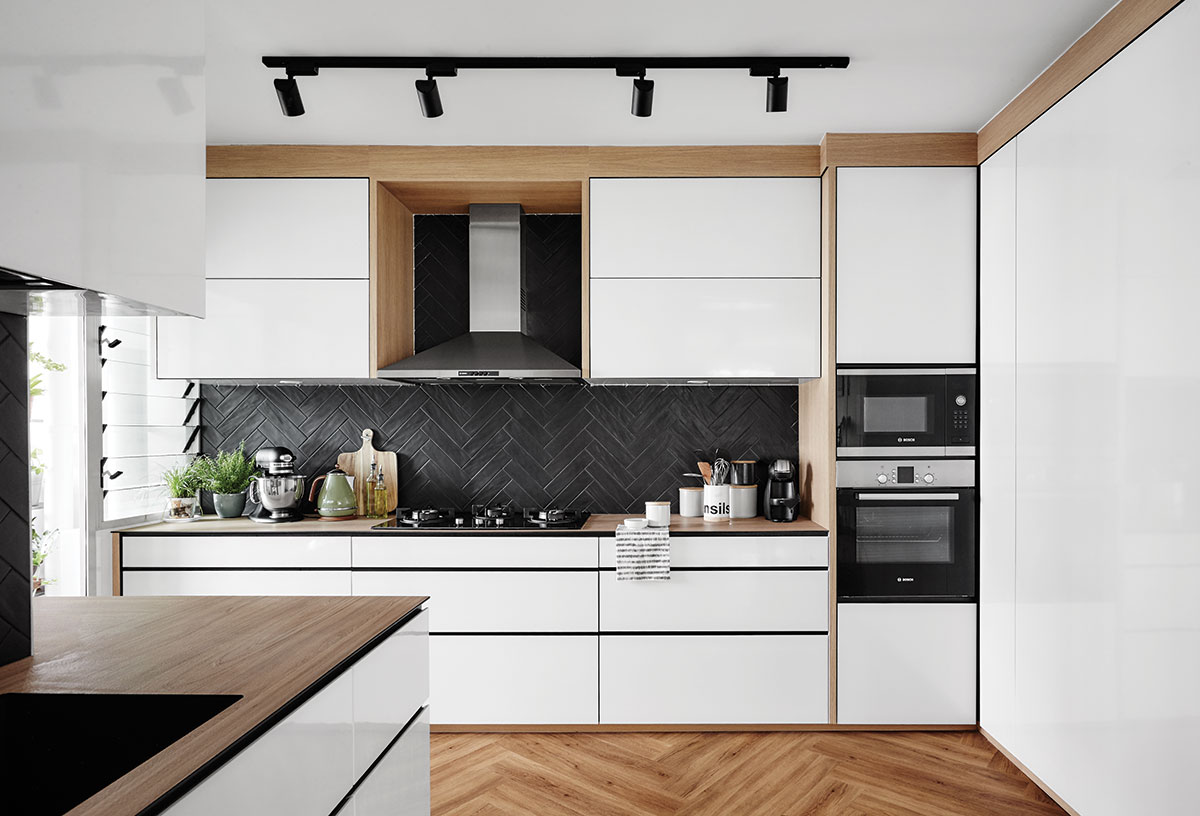 Image credit: Wong Weiliang
Sporting oak-effect laminates and timber-effect vinyl flooring, this kitchen's design was personally created by the homeowners, who wished to have a natural look throughout their abode. To add visual interest to the kitchen space, both the backsplash and flooring feature an eye-catching herringbone pattern that stands in contrast to a series of smooth cabinet doors dressed in glossy white.
2. Go indigo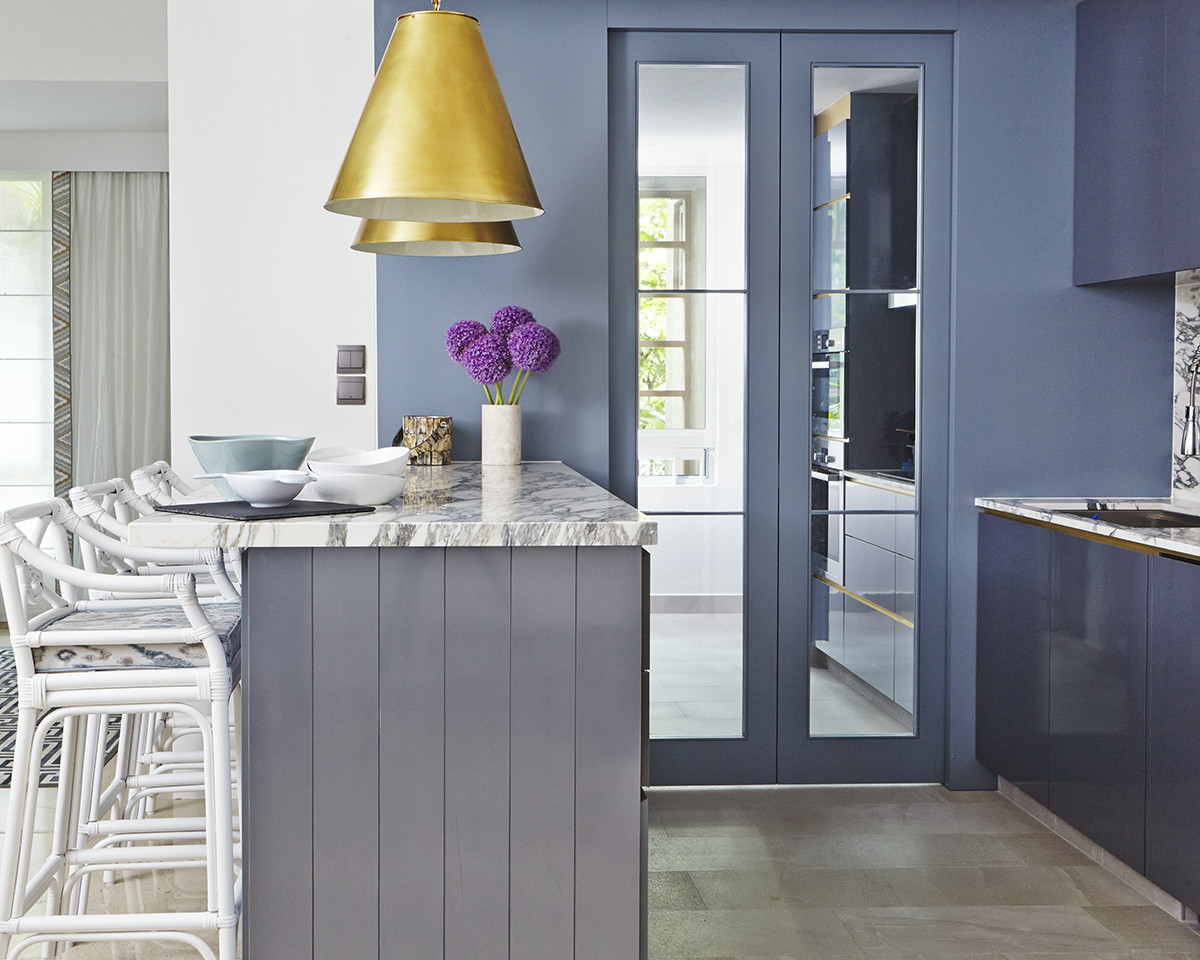 Image credit: E & A Interiors
Interiors that make use of varying shades of blue tend to inspire feelings of relaxation, comfort, and balance. In this dry kitchen, shades of indigo blue were used for the wall surrounding the entrance to its wet counterpart. To create a complementary colour contrast, a more muted shade of Prussian blue was chosen for the underhung and vertical cabinets that sandwich the kitchen sink.
3. Woodgrain whimsy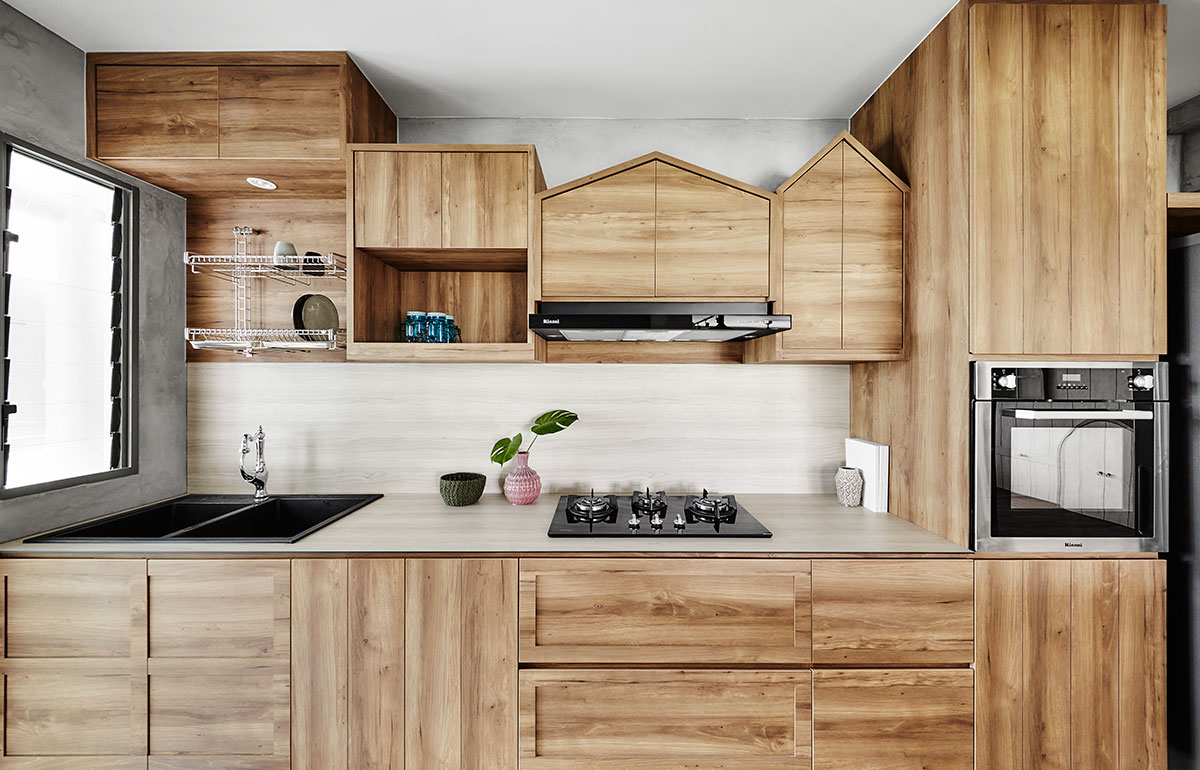 Image credit: Dan's Workshop
A distinctive mixture of vertical and horizontal woodgrains found in the kitchen cabinets emphasises a harmonious relationship between surfaces despite being orientated differently. To further reinforce the cottage-like feel of the entire space, a number of cabinets were given slanted tops that bring to mind the pitched roofs of real-life European houses.
4. Rugged beauty
Image credit: Mesh Werk Studio
Raw surfaces, such as unvarnished woods and cement screed, give this kitchen a rustic feel that is best described as rugged, yet beautiful. The front of the kitchen island also shows off a copper blue layer that resembles a worn-out brick wall for an attention-grabbing look. Finally, Peranakan-inspired tiles used for the kitchen's backsplash add a punch of colour to the space.
5. Vertical vaults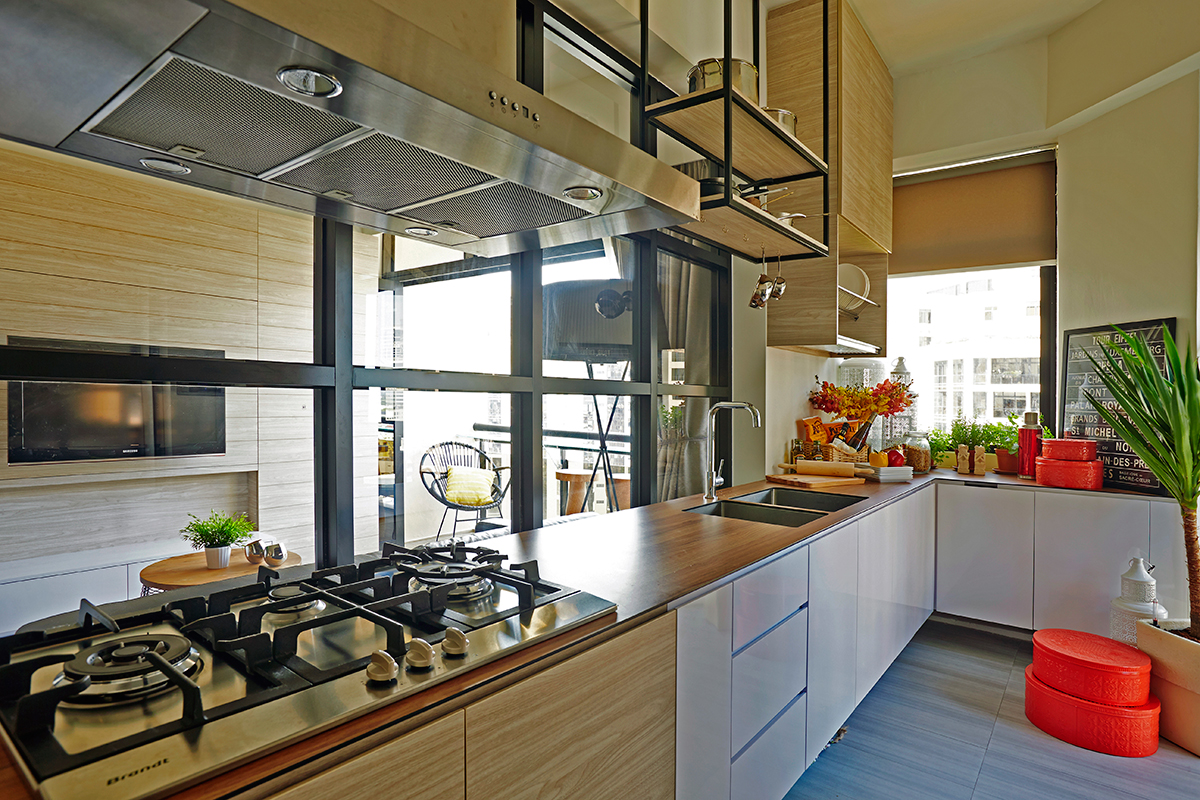 Image credit: Minimology
In addition to a floor-to-ceiling panel of windows, this kitchen features plenty of vertical storage options, including ceiling-mounted cabinetry, pan hooks and shelves. Wood-effect cabinet laminates lend a natural feel to their surroundings, thanks to their purpose as waterproof overlays that come with all the character of real timber.
6. Moroccan magic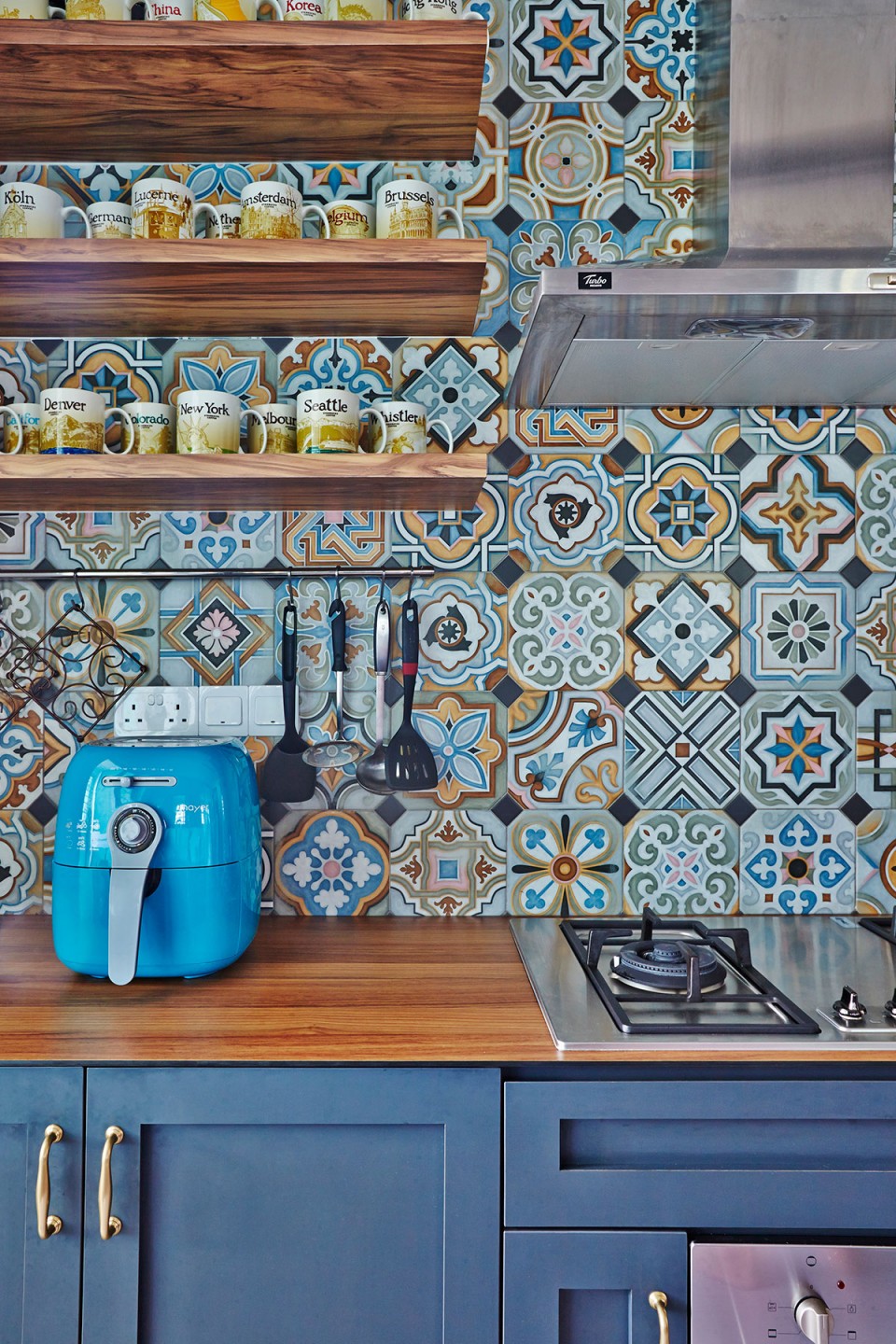 Image credit: Fuse Concept
Exotic Moroccan tiles come together to create an interesting backsplash, while cabinets clad in a pleasing tone of blue embody both form and function within this compact kitchen. A series of shelves in teak tones lighten up the space visually, in addition to allowing the homeowners to display their collection of mugs for easy access.
7. Winning windows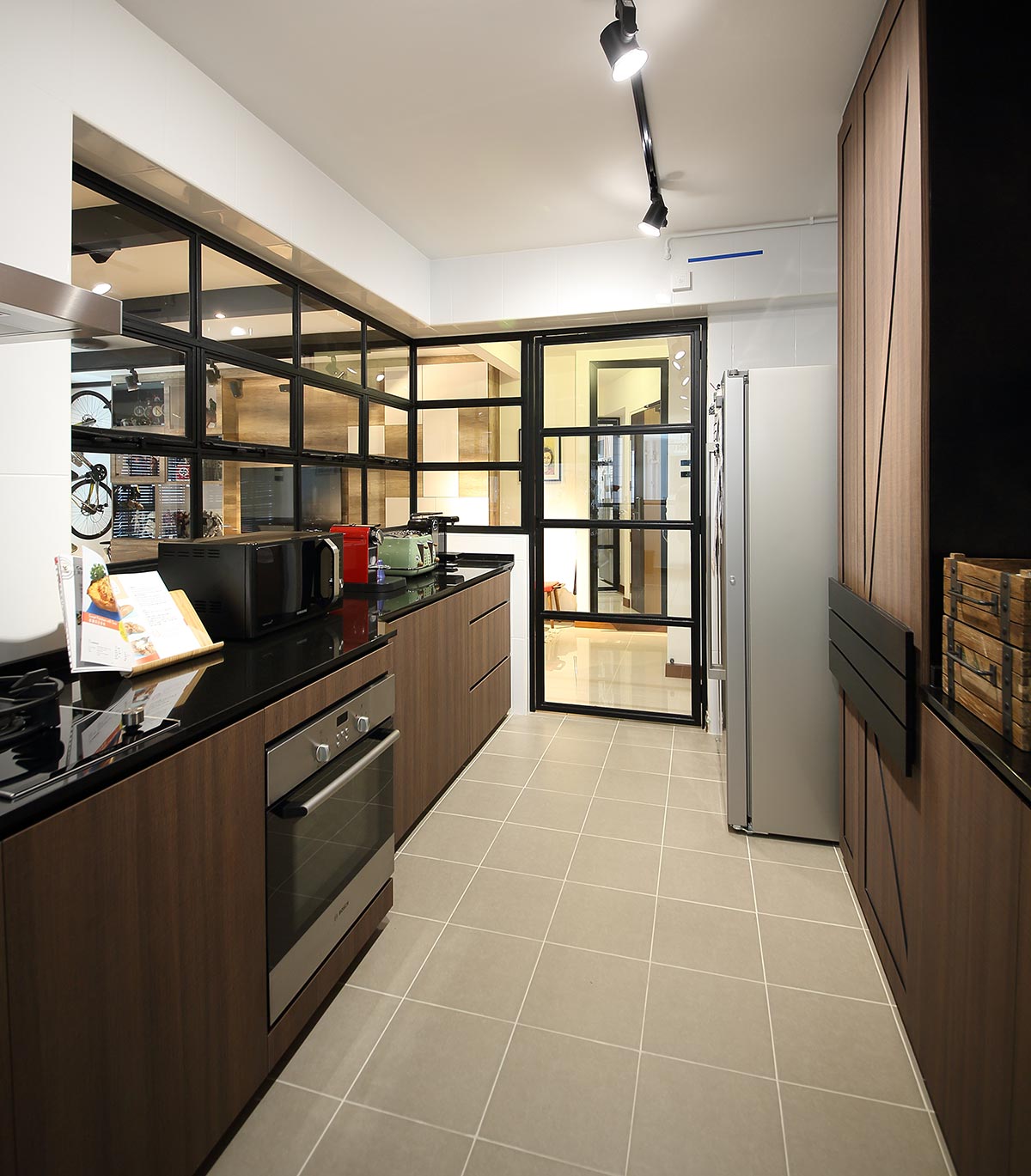 Image credit: Space Sense Studio
While open-concept kitchens are all the rage due to their perceived spaciousness, the lack of barriers can pose a cleaning problem when cooking fumes spill over into other spaces. To solve this conundrum, one of the walls was removed in this kitchen and replaced with a glass window structure to ensure both cleanliness and visual openness.