Transform your bathing space into a spa-like haven where you can escape it all with these stylish yet super easy DIY projects.
Sleek and sexy bathroom storage 
Do away with those sterile bathroom rods and install this striking graphic towel hanger instead. To make, simply cut copper pipes into equal lengths and use twine to connect all four pieces. We added a few wooden beats at each end for a decorative flourish.
And why buy a fancy bathtub tray when you can easily make one from a photo frame and cabinet handles? We purchased this long glass frame from Spotlight and glued some cabinet handles to the sides for this super easy DIY project.
Chic soap dishes
How's this for a one-of-a-kind soap dish? We made these rustic-looking ones using jar lids spray-painted white and round wooden planks bought from the art supply store.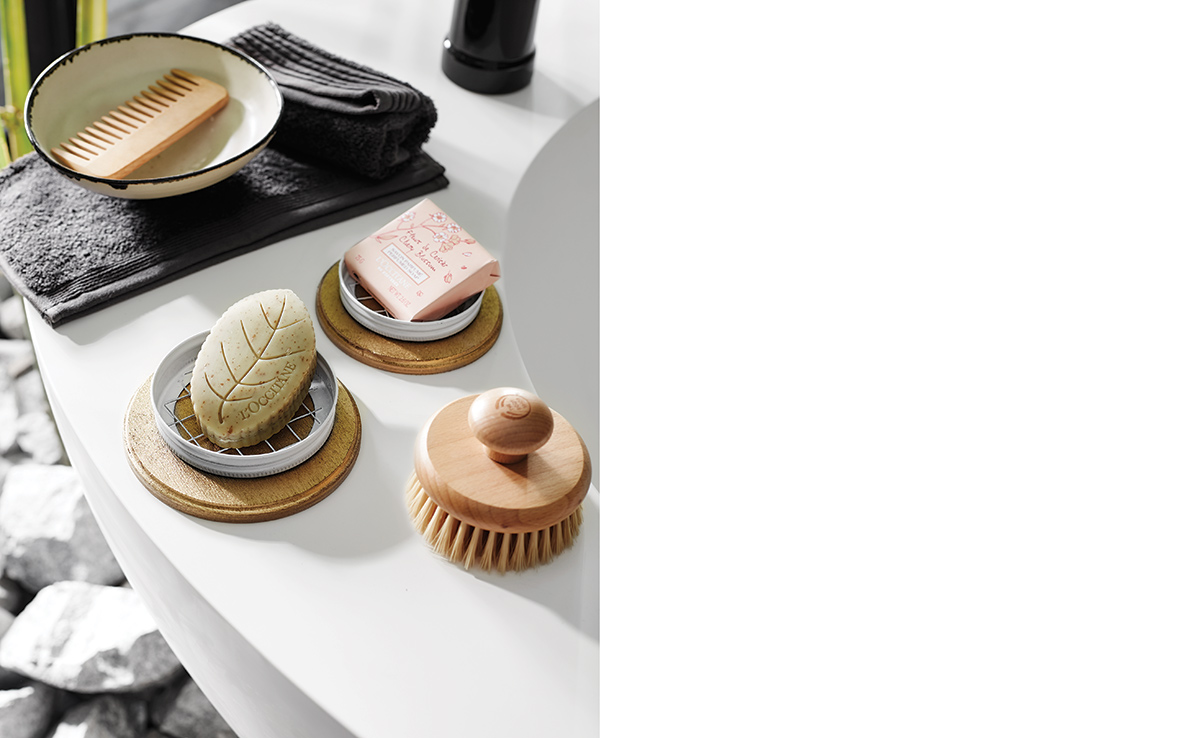 Dressy vanity receptacles
Elevate basic glass receptacles with this effortless DIY idea: cover certain parts of the pieces in an on trend rose gold metallic paint. You can even get creative and form patterns on the surfaces by using masking tape to mark out areas you don't want to colour.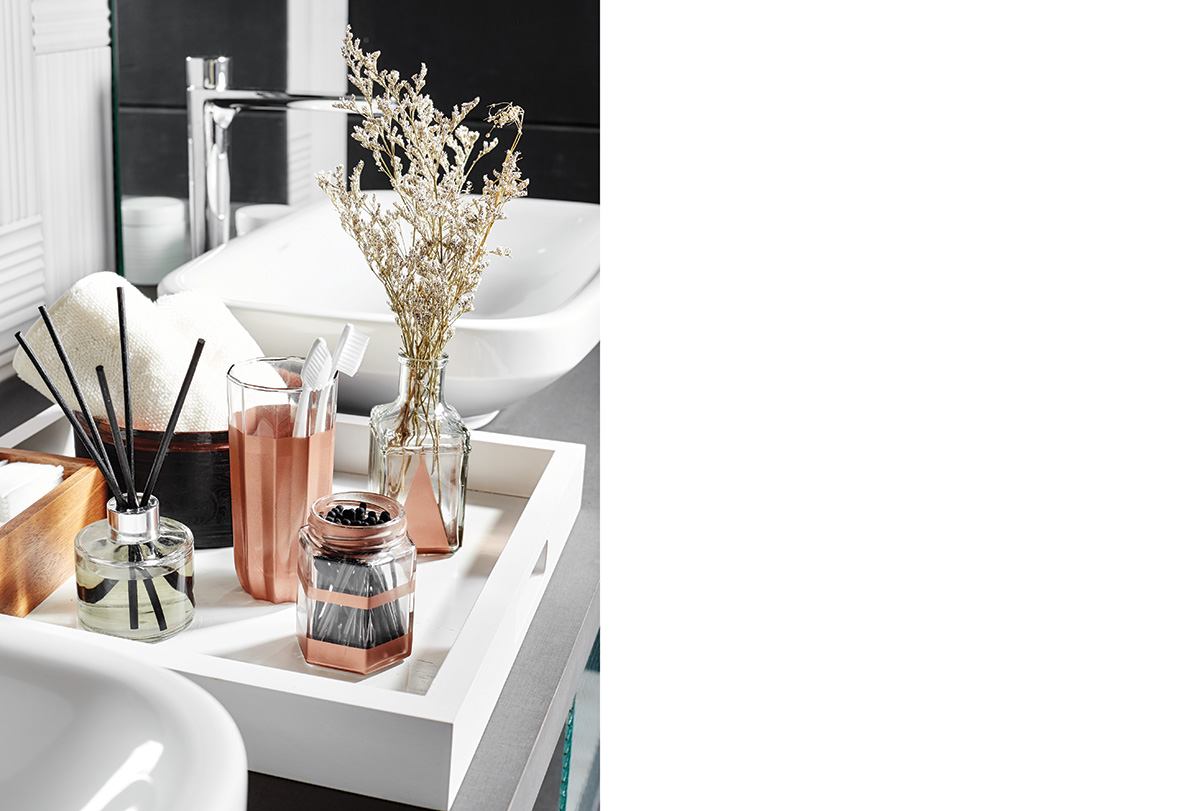 Stylish geometric towel hanger
Here's a cool way to hang your hand towels just about anywhere. Cut a leather piece into a long strap, bend it in half and attach it to a metal ring. Glue them secure and nail to the wall.
Gilt-tinged bathroom wares
Update those boring plain glass jars by spray-painting the bottom half and lid in a classy gold shade. This is a two-minute task that will add an ultra luxe touch to your bathroom vanity. And believe it or not, we made an expensive-looking candle holder by combining a jar lid and a drinking glass. We simply spray them with gold paint and glued them together using industrial-strength glue.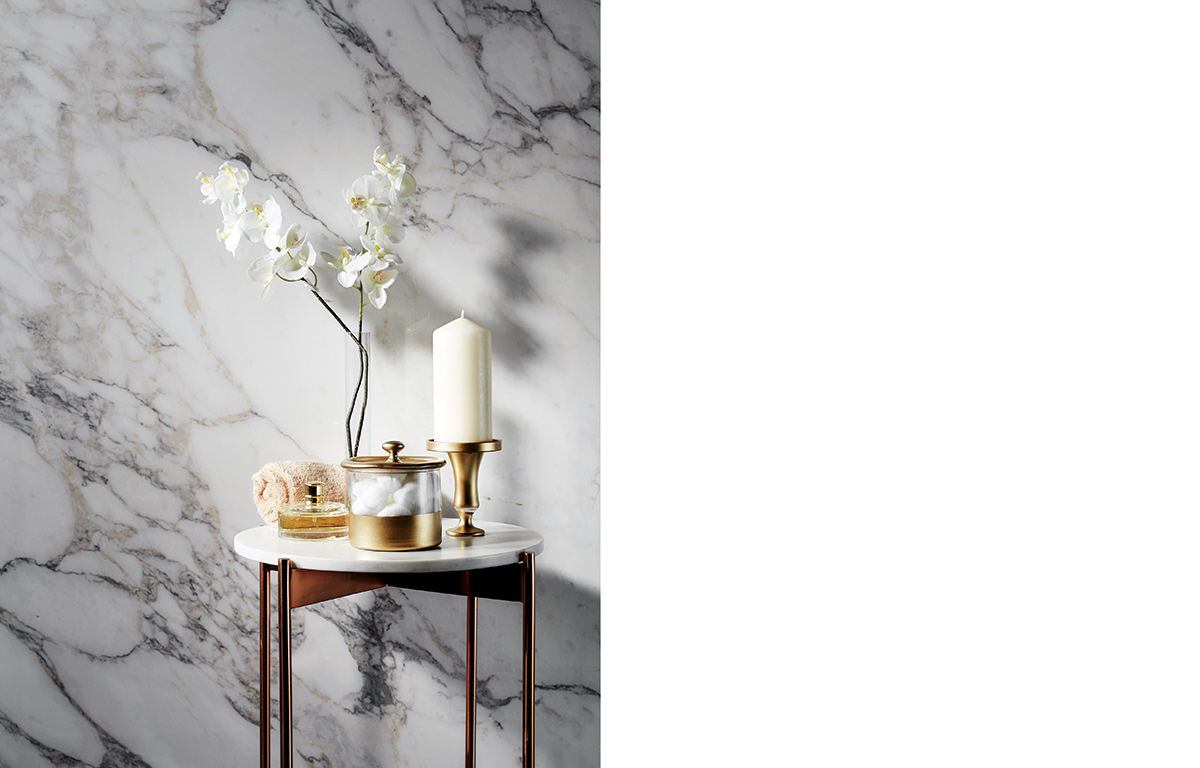 This was adapted from an article originally published in the February 2017 issue of SquareRooms. Photos by Wong Weiliang; craftwork and art direction by Geraldine Tan and Linda Setiono.