Kitchens can take up a hefty chunk of your reno expenditure, so you wouldn't want a space that brings regrets like frequent breakdowns or being outdated after a few years. Invest wisely in surfaces, fixtures, fittings and appliances that can stand the test of time, and a layout that can adapt to changing lifestyle needs.
High-performance surfaces
Whether it's for demanding kitchen needs or ease of cleaning, these surfaces are built for practicality and long-term durability.
Made of 80% quartz sand and 20% hardy acrylic resin, Franke's Fragranite sinks remain unscathed by short-term exposure to boiling water temperatures of up to 280°C, drop impacts and accidental scratches from knives and forks.
Perfect as a sleek backsplash or as countertops, the EDL Compact series is only 10mm thick but offers incredible resistance to heat, impact, moisture, stains and scratches.
Upping the ante of surface resistance is Caesarstone's Outdoor collection. Used for both outdoor and indoor spaces, this matte and UV-resistant quartz surface can tolerate high heat, harsh sunlight and other weather elements.
A resilient kitchen surface that stands up to daily life is important. Banita Mishra from REHAU points out the factors that can wear your kitchen down quickly.
As a multipurpose space where you prep food, clean dishes and possibly have your meals, the kitchen experiences high levels of activity that make it prone to bacteria exposure and growth.
Due to regular heavy cooking and washing sessions, the temperature and humidity levels here are typically higher here than elsewhere in the home.
Cutting and chopping directly on countertops increase the chances of scratching and damaging your surfaces.
Oil, dirt and food residue are commonly left behind after food prep so cleaning is essential. Abrasive cleaning products may scratch and etch the counters and cabinets, causing them to gradually lose their colour and shine.
Mindful planning
Giving meticulous thought to your usual kitchen routine and where everything needs to be will pave the way to a cooking zone that functions well in the long run.
Often overlooked, having sufficient power points and ensuring each electric point is placed at the right location will enhance your workflow.
Stylish storage
Get your kitchen necessities in order with these smart storage options.
The RAUVOLET tambour door system from REHAU can be customised for horizontal or vertical storage applications. Its polymer roller shutters come in different slat widths of 20mm, 25mm and 50mm.
Perfect for storing kitchen essentials, these system-lifting "eye-level" racks from Takara Standard Singapore can be pulled down when you want to grab or check the items within.
No more awkward bends to fully access the contents of your corner cabinet with this L-shaped corner wagon cabinet from Takara Standard Singapore. This enamelled cabinet from the LEMURE series is highly durable and makes cleaning a breeze.
Mighty appliances
These all-in-one appliances combine a wide variety of cooking and food prep features for easy convenience.
Besides defrosting and heating your food precisely and in less time, the LG 39L NeoChef Smart Inverter Microwave Oven (MJ3965BGS) serves up other cooking modes like frying and fermenting along with healthy cooking methods like steaming, baking and roasting. It can even make yoghurt with its specialised settings.
There's no kitchen chore too big for the Bosch MUM5 Kitchen Machine MUM5XW40, not with its powerful 1,000W motor and tonnes of optional accessories for all cooking and baking needs. Adding even more convenience now is its integrated scale and timer features.
With 11 modes ideal for mid-to-low temperature cooking, the Bertazzoni Modern Steam Oven series (F6011MODVPTX/N/Z/C) rolls out healthier dishes by preserving the nutrients within foods via its total steam function. Best of all, the Steam Assist feature will make your dishes softer and tastier through steam injections.
Easy ergonomics
These multifunctional products will optimise work efficiency and maximise countertop space.
With the filtering device discreetly installed at the bottom, the award-winning Wells The One water purifier from Wells Singapore is one sleek-looking machine that dispenses cold/warm water or hot water via a user-friendly 2.8-inch display and wheel touch.
The Franke VITAL Capsule System lets you drink straight from the tap with the world's smallest water filter. It's also the first filter system to combine activated carbon with a high-tech membrane for optimised filtration. This Red Dot Design award-winning product offers two taps—one for dispensing fresh drinking water and another for easier wash-ups with a 360° rotatable pull-out spray.
BLANCO ETAGON is a multi-level sink concept system that lets you tackle different kitchen chores simultaneously. Using innovative accessories like ETAGON rails, cutting boards and colanders will let you smoothly turn your sink from a wash-up station into a food prep station.
Need countertop space for drying dishes but have little to spare? The foldable Umbra UDRY Dish Drying Mat is made of durable polypropylene and holds up to 18 plates. When not in use, this lightweight microfiber mat can be stowed away.
Connected devices
Nope, talking to your trash bin is not weird. Smart appliances and devices controlled by your voice or 6. smartphones are here to stay in today's connected kitchen.
Being the first-ever touch-screen toaster, the Revolution Toaster features smart cooking sensors that will help you toast bread, bagels, waffles and more to your specified preferences.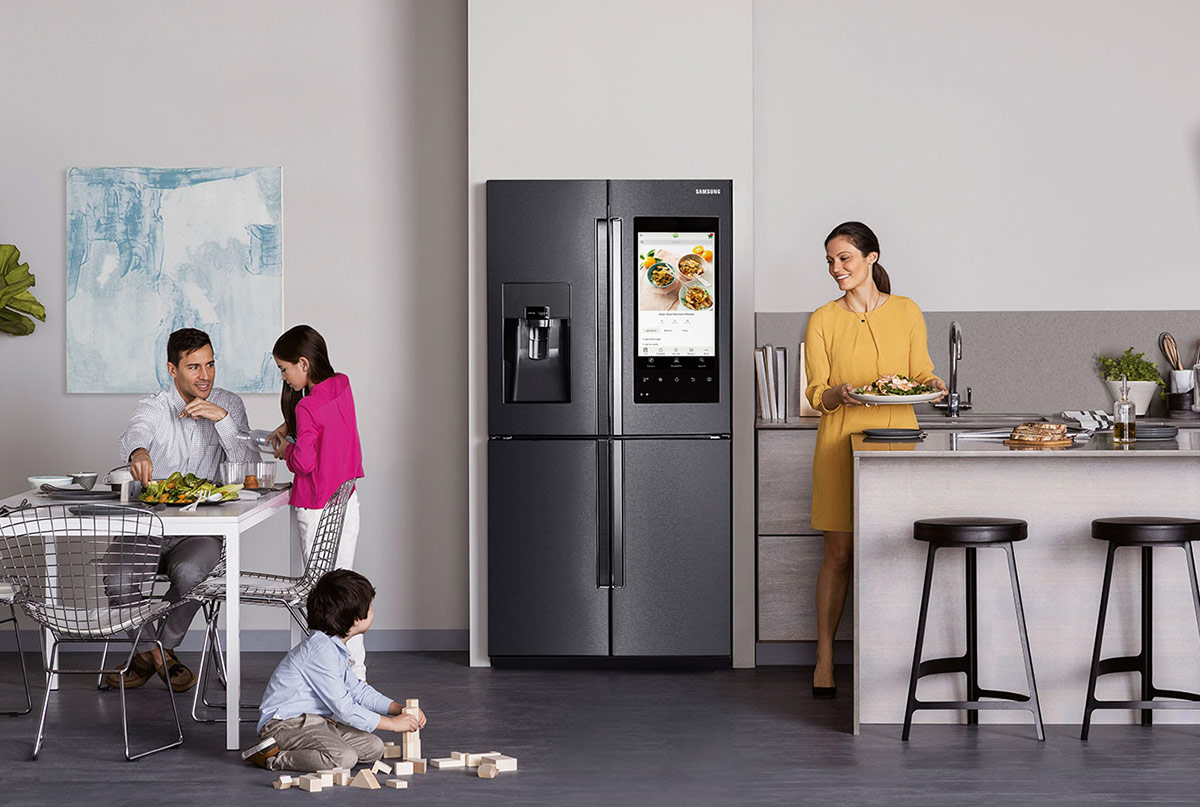 Needing little introduction, Samsung's Family Hub fridge reigns as a command centre for your smart devices at home. Through the intuitive 21.5-inch touchscreen and via the SmartThings app, activate and monitor the progress of compatible smart devices such as Samsung washing machines and robot vacuum cleaners.
Its latest 4-Door Flex Refrigerator Series now boasts flexible storage options, enhanced freshness and new features such as the Beverage Centre with an In-Door Water Dispenser and AutoFill Water Pitcher for hygienic, filtered cold water.
Dishwashing becomes a fuss-free affair with the LG Top Control Smart Wi-Fi Enabled Dishwasher with QuadWash and TrueSteam (DFB227HM). The QuadWash feature offers enhanced cleaning coverage with four rotating spray arms, and the LG ThinQ technology will notify you when the dishes are done!
Attach the GeniCan to your trash bin to track what you have thrown away, and then scan or use the voice control feature to add these items to your next shopping list.
Guest-friendly touches
Have you noticed how the kitchen is a hotspot for mingling? If hosting is your thing, don't miss these five entertaining must-haves.
This open-plan kitchen, or kitchen-diner, has a fluid layout and sufficient walking room where guests can perch and chat without obstructing the working area where food is prepped, cooked and served.
An efficient U-shaped kitchen layout converts awkward corners to usable space and allows the host to move effortlessly around the cooking station while interacting with guests at the peninsular counter.
Clad with dirt- and flame-resistant wool fabric, the Harman Kardon Citation Series streams the hottest tunes from its multi-room speaker system with a powerful 5.1-channel surround sound system and built-in Google Assistant.
A good kitchen fit with its IPX7 waterproof design and 10 hours of battery life, the JBL LINK 20 Speaker is a multi-room sound system with full-range sound and built-in Google Assistant.
What's great about the Kadeka Medley KB40WBC Wine Chiller is that it hosts two separate compartments with their own temperature zone to store canned beverages and wine bottles respectively.
Sleek and great as a standalone or built-in unit, the Whirlpool ARC1401 Wine Cooler holds up to 27 bottles and has an anti-vibration feature to protect wines and let them rest.
Keep germs at bay with sensor- and voice-activated tech, such as the Otto Automatic Soap Dispenser from Umbra or the Voice + Motion Rectangular Sensor Can from simplehuman.
Need to watch the stove but your guests are here? Problem solved with Stirr from üutensil, an automatic pot-stirrer that mixes sauces, soups or other liquid-based recipes at a push of a button.
Keep the floors spotless before guests arrive without lifting a finger. The Samsung Jet Bot+ with Clean Station automatically cleans and empties all dirt and dust into the Clean Station. With Wi-Fi Smart Control and through the SmartThings app, control the Jet Bot remotely anytime, anywhere.
This post was adapted from an article originally published in the September 2021 issue of SquareRooms.