No time for a holiday? Escape to these 2 European-themed cafes for just a few hours.
Dine like a Parisian at Merci Marcel 
Inspired by the casual eateries found in the bohemian Parisian neigbourhoods of Le Marais and Monmartre, Merci Marcel is the fruition of French attitude combined with local elements. It has three distinct spaces – the lounge, cafe and patio – each boasts its own character and specialties. The interior boasts of a vivid citrus-toned palette, exposed rustic white-washed walls, and beautiful mustard yellow and white diamond-shaped floor tiles inspired by childhood toys – Pierrot clowns and Harlequin dolls – that evoke a warm nostalgia. To celebrate the local charms of its venue, designer Lim Siew Hui of local design studio Hui Designs retained the original shophouse details, specifically the ubiquitous metal grilles and metal-framed windows, to add a soulful depth.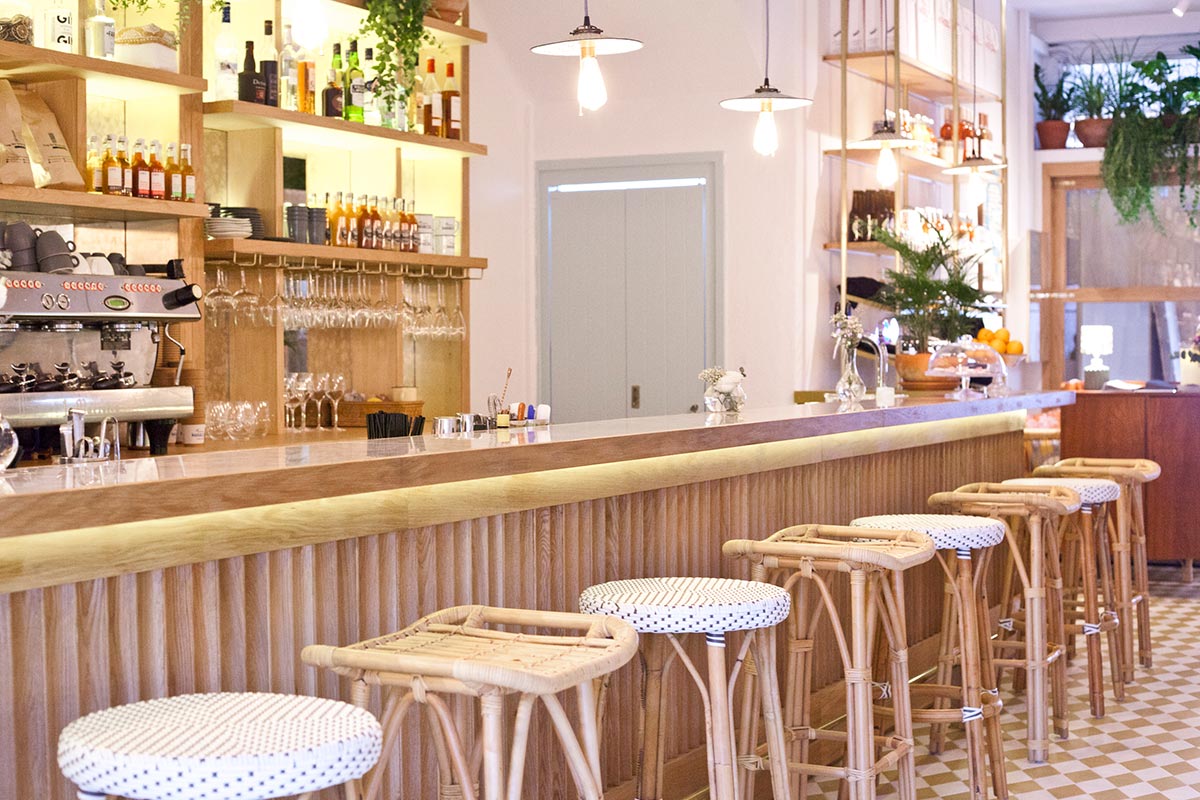 Perhaps most aesthetically pleasing aspect to be found in this quaint shophouse bistro are the lush, leafy organic greenery found throughout the space. Siew Hui collaborated with John Lim, a local artist that specialises in garden design, to create a verdant inner sanctum that puts diners right at ease. These luxuriant foliage frame the space and complement the white-and-cappuccino toned rattan furniture perfectly. Moreover, most if not all the furniture in store, starting from the rattan dining chairs and bar stools to vintage pieces at the hostess station, were introduced to amplify the overall French-influenced design.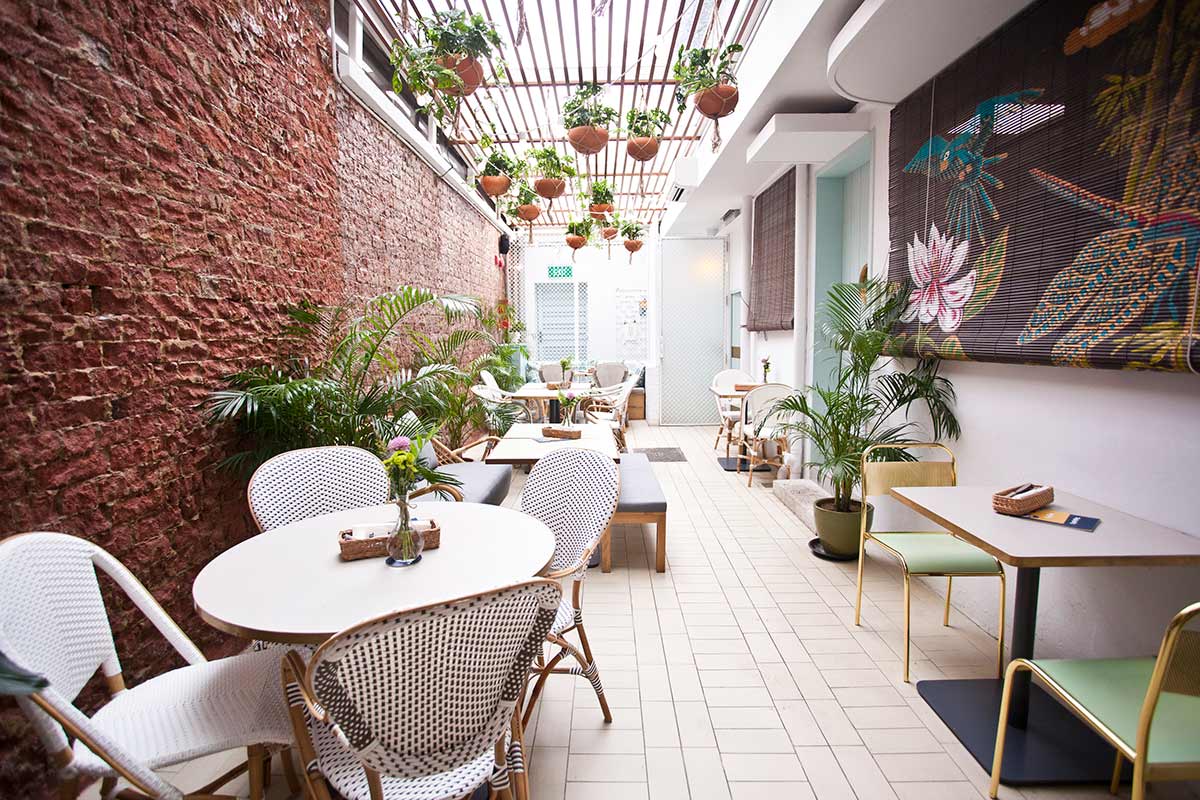 Nothing is Parisian without a hint of romance, hence Merci Marcel's decision to place string lights in the interior courtyard to heighten intimate ambiance in the evenings. At dusk, the restaurant serves up its French social dining concept with a tapas menu. Sharing plates include starters like duck rillettes served with marinated pear and melted Camembert ($18) and goat cheese tartar accompanied by homemade flatbread and mint ($12). For mains, dishes like the grilled chicken with crispy Bayonne ham ($22), black pepper tuna ($25) and ceviche of red snapper ($22) come highly recommended. And what's a French meal without desserts? Merci Marcel's chocolate cake ($10) is a decadent take on the classic, while the creme brulee ($9) is a treat with its fresh topping of passionfruit.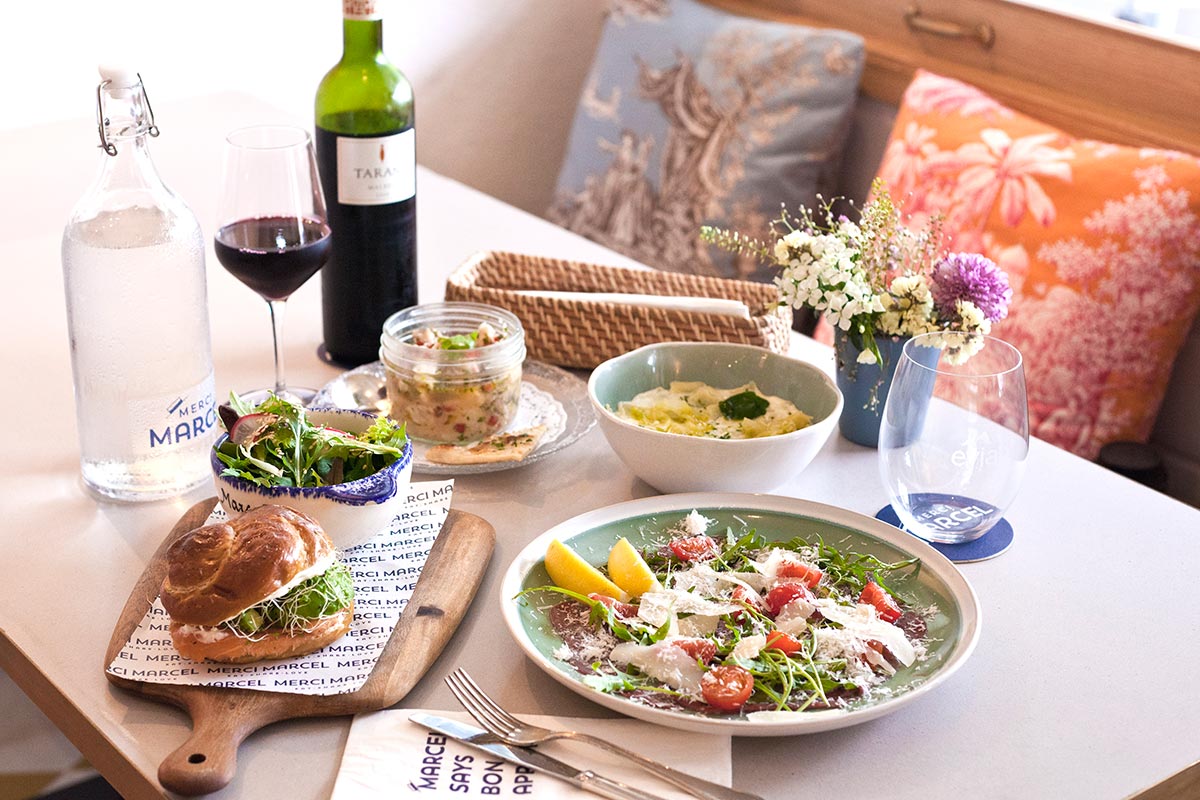 Beyond its unique French fare, Merci Marcel brings you an alternative retail experience within its space through exhibits of high quality artisanal food, drink and lifestyle products. An all-in-one cafe that supports authenticity is a rare find, but Merci Marcel is bold and valiant in that aspect. For that, it is definitely worth a trip down on the weekend.
Enjoy hearty German burgers Hans Im Glück
Think it's all about bratwurst sausages and pork knuckles when it comes to German cuisine? Think again. The brainchild of Gunilla Hirschberger and her husband, Thomas, the newly unveiled Hans Im Glück Burgergrill located right in the heart of Orchard Road – between the Royal Thai Embassy and International Building – hopes to shake up the gastro burger scene with its carefully curated menu.
But before the idea of Hans Im Glück ever came to be, the savvy German businesswoman was just a vegan – allergic to milk and dairy products – frustrated with the lack of delicious dining options for those with dietary requirements similar to hers in the gourmet food scene. Determined to fill the gap in the market, the couple set out in search for various partners that would help develop the right products for their target market. Eight years on, the international burger chain now specialises in gourmet and vegan burgers, salads, tea infusions, cocktails and desserts.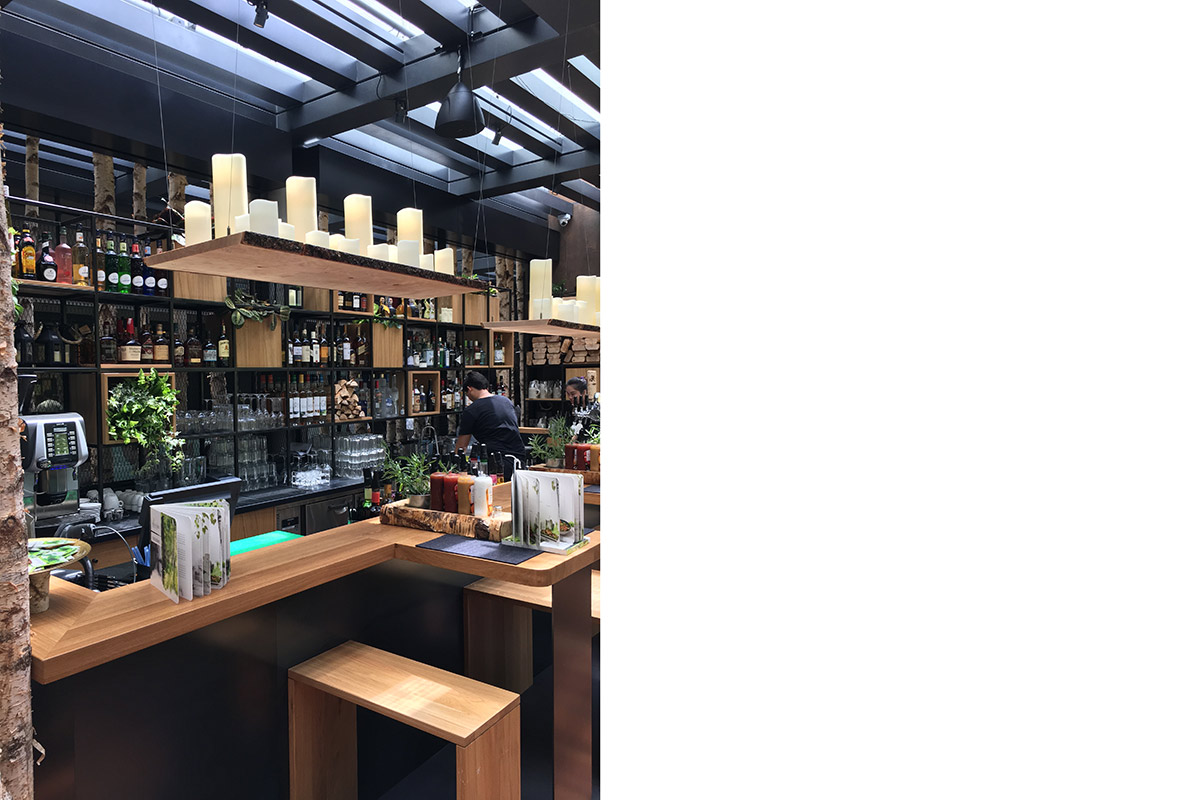 Named after the famed Brothers Grimm fairytale of the same name, the cosy 180-seater restaurant encompassing a casual dining zone as well as an outdoor and indoor bar is housed within a purpose-built structure filled with lush greenery and natural lighting. But upon entering the foyer, the approximately 4,000-square foot burger grill immediately transforms into a beautiful green haven through the use of towering floor-to-ceiling Scandinavian birch trees and German-made oak furniture that provides an enchanting and upscale dining concept.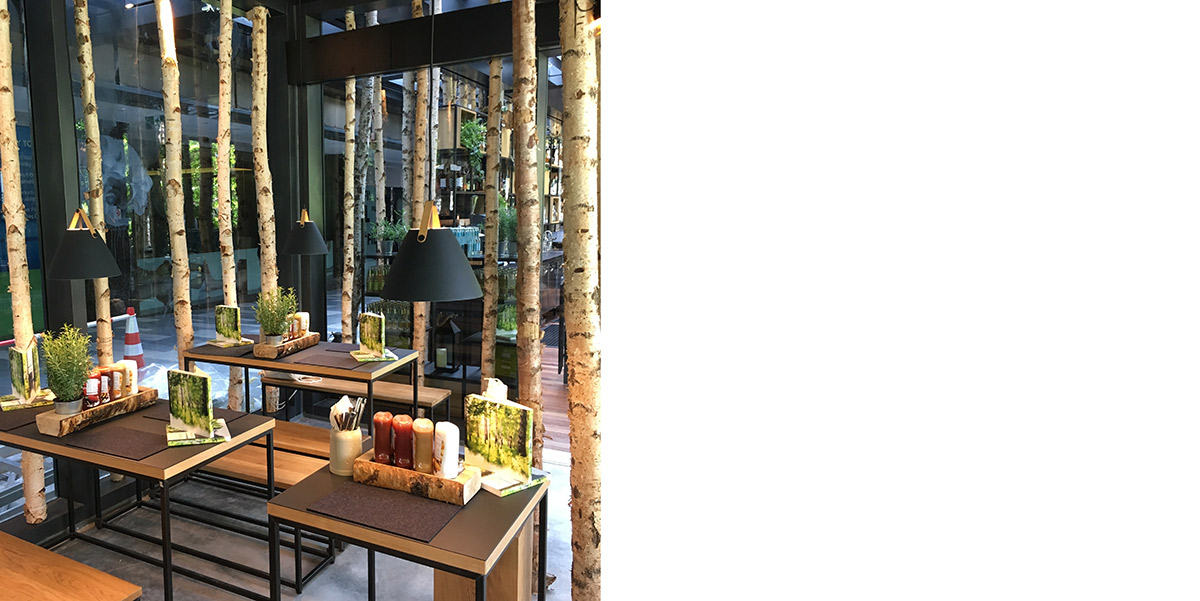 A refreshing decor theme notwithstanding, an extensive selection of hearty yet healthy menu offerings is definitely Hans Im Glück's main draw. Popular items include the Glückskind salad ($15), topped with Parmesan cheese, mushrooms and Parmesan dressing; the Henne burger ($15), which comes with a grilled chicken breast patty slathered in avocado cream, orange-mustard sauce, and sprouts. For the vegetarians and vegans, available options include the Abendrot burger ($15) which comes with an olive patty with parmesan cheese, grilled vegetable tartar and rocket leaves; and the Fabelhafter burger ($15), comprising a wheat patty, avocado cream, orange-mustard sauce and herb salad.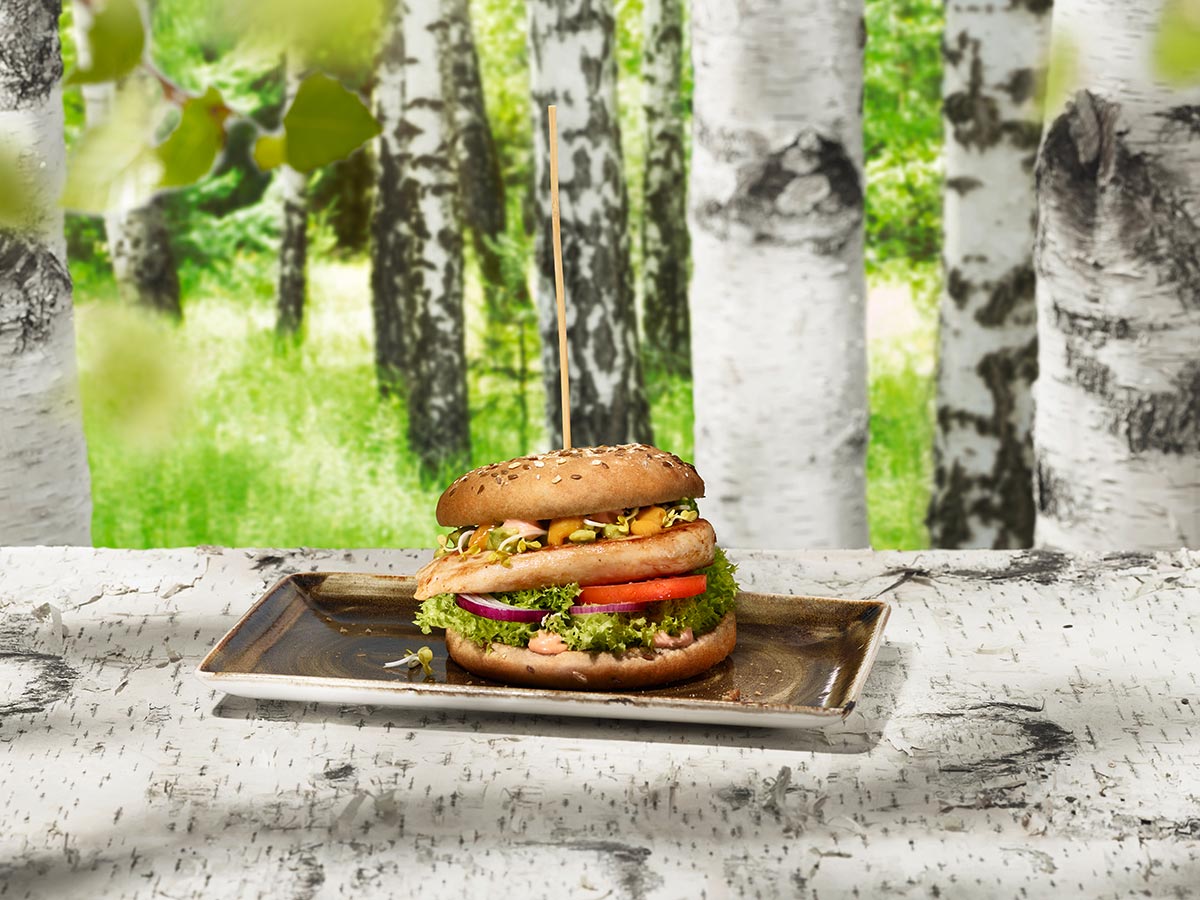 Hoping to spread their brand philosophy of a #pathtohappiness through a relaxing yet high-end dining experience, come enjoy a delicious and nutritious meal at Hans Im Glück that will have you exclaiming "There's no man under the sun as fortunate as I!" by the end of it.
This was adapted from articles originally written by Lynette Goh and Germaine Cheah published in the February 2018 issue of SquareRooms.