It may come as a surprise that tea is the world's most popular beverage ­­– given that coffee seems to get all the press. Melbourne-based tea retailer, T2 is a testament to the drink's wide appeal. With its extensive array of tea leaves ranging from classic to experimental, T2 presents tea in a fresh approach that will engage even finicky millennials.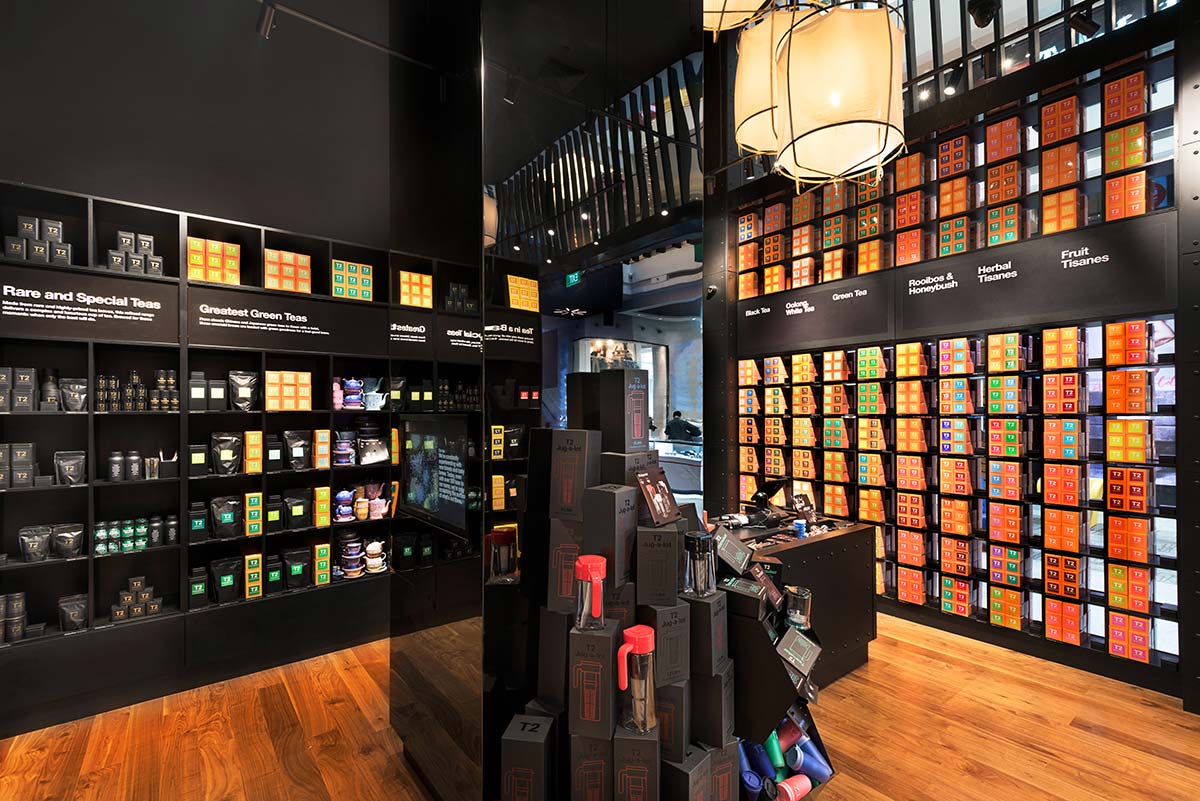 Its 549-square foot store in [email protected] is an approachable space decked out in trendy scheme of black and wood tones, which seem to enhance the colourful packaging and tea-making accessories. Walls of shelves display T2's eye-catching and colorful packaging, and if these don't pique your interest, quirky names like Gorgeous Geisha, Strawberry Fields and Pumping Pomegranate will.
The tea discovery starts with the smelling bar that offers a wide selection of blends, arranged from white to black. Come here to discover your new favourite blend. There's also an onsite tea bar that lets you sample a selection of brews. Staff are also on hand to show you show to make that perfect cup of tea or creative ways to concoct a delicious beverage. There are over 200 different blends available at the store as well as a selection of rare Chinese and Japanese teas.
What we're most excited about is T2's cool range of tea ware and tea-making gift sets. From intricate Moroccan-style teapots, Delftware-inspired mugs and double-wall flasks to more exotic tea-brewing tools like chai pots and matcha flasks with built-in stainless steel whisks, making that cafe-worthy cup of tea at home is more achievable than ever.
The handy gift sets also make it easy to whip up a delicious cup of tea for any occasion. The Totally Chilled set, comprising a 2-litre jug, stirrer and a set of three loose leaf tisanes, for example, is a great kit for iced tea fans, while the Traveller kit that comes with a stainless steel flask and 12 individual tea bags are made just for tea drinkers who are always on the go.
And for those of you who prefer to enjoy your tea while you contemplate the mysteries of life, the Tea for One set designed with a teapot, cup, saucer and strainer built into one neat package is your perfect accompaniment to those quiet moments.
SquareRooms is giving away 5 sets of T2's Marigold Magic Rose Tea for One (each worth $85). Check out our promo page to find out how to win!
T2
313 Orchard Road,
#01-02 [email protected]
tel: 6835 7085
This was adapted from an article originally published in the May 2017 issue of SquareRooms.