Practical features make the most of this dusky two-bedroom apartment's compact footprint.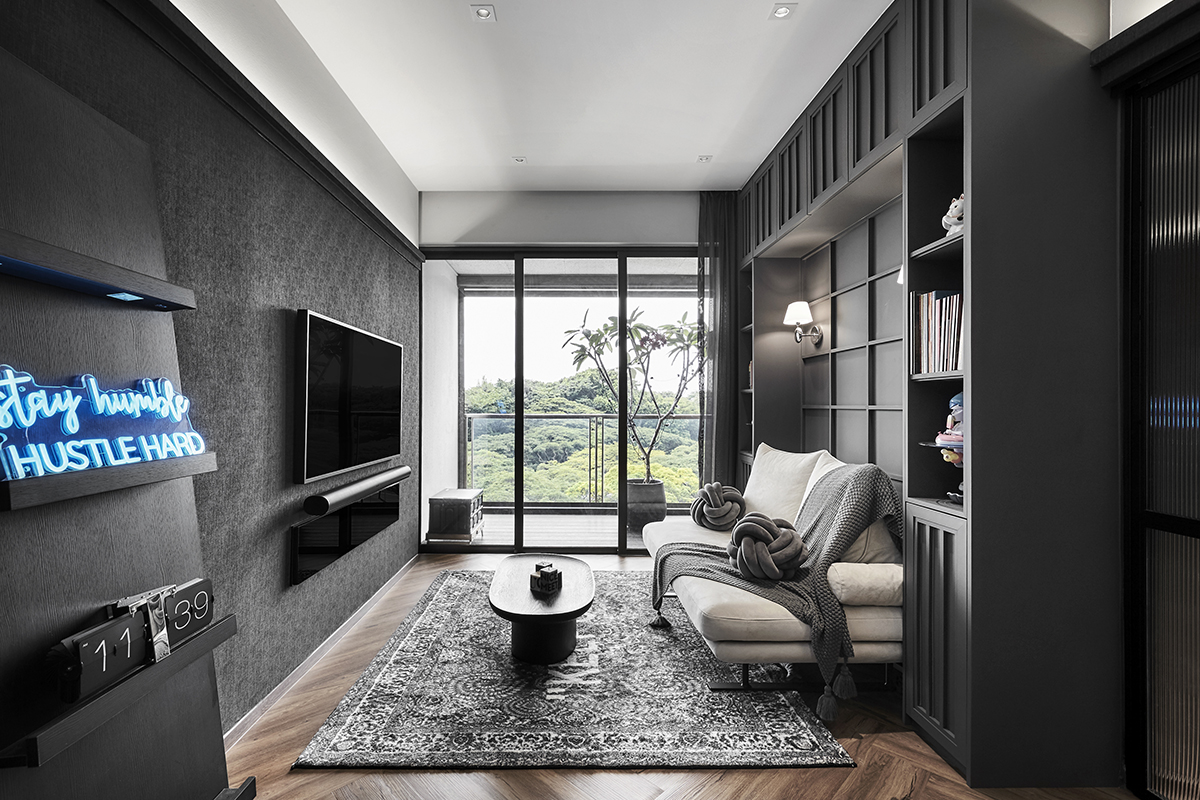 The approach that most homeowners take when faced with a space-constrained home is to expand it visually through a bright and light interior design. The owners of this 760sq ft apartment, however, had the opposite instinct. They wanted to fashion their apartment in a modern English style, fleshed out in dusky shades of slate and ebony.
To bring this vision to life, they enlisted the expertise of designers Ean Chu and Vanessa Goh of Happe Design Atelier. Both designers intuitively understood that a pure black scheme tended to overwhelm small spaces, so they sought to temper their design with balancing details that would add illusory height and volume to the home.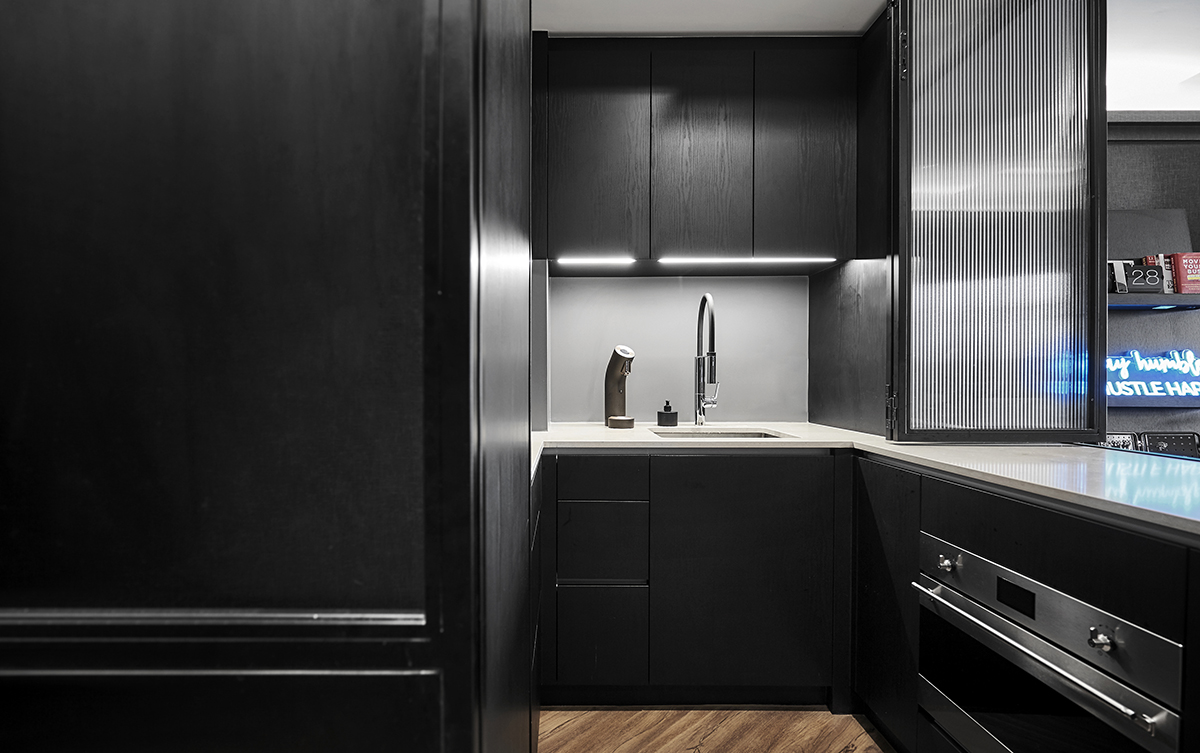 Since the couple does heavy cooking on a daily basis, the existing open-concept kitchen proved impractical. To enclose the space without inducing a claustrophobic atmosphere, glass sliding doors were fitted along its length with bi-fold windows that open towards the living room. Built-in cabinets finished in ebony wood-grained laminates ensure that storage space is maximised in the kitchen, without compromising on the sleek style.
To evoke a modern English aesthetic, the designers chose shaker-style panels as a recurring motif around the home, which feature most prominently in the statement custom storage piece in the living room. Unlike other homes that choose to create a statement TV wall, in this apartment, it was created on the facing side instead. The full-height custom unit is a thoughtfully designed piece that fulfils multiple functions at once—storage units at the top and bottom, display niches along the sides and a void in the middle to fit the precise dimensions of a two-seater sofa. By building this feature on the sofa side, the facing wall has less visual clutter that might distract when TV entertainment is being streamed.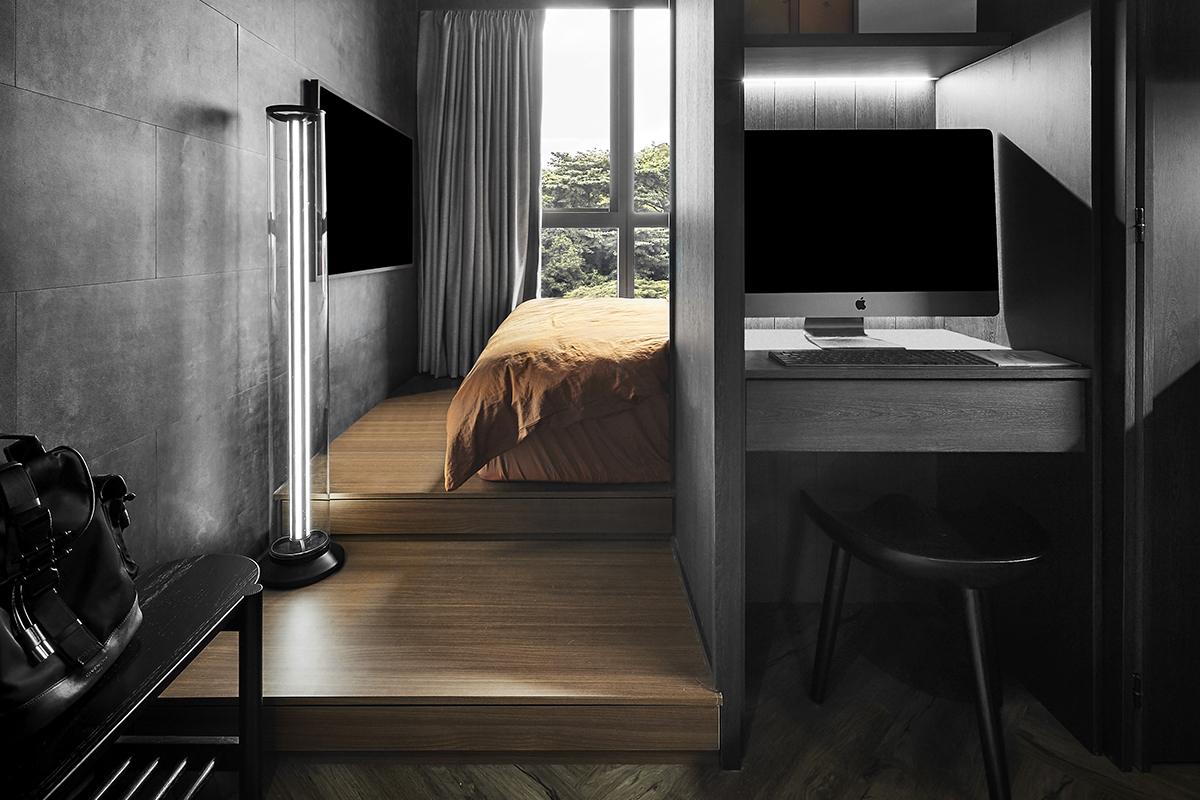 As the owner wanted to enhance the separation between the shared and the private spaces, glass bi-fold doors were installed in the hallway that lead to the bedrooms. In the primary bedroom, the dusky colour scheme prevails.
Whilst an inky fabric-effect wallpaper lines the walls in the communal spaces, mottled dark grey vinyl tiles give the primary bedroom a slightly softer vibe. As the unit came with an L-shaped wardrobe built in by the developer, the designers needed only to create a desk space that the owner requested. They created a full-height unit in the middle of the bedroom to fulfil his ask, building a partition between the bed zone and the wardrobe, thus fortuitously creating a mini walk-in wardrobe.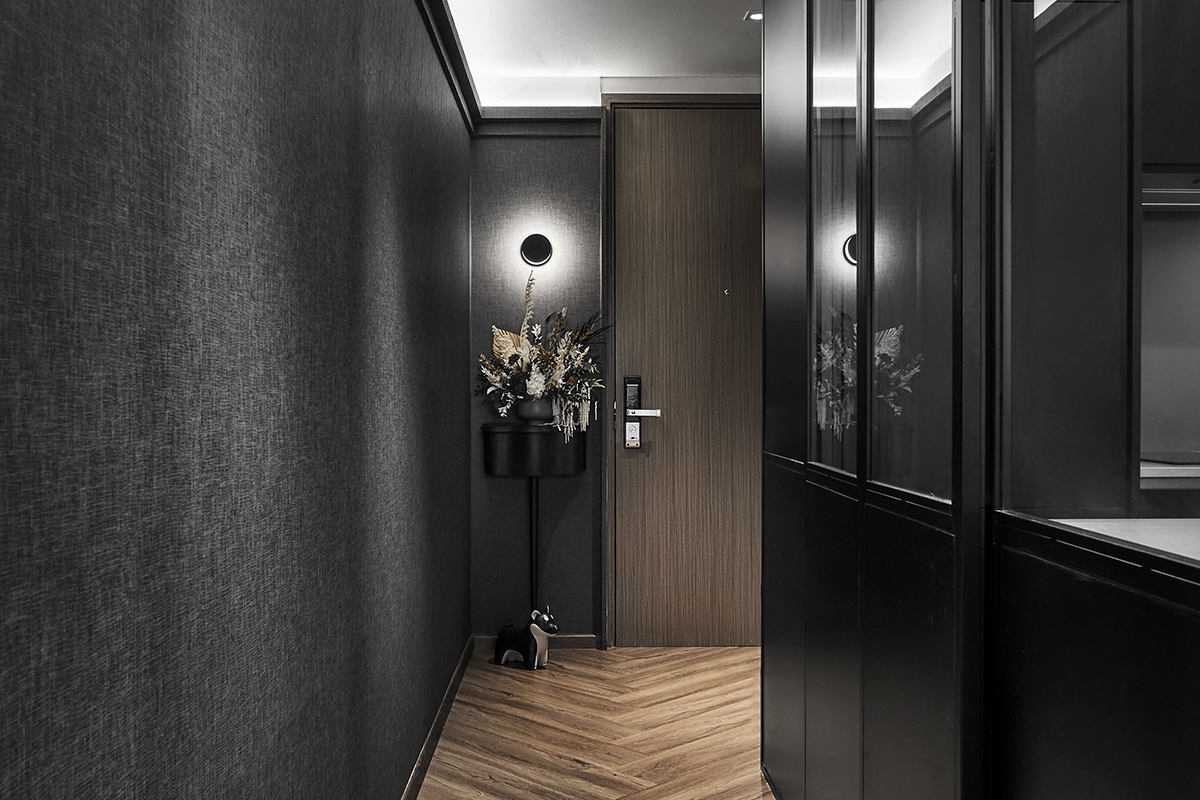 The pandemic delayed the renovation but the team managed to complete it in three months for the owners to move into their new cosy home.
This post was adapted from an article originally published in the March 2022 issue of SquareRooms.