Inspired by the luxurious comfort of their favourite hotels, this family's spacious HDB flat boasts a warm and welcoming ambience.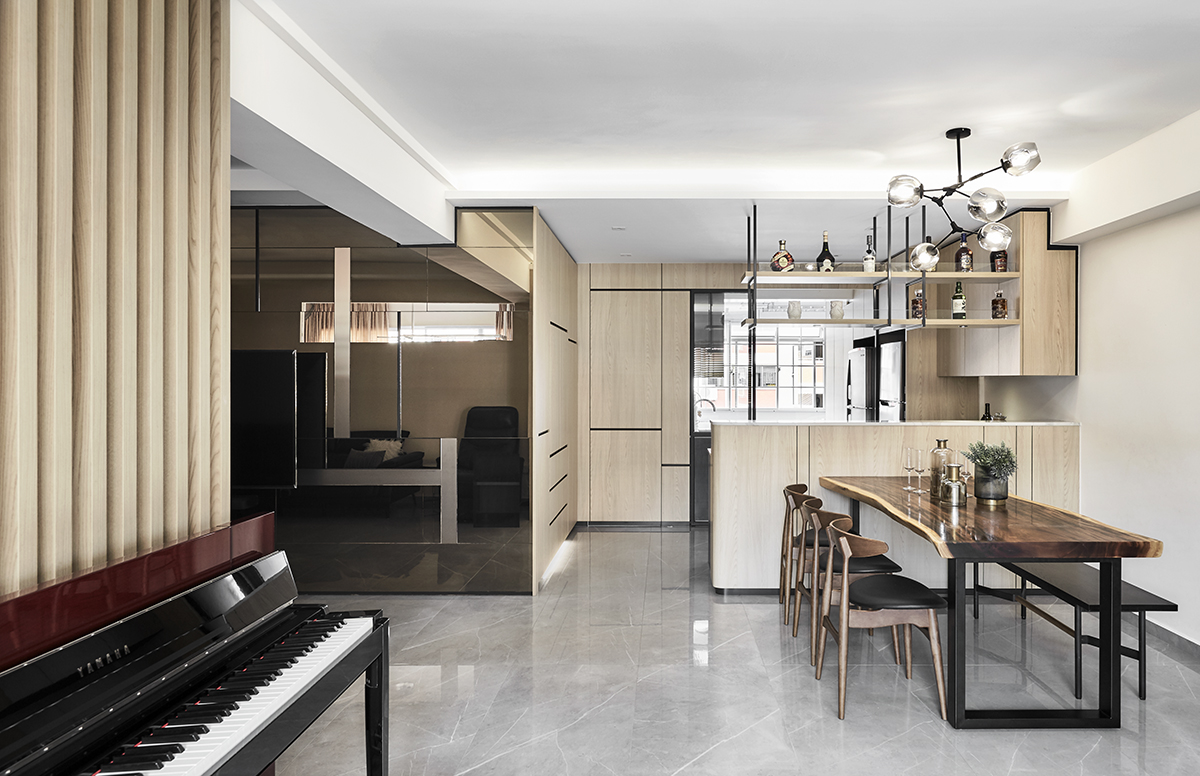 Once cramped into a three-bedroom flat, this family of four made the most of that limited space for a couple of years, having their kids share a bedroom and converting the utility room into the helper's quarters. But as the kids grew older, they couldn't ignore the issue any longer: the space was getting a little too tight.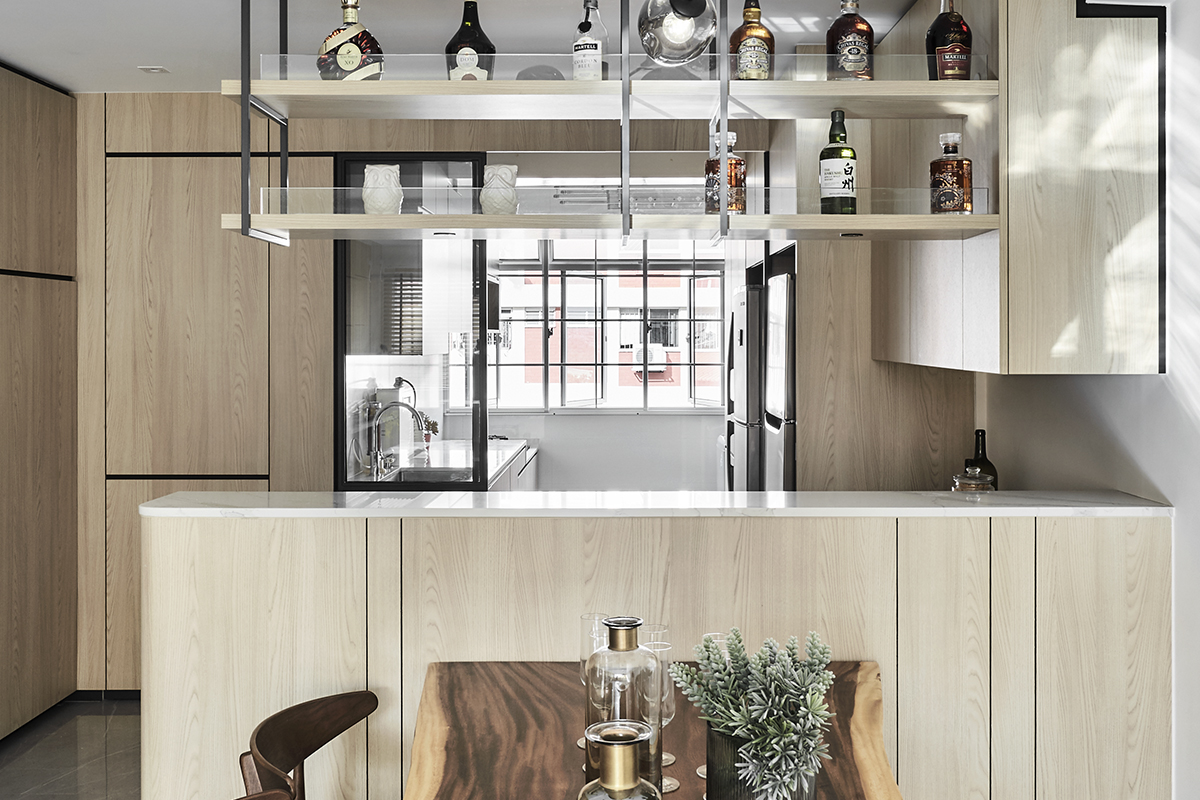 Settling on a spacious five-room HDB flat as their brand new abode, the couple engaged designer Chris Cheang and project manager Sean Lee from Richfield Integrated to execute their dream vision: a warm and welcoming space that is reminiscent of their favourite hotels overseas, all the while providing the kids with the privacy of their own rooms.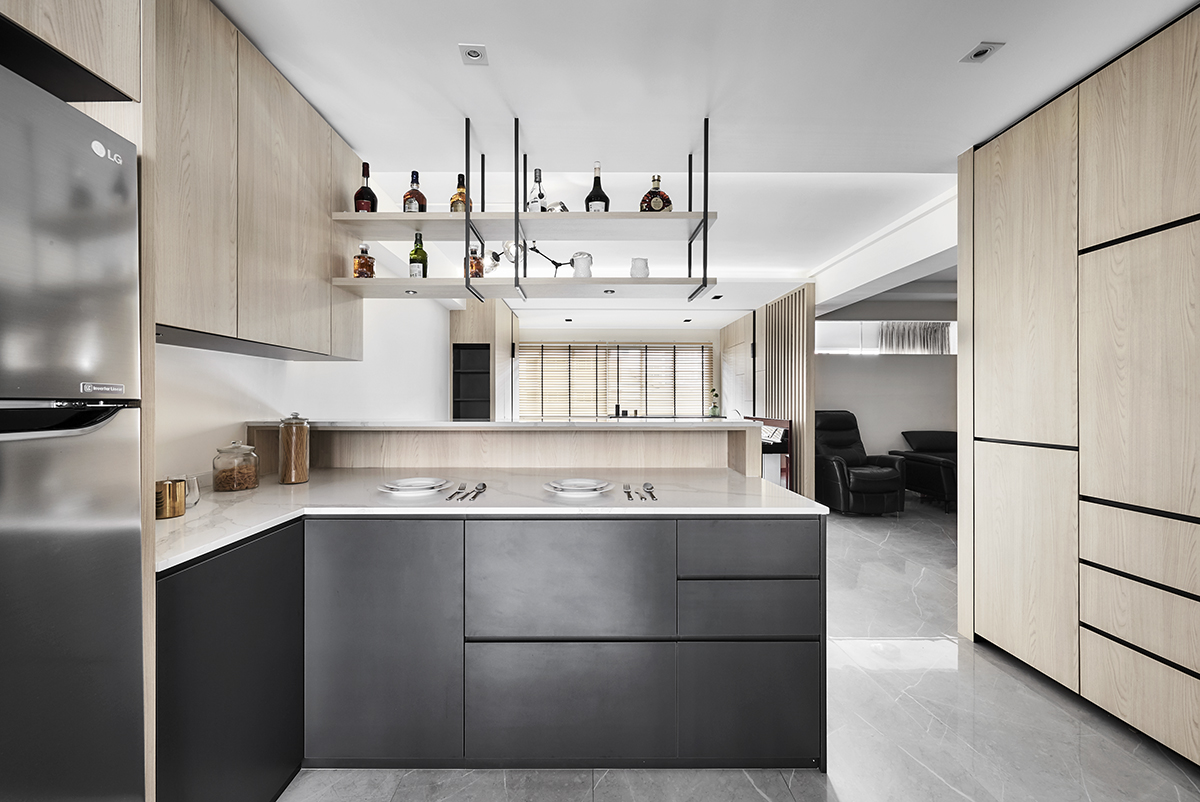 The warm ambience of the home achieves the parents' ideal of an inviting family space. "We wanted a home that's welcoming, cosy and warm, where family members can spend most of the time in the living and dining areas," the homeowners share. "That's why we chose a warm wood accent for the living, dining and kitchen areas."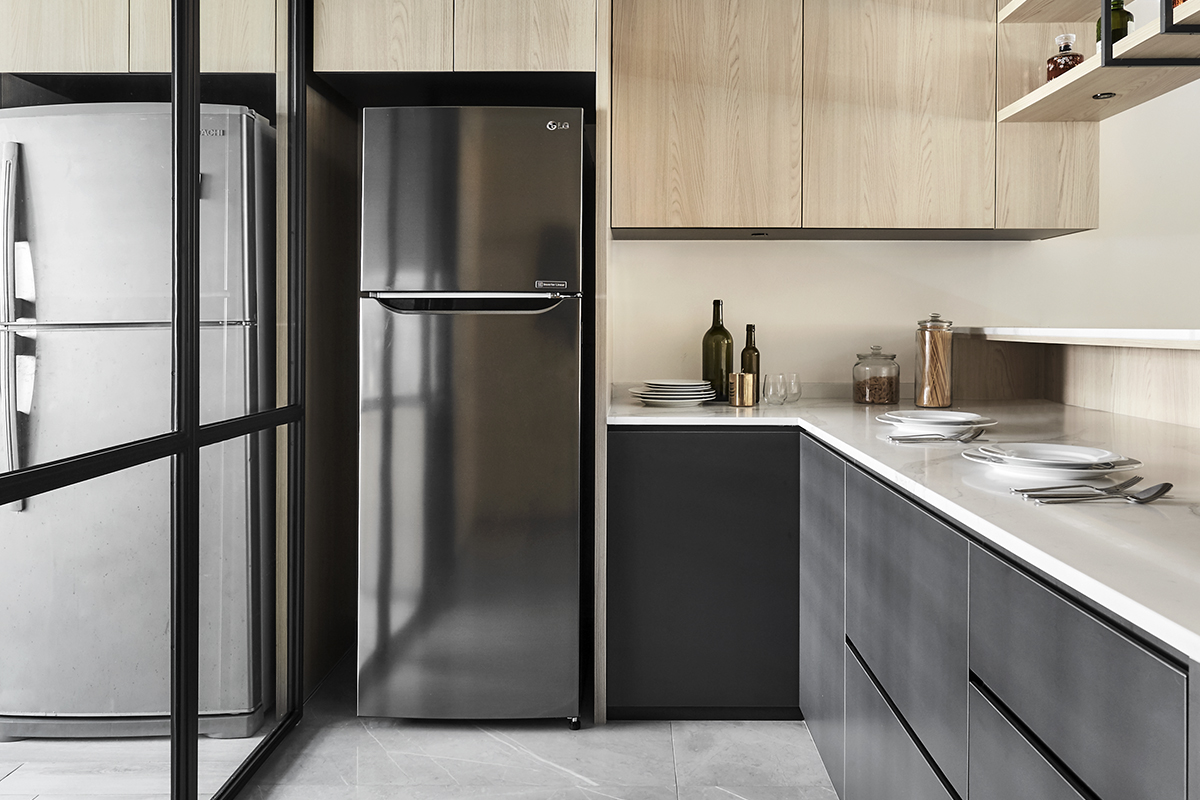 The family's love of travel played a significant role in the design as well, hotel-inspired elements adorning various areas of the home, such as the iconic bistro bar top with liquor shelving in the dry kitchen. This hotel-style aesthetic gives the overall space a decidedly modern touch, further enhanced by the pared-back colour palette and seamless finishes.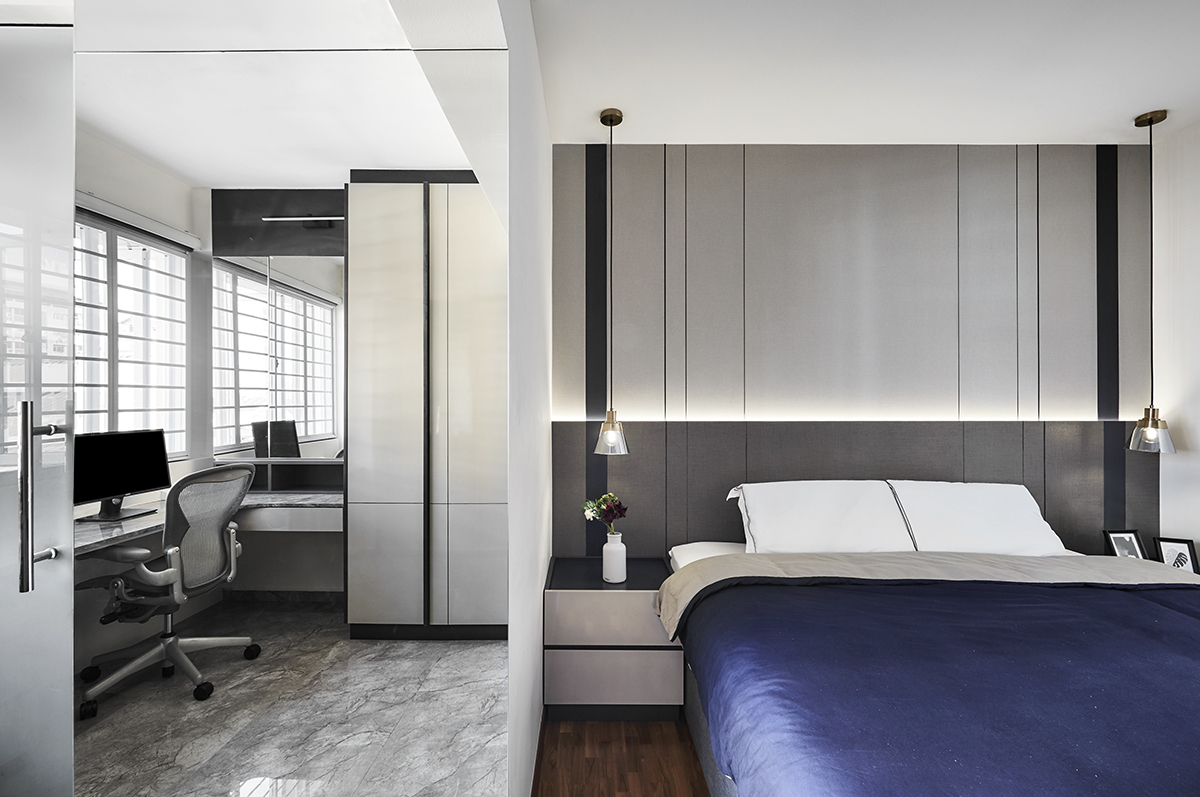 To make the most of the square footage and expand the family's much-needed storage space, the design team incorporated an arsenal of custom-built carpentry, ranging from the vanity cabinet in the bathroom to the kitchen cabinetry, bookshelves and full-height wardrobes. "Almost everything was custom-built to suit their lifestyle," the designer shares, expertly balancing practicality with style.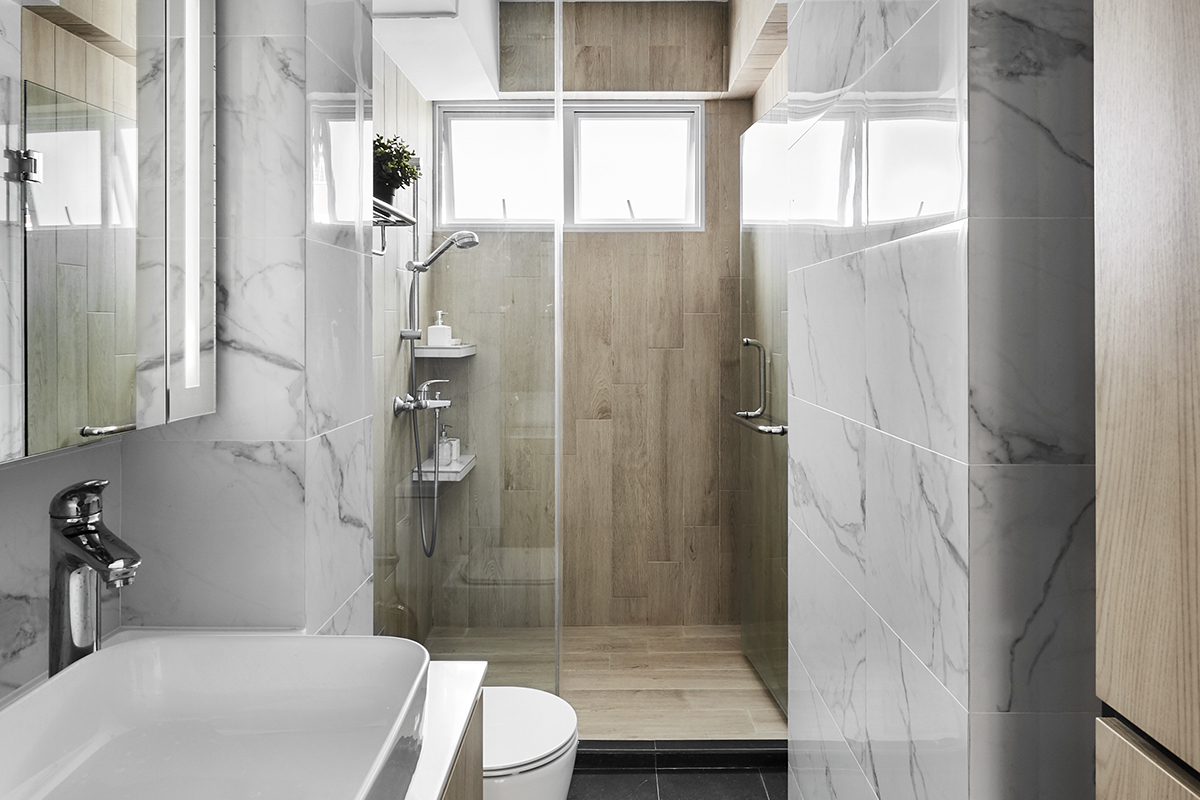 The surfaces across the home were chosen with equal skill and consideration; glossy finishes ensure that the tiles in the bathroom and kitchen are extra easy to clean, while minimal grout keeps the entire home low-maintenance. A mix of wood, marble and stone designs avoids monotony, imbuing each room with pleasant contrasts and plenty of visual intrigue.
With a luxurious design that's easy on the eyes and enough room to accommodate work, play and relaxation, the upbeat family can now throw themselves on the couch and enjoy a modern, spacious respite from the hustle and bustle of the city.
This post was adapted from an article originally published in the March 2022 issue of SquareRooms.