First they found the perfect flat for their family of six, then the ideal buyer for their old place—and now they patiently wait for gorgeous secondhand furnishings to turn up on Carousell. Good things come to those who wait!
Like many parents, Rachel (@maisonette.atlas) used to set out at the crack of dawn to drive her eldest daughter to school. The long, daily commute was exhausting, and so was sharing her small home with a sizable family, comprising three kids, herself and her husband, and their old dog Blue.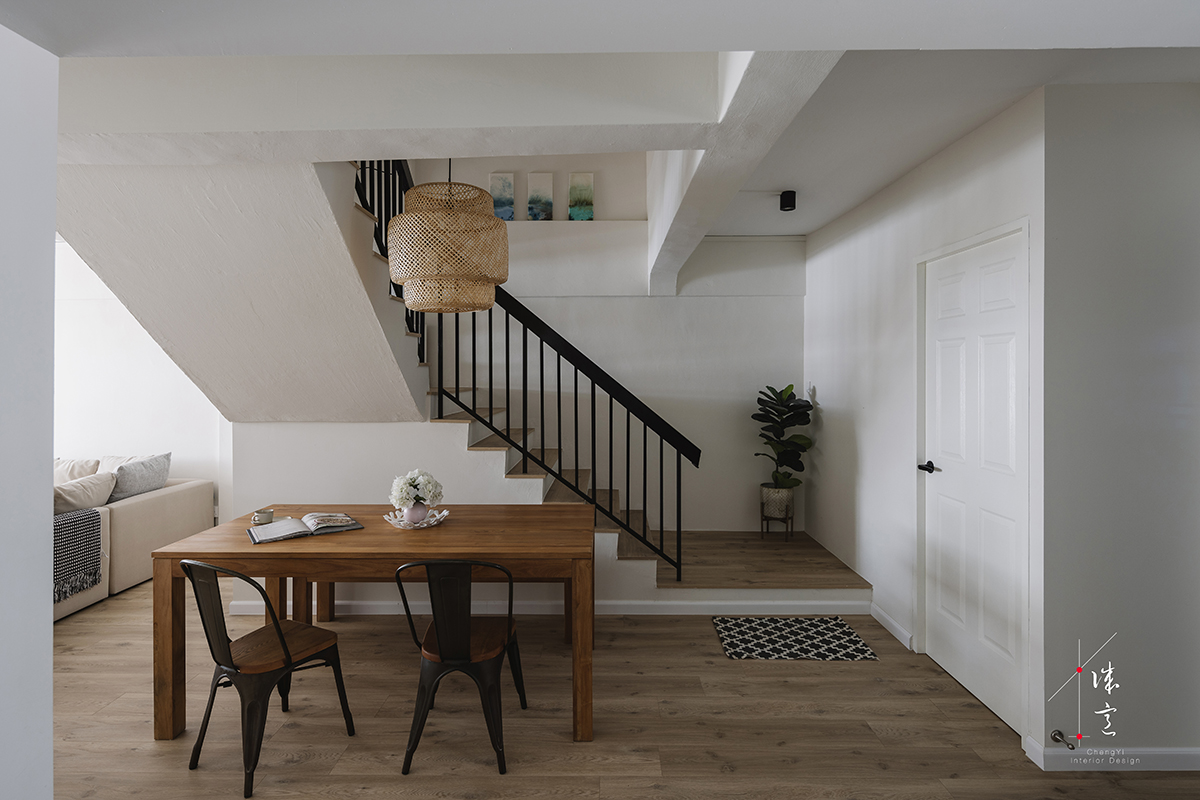 The search for a new home was thus born from the need to simplify things and give themselves more room to breathe. "We wanted a house closer to school, and a house we could grow into for the next phase of family life," Rachel shares.
It took three months of searching property listings online before they came across the current place: a 36-year-old maisonette with unique architectural features, located in the tranquil neighbourhood of Lorong Ah Soo.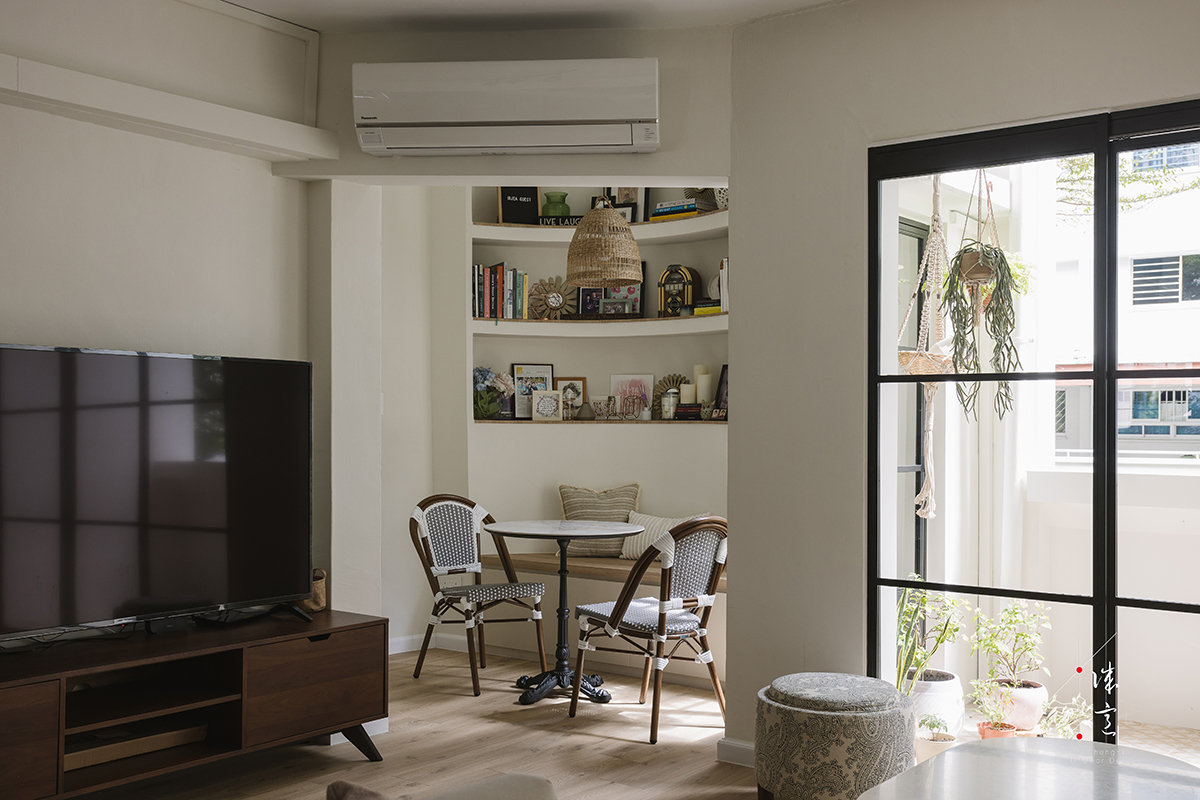 "We were its first viewers that weekend, and fell in love with the airy space and its potential," Rachel recounts on Instagram. The original owners still occupied the flat and had kept it in great condition over the years. Although somewhat of an impulsive choice, the house ticked every box and warranted an offer—which they made the very next day.
Selling their previous home was the more nerve-racking part, with few viewings and lacklustre offers coming in as the weeks passed by. "Buying a house before even listing ours up for sale was a huge risk," says Rachel. "Every night we prayed with the kids to find a buyer who could give us a long extension for the renovation period and who would love our ground-floor HDB flat as much as we do and be willing to pay a fair price."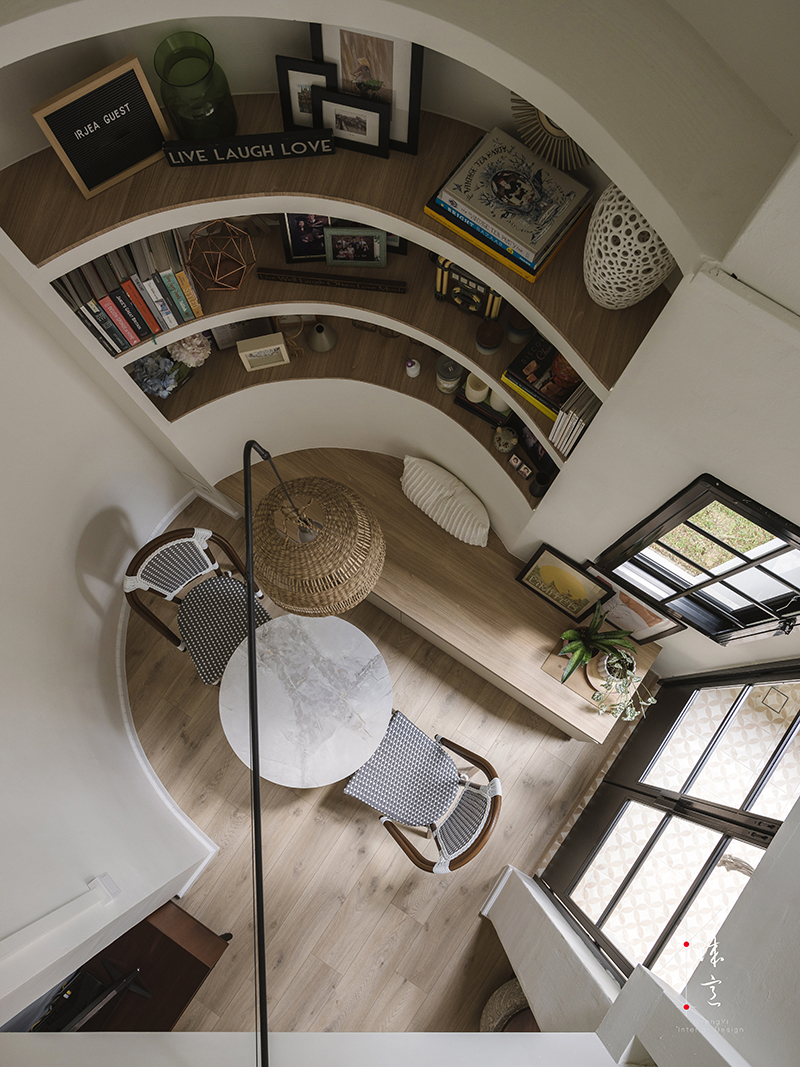 Eventually, the perfect last-minute viewing answered all of their prayers; the buyer instantly loved the flat and was in no rush to move in, granting them a generous extension.
This gave the family the time they needed to renovate and shift their lives into a brand-new home—not an easy feat while looking after three kids and a pet, but it was handled skilfully by the team at ChengYi Interior Design.
We spoke to Rachel to find out how it all went down.
First and foremost, how did you go about configuring the home to accommodate a large family of six?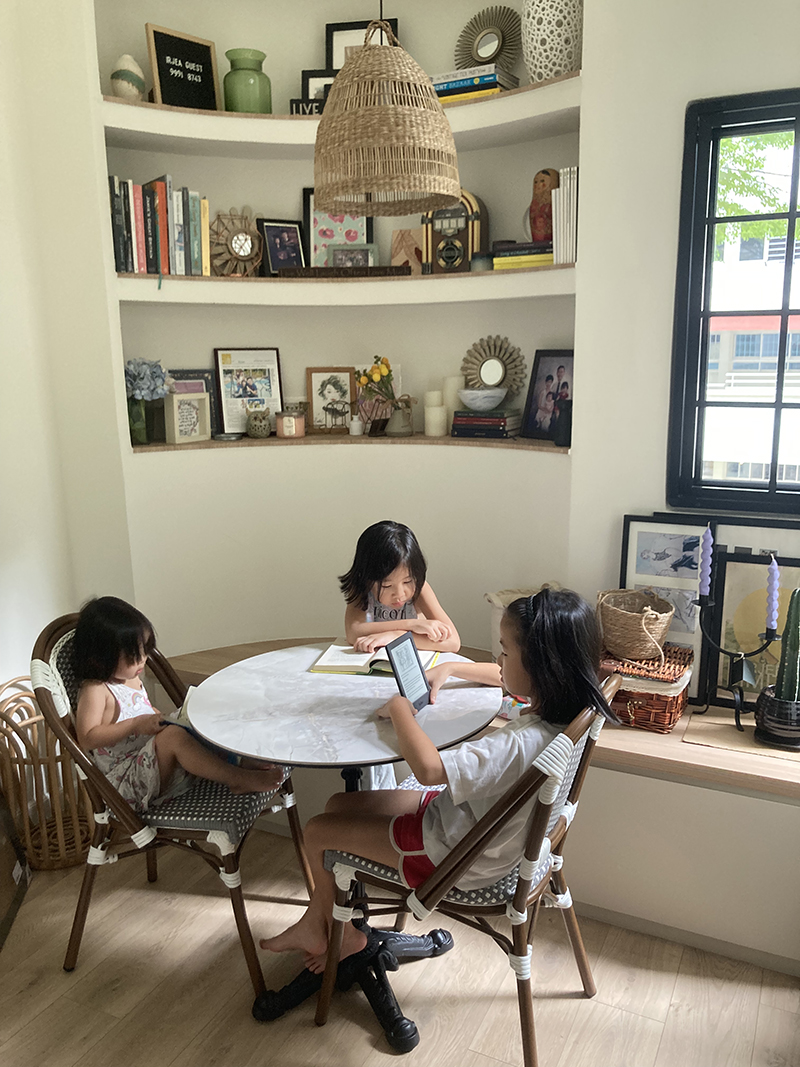 Except for our main suite, we only bought loose furniture for the rooms to accommodate the kids' needs as they grow older. Currently, my husband and I both work from home very regularly so we share one room with the kids as an office and study space.
The rooms in these old executive maisonettes are quite spacious, so we could even fit the 1.5-metre dining set from our first home into the study. Downstairs, we built another bedroom at the foot of the stairs, originally marked out as a dining area with windows that look out to the corridor. Our helper uses it now, but it could be a small study in the future as our needs change.
How did you plan ahead during the renovation for when your kids are older?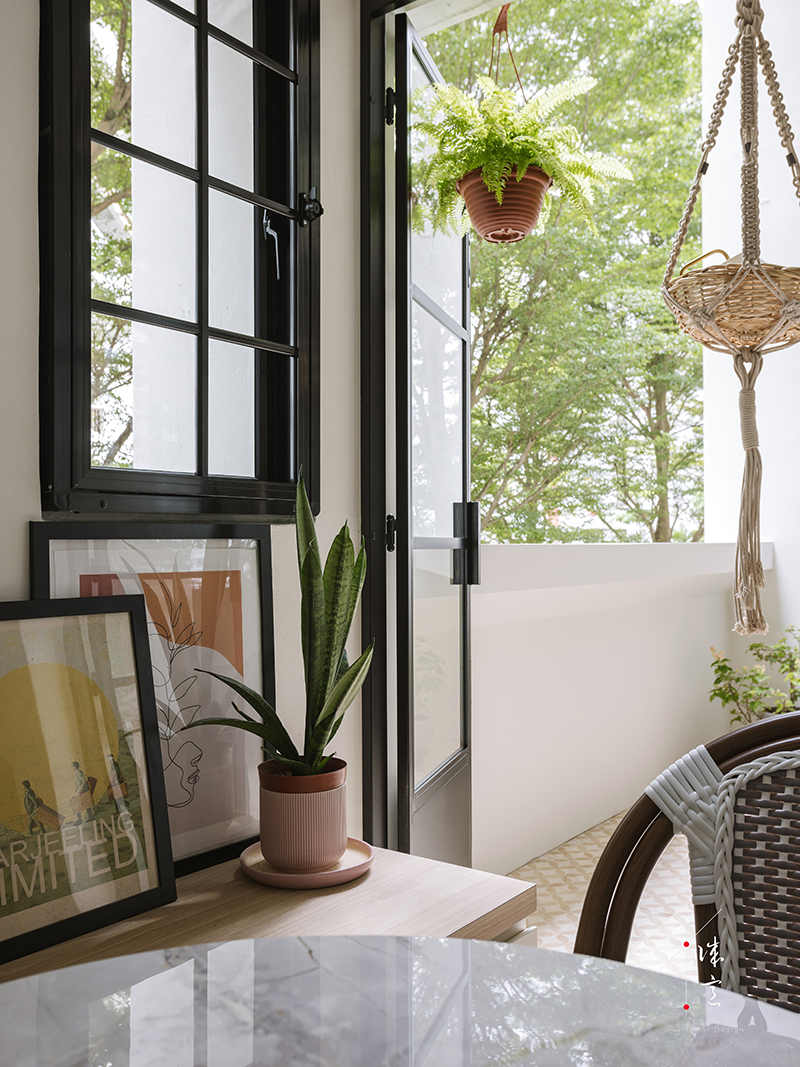 Other than keeping the bedrooms flexible with loose furniture, we also wanted to make sure the living area was a very open and cosy space to spend time together as a family, and also I hope that it will be a welcoming place for my kids to feel like they can always bring their friends home to hang out in the future.
Oh, and we had a double vanity installed in the kids' bathroom to minimise squabbles when they are all teenagers fighting for mirror space!
Did you have to compromise on any design choices to make the home more suitable for the kids and your dog?
We had to make compromises for safety, such as installing window grilles and invisible grilles around the open balcony. I love the feeling and look of rugs and if I had my way I'd have rugs to define the living and dining areas. However, I cannot imagine the clean-up with the kids and dog.
The design of the island is similarly intentional so that there isn't a jutting overhang, as is the round coffee table and the choice of dining table with wide legs right at the four corners.
I believe you played around with Floorplanner a bit before getting your renders. What was that like? Why did you choose to create some 3D designs yourself even though you engaged a professional designer?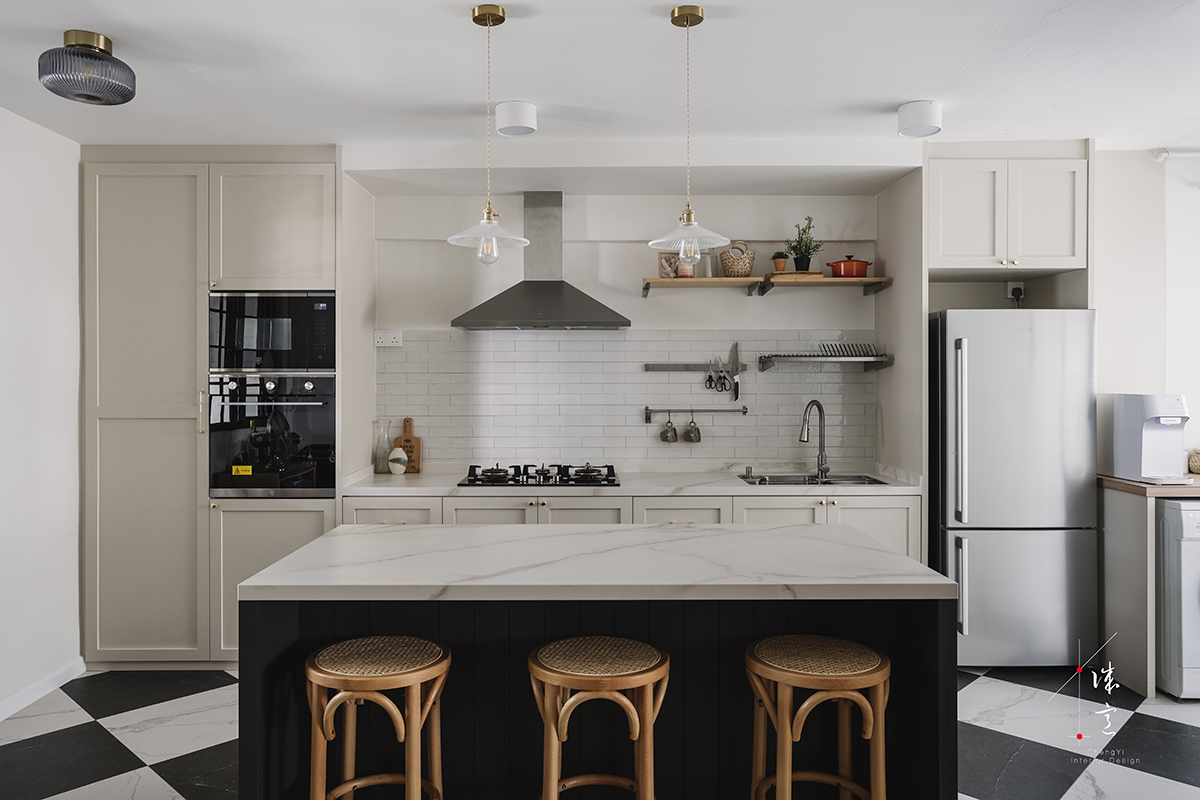 I've always enjoyed looking at interior design and other people's houses, even before we thought of moving. After we bought this place, I just had so many thoughts and ideas from Instagram, Pinterest, and knowing our own lifestyle needs. So I just wanted to try and see if they would work on a 3D platform.
Floorplanner is quite intuitive for a layman, and it's fun, like playing Sims! It was also super useful when it came to shopping because I could visualise the scale of the furniture in a realistic space.
For example, I originally wanted to buy a smaller sofa, but then we fell in love with a much bigger sectional that we saw at a friend's house and Floorplanner allowed us to visualise it in our space. To my surprise, it actually fit even better! Having these homemade visuals also allowed me to communicate more clearly with my ID throughout the design process.
You ordered your dining light from Carousell because you wanted a really specific one—are there other pieces you got from the site?
I'm such a fan of Carousell and second-hand items from online marketplaces! The dining light is the larger IKEA SINNERLIG that isn't carried in Singapore. Lucky for us, a nice expat couple from Hong Kong brought with them a brand-new one that they never installed.
The dining set is also a secondhand Ethnicraft solid teak set from Carousell, while the French bistro set in the round alcove area is excess restaurant furniture.
One of my favourite Carousell finds is the wooden console with metal hardware in the kitchen. I stalked "consoles," "side tables" and "cabinets" on Carousell for months before the listing came up with the right look, size and price! It's now our coffee and tea station. The thrill of bargain hunting!
We saw on your Instagram that you once found a lovely rattan table downstairs. I think a lot of homeowners wouldn't pick something up that they found outside, but it's such a great way to give discarded furniture a second life, and it saves money too. Do you have any tips for homeowners who may be curious to pick stuff up they find outside but aren't fully comfortable with it?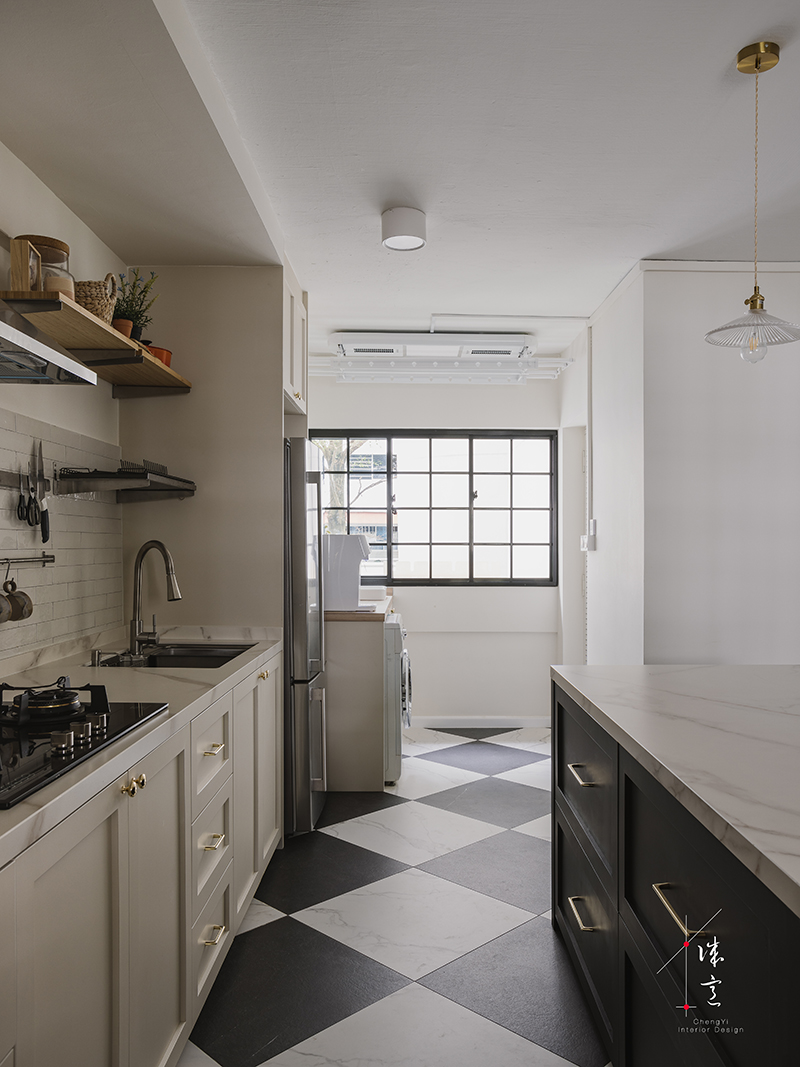 Nothing some good cleaning and sanitising can't solve! Whether it's picking up a discarded item, adopting old furniture from your parents or buying secondhand, it just takes a little bit of imagination to see if you can breathe new life into it or use it in an unexpected place.
Like that rattan side table, which is now a plant stand. I also have an old chest of drawers from my childhood bedroom and an old Pennsylvania House writing desk from my in-laws' place.
All they needed was a fresh coat of chalk paint and new knobs. The kids have wooden dollhouses that are also refurbished from Carousell, with paint, stick-on wallpaper and new hinges.
Would you say that your home has changed a lot since you first renovated the space, especially with your slow and thoughtful approach to styling?
I'm not sure my slowness is because I'm being thoughtful, more like I have budget constraints! It takes time to wait for nice things to show up on Carousell or to save up and wait for a sale at a nice shop like Island Living (which is where the coffee table is from).
The area that changed the most is probably the balcony. I have since developed a fondness for gardening and am on the way to turning it into a conservatory-style indoor-outdoor space. Or Jumanji, according to my husband.
How do you keep your home clean and tidy with kids and a dog around? Any laundry tips in particular?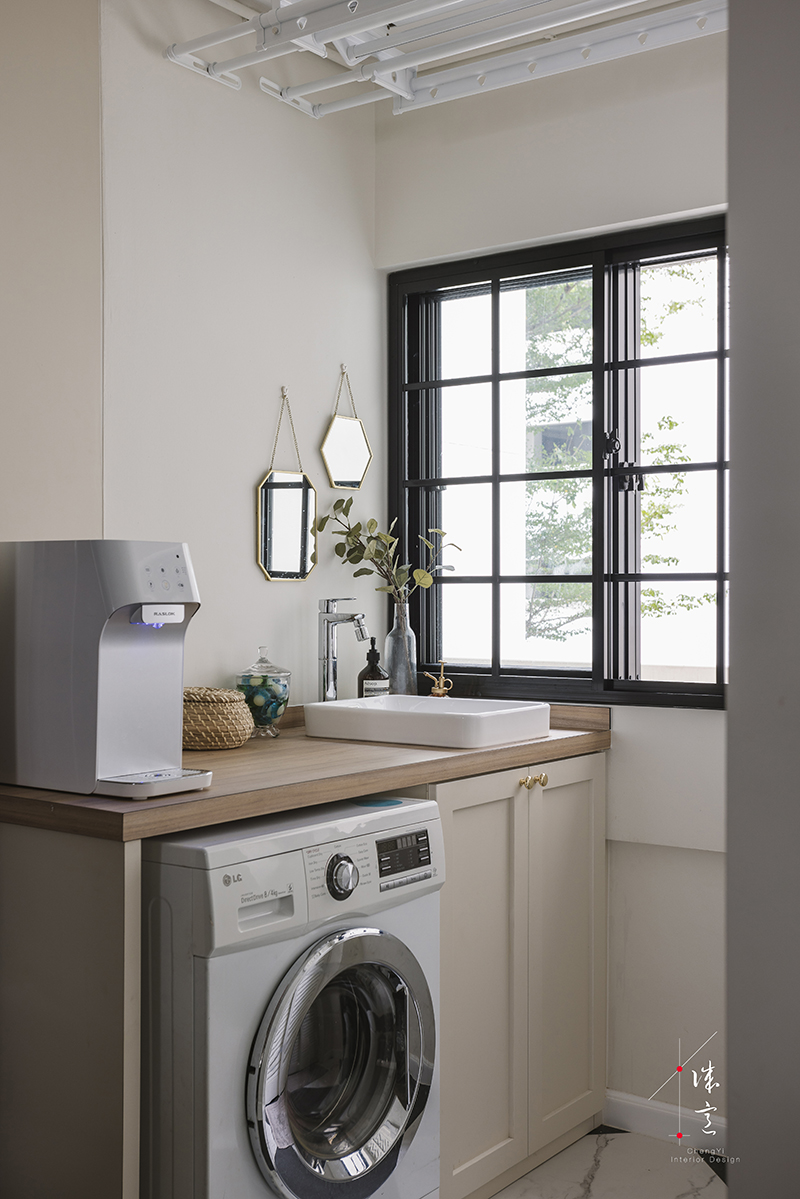 We cannot do without the Steigen, our automatic clothes-drying rack, especially during the rainy season! There's just an inordinate amount of laundry for such little people, the turnaround would not be quick enough if we were to air-dry the clothes outside.
Now that you've shared your home with your family of six for quite some time, do you have any reno regrets or things you'd do differently?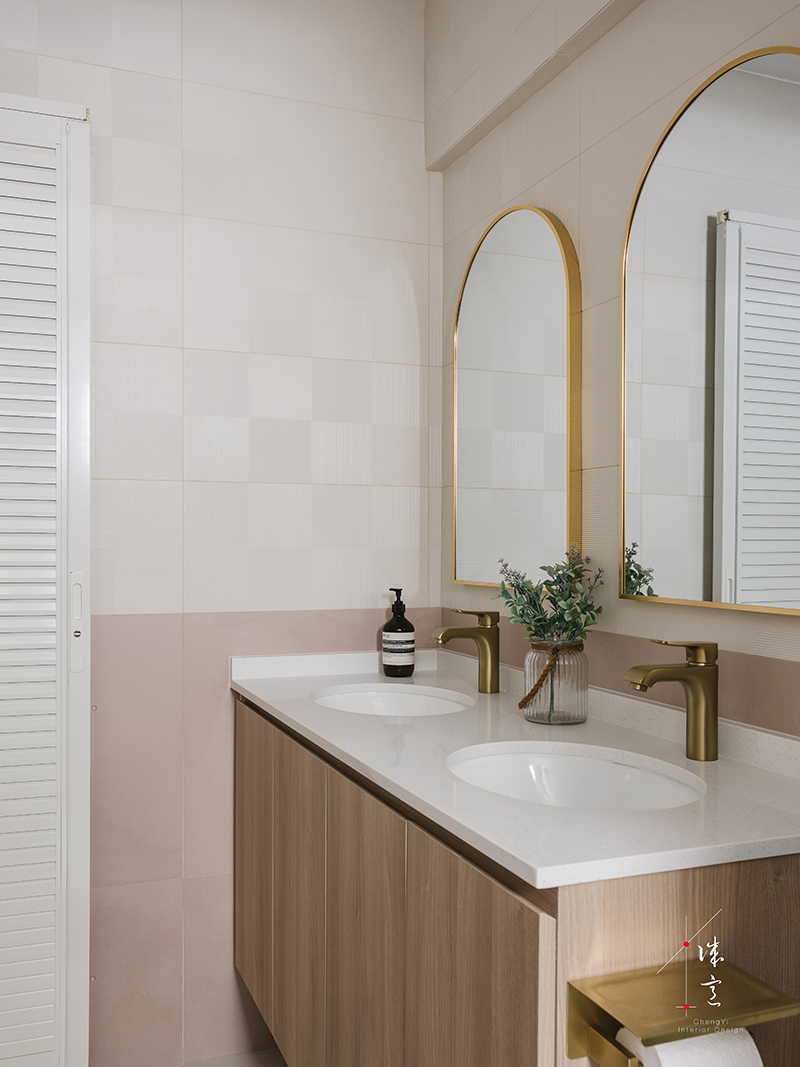 I love the look and feel of our vinyl-overlaid floors downstairs, but if I could redo the area, I would allocate more budget to hacking the old tiles and installing wood-look tiles instead, just so I don't have to worry about dog pee seeping below the overlaid floors.
As it is now, it's baking soda to the rescue to soak up any pee that might have reached between the joint lines, and then a vinegar spray to eliminate odours and prevent remarking.
I also would have chosen to hack the kids' bathroom had I known there was only one drainage hole. It's a long and narrow room and I wanted to keep the wet shower area separate from the dry area, but it was only midway through masonry when we discovered that there was no drain in the shower area.
In order to create one, they would have had to hack the toilet floors and we just didn't have the time to do that anymore. So while the vanity area still remains pretty dry, water has to flow from the shower past the toilet bowl to the drain.
Do you foresee yourself updating your home and changing things up again in the future?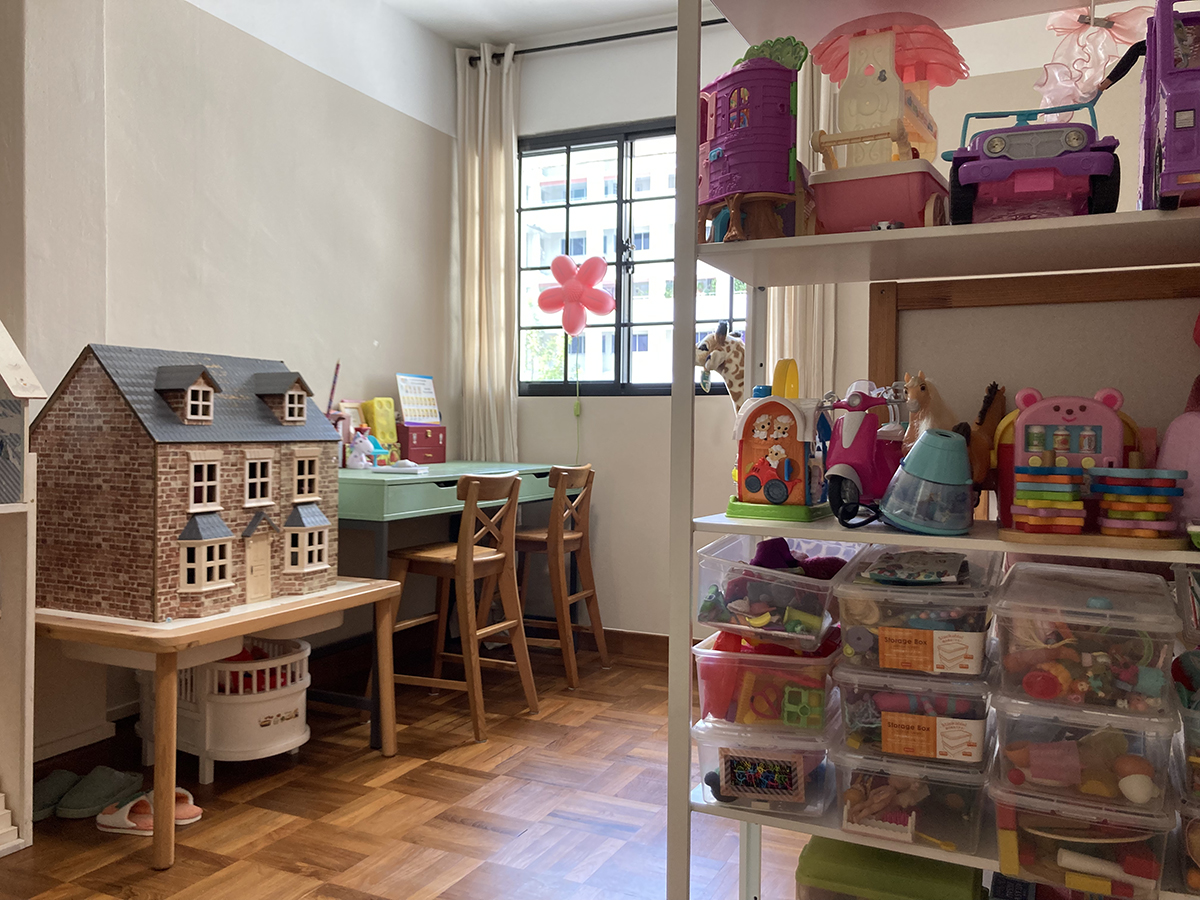 It will always be ongoing I think! On my to-do list is to inject some personality into the blank walls. I'm still in the process of collecting frames, art and family photos to blow up for some gallery walls.
I'm also thinking of curtains for the living room, some open shelving above the TV… and sometime in the future, when the kids are older and less messy, rugs!
I'll soon need to reconfigure the kids' room to fit three beds too, as we'll have to move the toddler over from our own room.
This post was adapted from an article first published in IdealHomes 2023.