Whether you wanted it since the beginning or not, there's no escaping the fact that many condominiums and HDB apartments nowadays come fitted with their own bay windows. Although they may look to be eating up precious floor space in your home, with a little creativity, you can easily turn this untapped space into something useful.
Create more storage units or a display case
As far as storage goes, we can never have too many of these design elements in our home. So why not consider carving out new storage areas within the base of the bay window in the form of pull-out drawers or flip-up cabinets? You can even adorn the top of the bay window with cushions and have it double up as additional seating arrangements. Otherwise, if you're only planning on using the bay window for storage, you can even install cubby hole cabinets over the top of the ledge and use it as a display case for decorative ornaments and other personalised trinkets.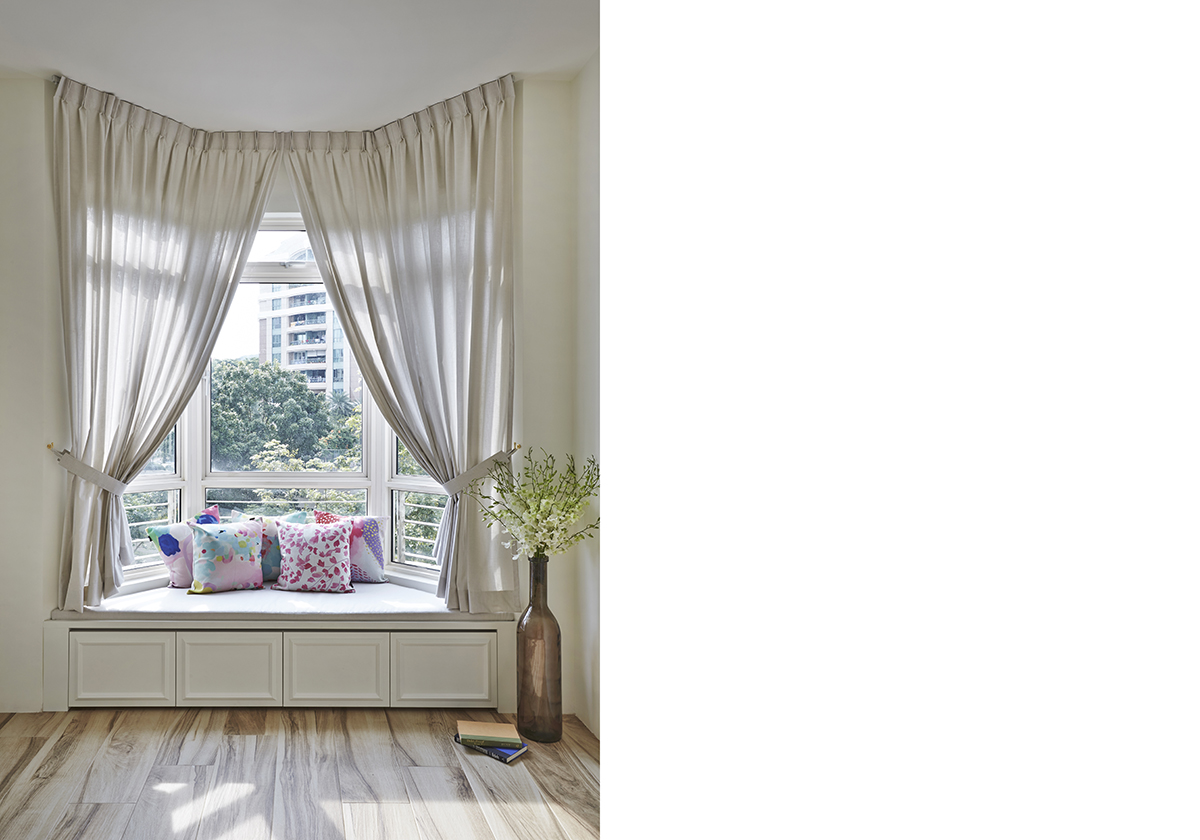 Image credit: Minimo & Minimology
Turn it into a study desk
Traditionally, bay windows are converted into storage units. But for those looking to veer away from convention, another good alternative is to convert this element into a study desk. Take this home for example. By simply adding another layer above your bay window to make it desk-height, the feature is then conducive for study and work purposes, and the sharp corner beneath this newly added layer creates leg space you normally wouldn't have. The end result is a dedicated study area that doesn't obstruct the existing living space.
Transform your bay window a reading nook
Is there anything better than cozying up in a nook with a good book and a warm cup of tea? We think not. So we have something perfect for all you indoor-loving bookworms, and this design element is something that will work perfectly well in both the living room and your bedroom. Simply convert the surrounding sides of your bay window into open shelving units for your book collection, add a few plump cushions, and you've got a cosy yet convenient reading nook at your disposal.
Convert it into a television console
We've all been accustomed to seeing one of the main walls transformed into a dedicated television feature wall set in the middle of the room. But if you happen to have a bay window in your living room, why not convert it into a television console instead? Especially useful for a compact apartment with a limited square footage, just place your television set in the middle of the bay window, complement it with a comfy sofa and watch away!
Incorporate it into your seating plan
We all have friends or family who will come over to visit, and as such, there's no such thing as having too much seating when you have a busy family home. So, if your bay window takes pride within your communal living spaces, how about incorporating it into your seating plan? This way, you automatically have extra seating when you have guests over and your sofa and chairs are at full capacity.