The sink is the most utilised item in the kitchen, so it is absolutely vital that you choose the right one for your needs. Two of the most popular kitchen sinks in the industry right now are stainless steel and composite quartz. Let's take a look at the differences between these two kitchen fixtures.
Stainless steel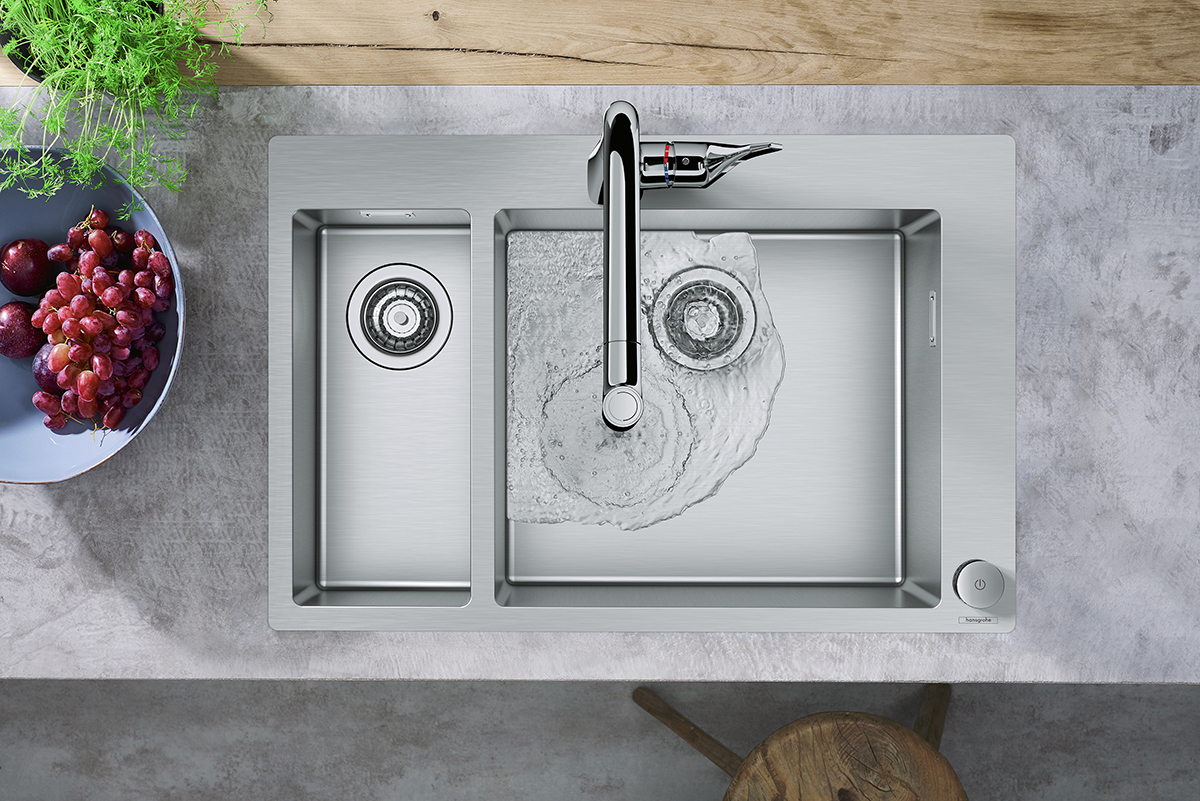 By far the most popular material for kitchen sinks, stainless steel is well known for its sleek minimalist look, its strength and durability. Just think: if a stainless steel sink can survive the constant pressure of a commercial kitchen, it will probably hold up pretty well in a regular kitchen. This easy-to-maintain material also doesn't harbour bacteria, is able to withstand high temperatures and are far less prone to stains, corrosion and rust. Additionally, stainless steel sinks are more forgiving when it comes to accidents. This means that if you accidentally drop a plate or cup into the sink, chances are that these items will come out with relatively little or no damage at all. hansgrohe's stainless steel sinks take it a step further with its intuitive controls. Integrated into the sink unit is the brand's innovative Select technology, which allows users to turn on and control water flow simply by pressing a button. This means that users can easily control the flow of water using the back of the hand or elbow, a useful feature, especially for multitasking cooks. Not only that, these stainless steel sinks are designed to be wider than usual to provide users plenty of room to move around when doing their chores. Plus, its hand-brushed finish makes it a real stand-out in the cooking space.
Composite quartz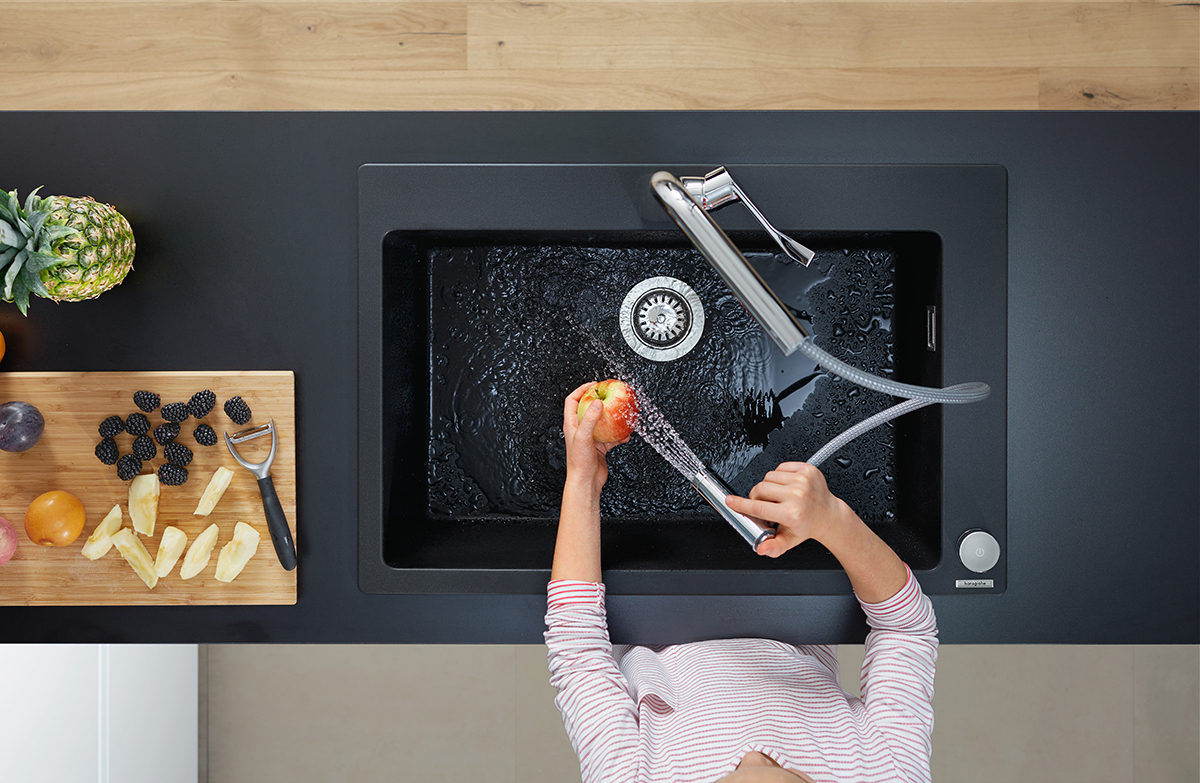 Composite quartz sinks are perhaps the trendiest sinks around. hansgrohe's new SilicaTec range of kitchen sinks for example. Utilising a composite made from quartz and acrylic resins, these sinks have a smooth, non-porous surface that is easy to clean, incredibly heat- and scratch-resistant, anti-bacterial, stain-proof, and most importantly, food safe. With a warm and welcoming look that is also pleasing to the touch, these composite quartz sinks are a robust and attractive all-rounder for even the most hectic of kitchen routines. And with a huge variety of colours and finishes available, there really is a suitable style for every type of kitchen decor.
Whether you decide on a stainless steel or composite quartz sink, hansgrohe has the perfect product to suit your kitchen needs and more. All models come with a choice of two innovative controls for easy accessibility. The first option is the Metris Select two-hole kitchen mixer that offers precise selection of temperature and water volume, with water flow controlled by the Select button strategically positioned on the high spout. The second option directly integrates hangrohe's Select technology into the sink itself, with a large button on the right-hand side of the sink rim that controls water flow. It can also be used to open and close the sink drain, removing the need for other controls in or around the sink.
Additionally, users can also keep clutter at the back of their minds with the new smart sBox component that's been integrated into these sinks. The sBox keeps the base cabinet below the sink tidy by storing the hose of the pull-out spray in a specially designed flat box that protects it from bumping into drawers or other sharp edges, ensuring a smooth and seamless operation. This special feature also increases the operating range around the sink by up to 26cm, offering users an expanded worktop without having to cram everything into the sink.
This post was brought to you by hansgrohe