It doesn't happen often that homeowners know exactly what they want, and yet the two parents residing in this resale HDB flat had their design planned to a T. Valerie Hoon and Andre Tan from Fifth Avenue Interior were tasked with designing a bright and minimalist project with plenty of room to move around and an abundance of natural light streaming into every space.
FACT FILE
Space: 5-room resale HDB flat
Size: 1,345 sq ft
Location: Tampines
Designer: Fifth Avenue Interior
Reno period: 12 weeks
Open-concept living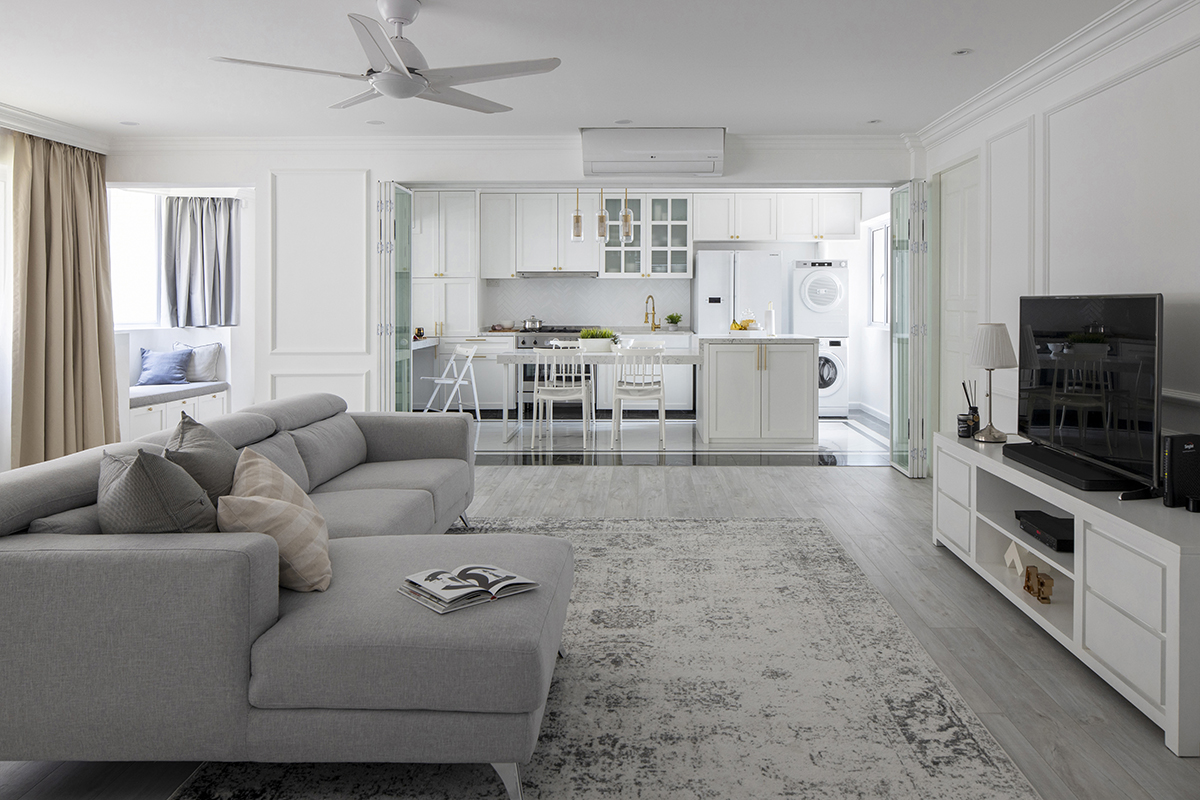 With a young daughter on the loose, the young parents knew that an open-space living area was a major priority for their home design, wishing to give their child plenty of room to run around and play. Thankfully, this request aligned with their other needs: a bright and airy layout and a predominantly white colour scheme. The living area was fitted out with a large couch and a simple TV console to suit the whole family, the floors decked out in vinyl from Floor Xpert for a soft feeling underfoot and more comfortable play-time.
Kitchen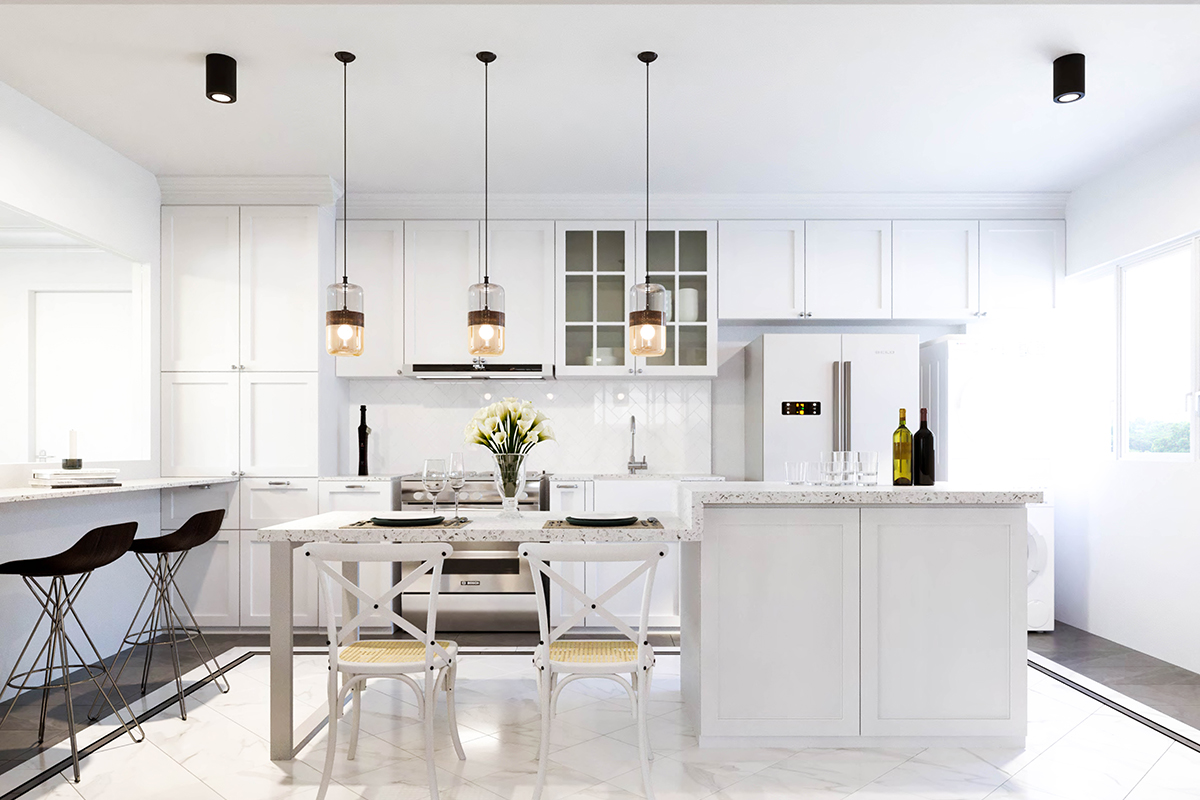 Kicking off the kitchen design was the homeowners' request for a large kitchen island with lots of countertop space for easy food prep. Taking this into consideration, it was only natural to turn the closed-off kitchen into an open-concept cooking zone, replacing the original entrance with bi-fold glass doors. The new entrance not only gives the living areas more breathing room but also allows plenty of light to stream into the kitchen. The materials in this space are equally thought-out, comprising homogenous tile flooring, quartz countertops and low-maintenance laminate cabinets. Pendant lamps from Lux-Lumens round off the look with a warm glow.
Walk-in wardrobe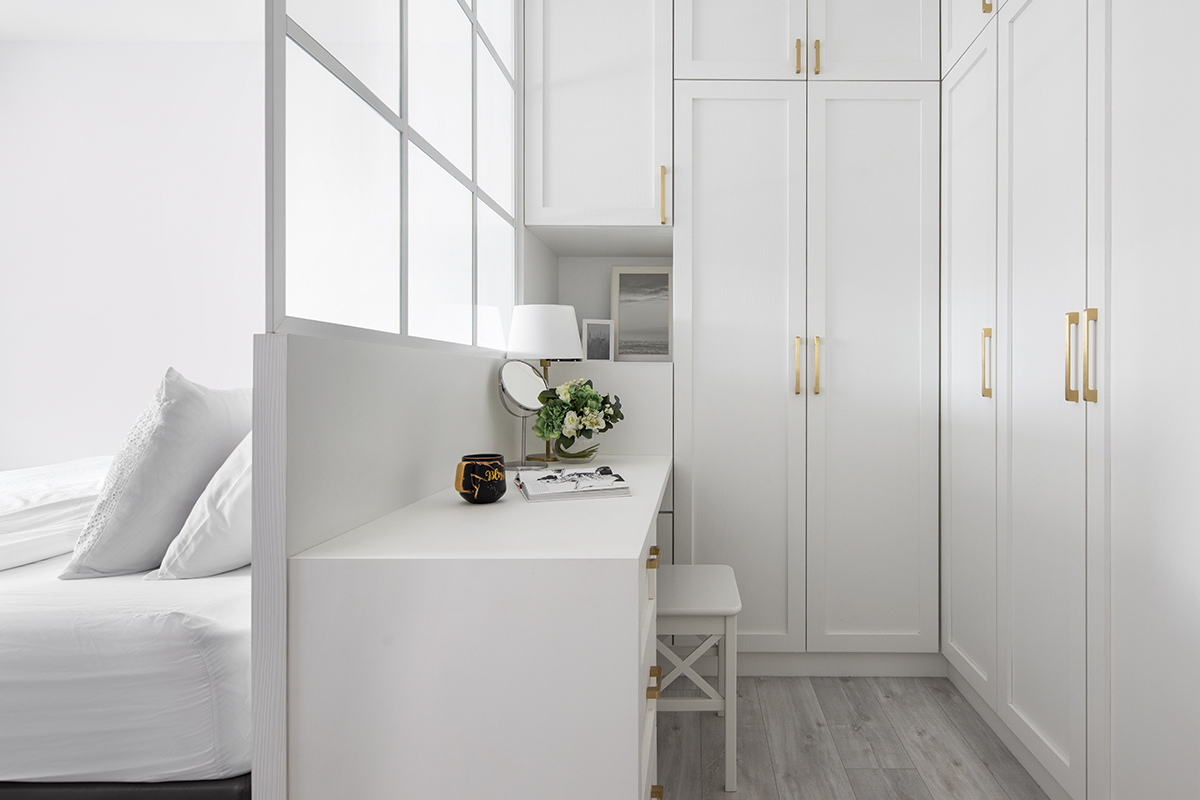 In order to make room for a stylish walk-in wardrobe, one of the home's bedrooms was segregated into a sleeping zone and a handy storage corner. The wardrobe was constructed to offer plenty of space, split into a number of tall compartments and a few additional top-row cabinets for bedding and seasonal clothes. The u-shaped design of this walk-in nook even makes room for a full-sized vanity with a set of large drawers, expanding the storage space further. Golden handles add some luxurious warmth to the predominantly white surroundings.
Bathroom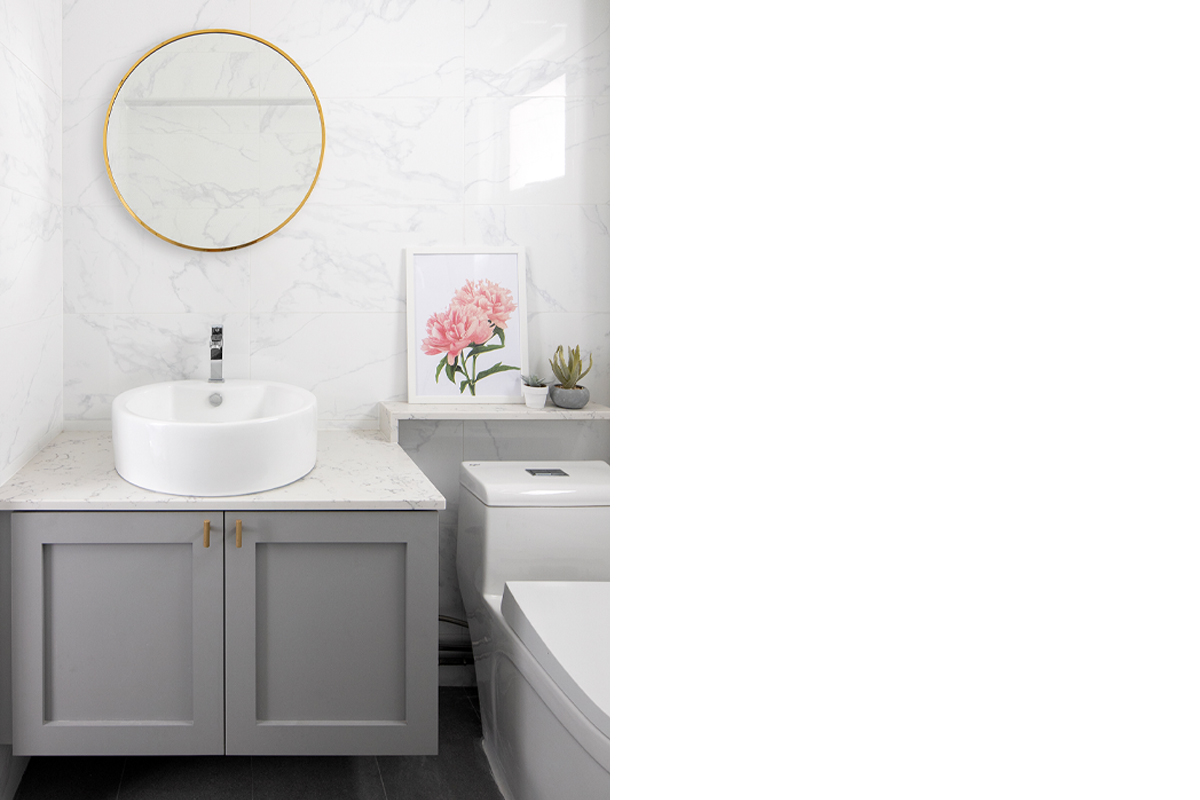 Simple yet romantic in design, the bathroom was kitted out with marble-look homogenous tiles for a toned-down contemporary look and low-maintenance environment. A quartz countertop and floating shelf make for sturdy surfaces in this high-traffic area, while small details like a gold-rimmed mirror and framed rose artwork add the perfect final touches to this understated space.
About Fifth Avenue Interior
The word 'avenue' is another term for solution, which is what Fifth Avenue does for their clients—provide innovative and artistic solutions while building a dream home. They provide comprehensive interior detailing, space planning and consultation, from concept to completion.
Contact
81 Ubi Avenue 4 #01-11 UB.One Building
Singapore 408830
Tel: 6443 9530
[email protected]
fifthavenue.com.sg
This post was adapted from an article originally published in Key to Your Home 2021.