Airy layouts, ample storage and free movement of light give this home a peaceful vibe.
FACT FILE
Space: 4-room HDB flat
Size: 1,000 square feet
Location: Toa Payoh
Designer: Jake Yeoh from ZLC
Reno Period: 8 weeks
Living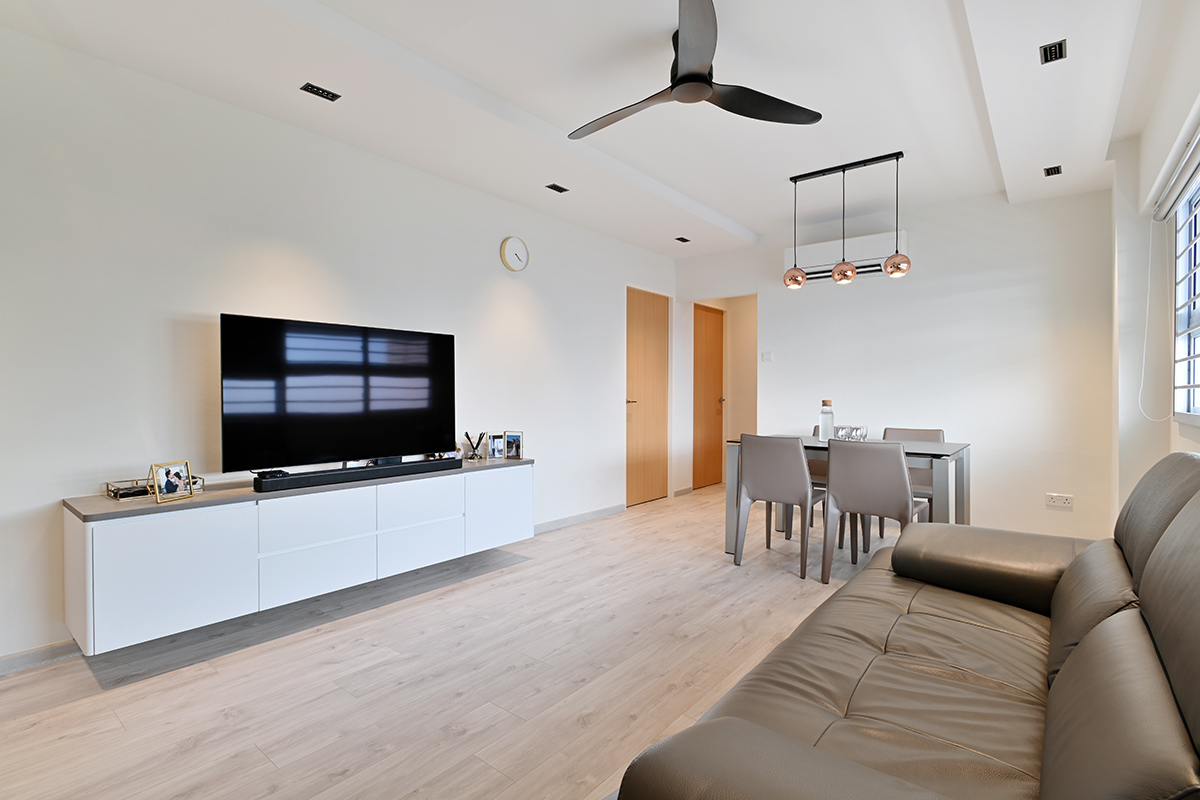 In designing the house, the young couple who lives here opted for neutral hues for their living area but also wanted some wood accents here. To fulfil their request and stick to the theme, the flooring and doors were done up with natural wood tones. Designer Jake Yeoh broke up the rather "long-ish" living space by setting up the dining area on one end. He also added parallel rows of recessed down-lights from Sol Luminaire that can be directed on key furniture to give the space more dimension.
Wet Kitchen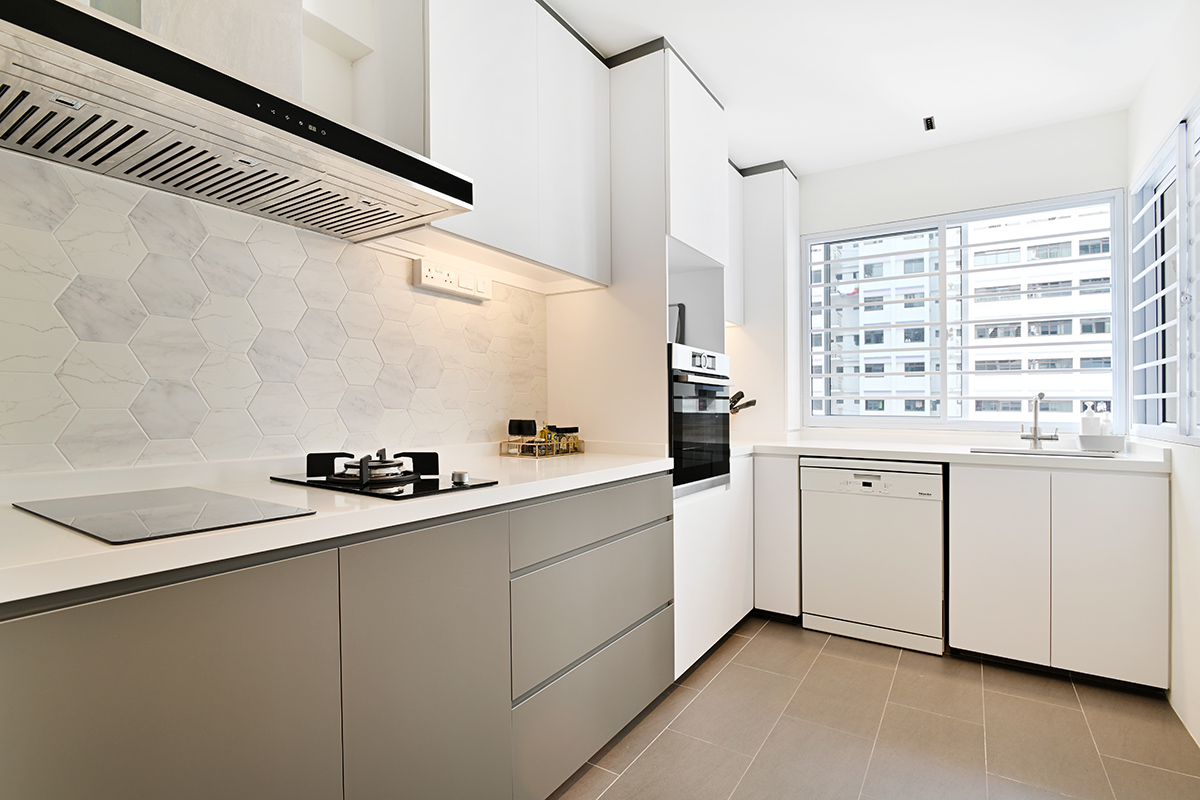 As the owners like having guests over, it made sense to tuck the wet kitchen further inside, sectioned off behind glass doors. This partition stops cooking fumes from wafting all over while not blocking the light or preventing guests from interacting with their hosts. Sensible and hardy Caesarstone quartz countertops were installed here, complemented with an eye-catching backsplash in a similar hue created with Hexagon Verona tiles from Hafary.
Dry Kitchen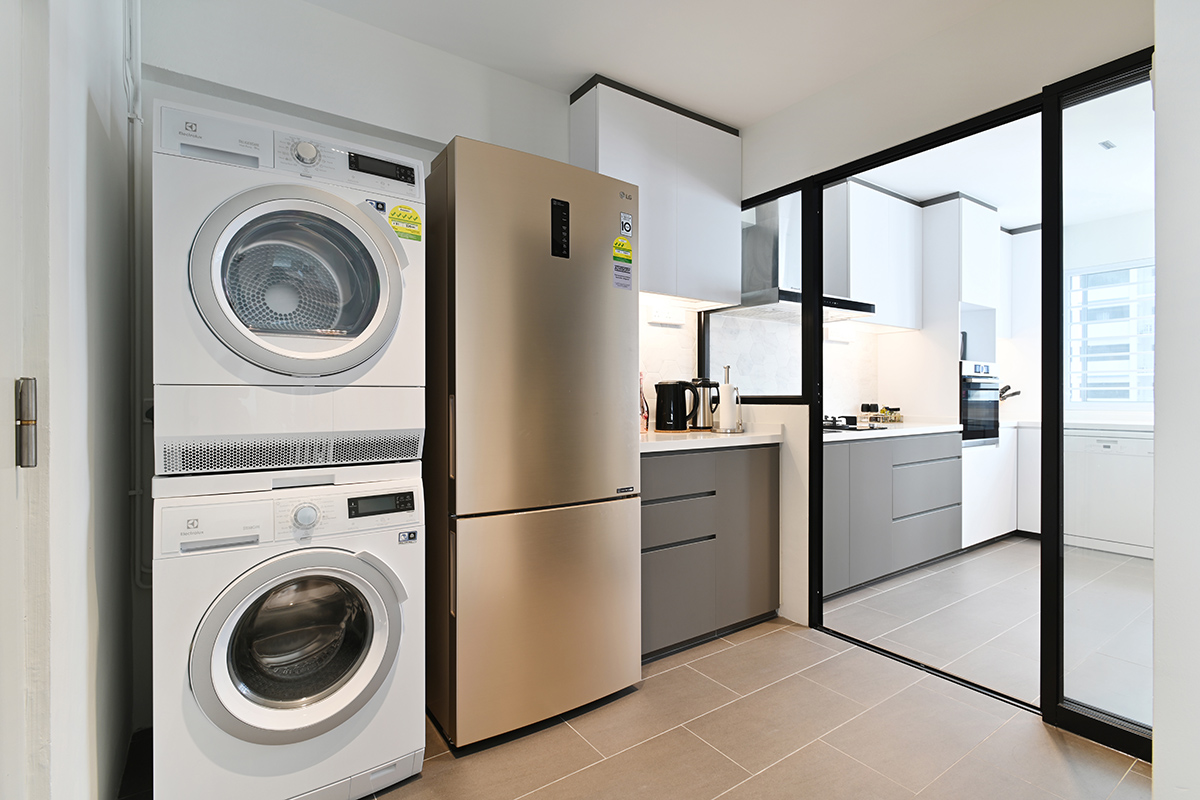 On this side of the kitchen, guests can conveniently help themselves to drinks and the fridge, washing machine and dryer stay a safe distance from the cooking. The same backsplash from the wet kitchen features here, and both sides also have handy deep drawers that let the couple store and grab things easily.
Master Bedroom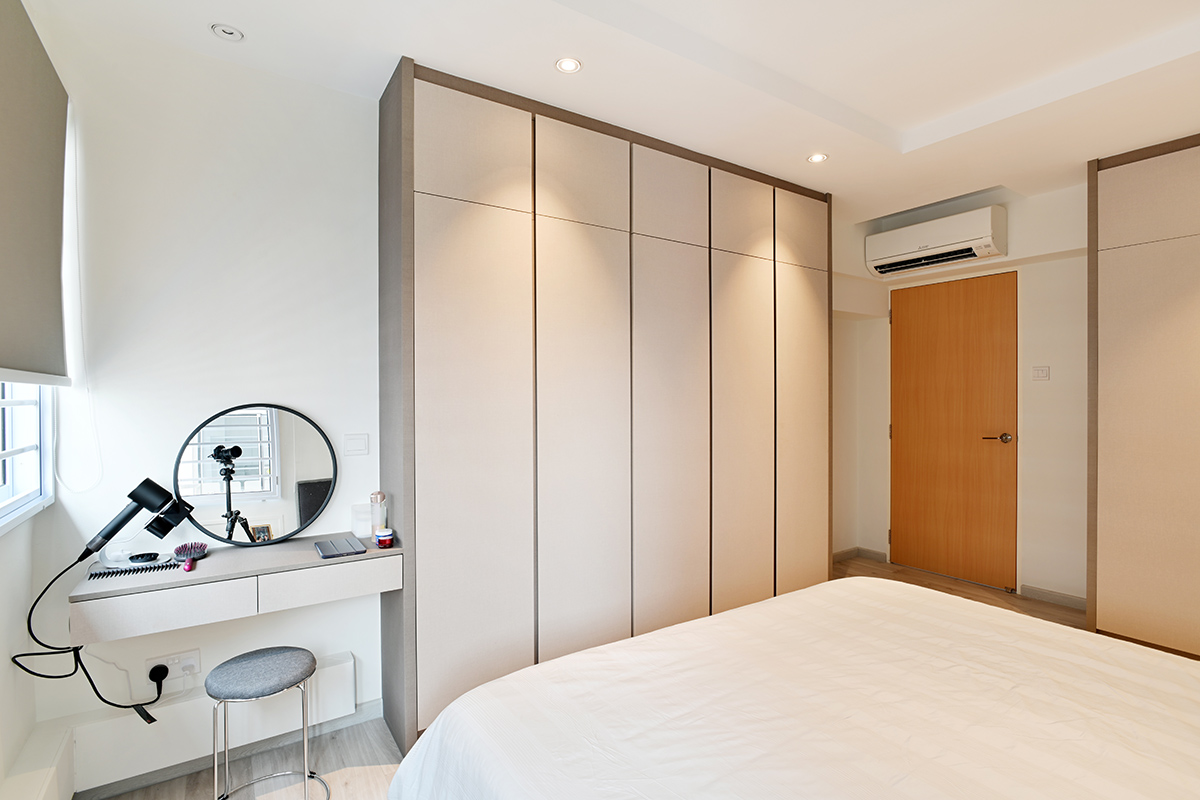 Slim, full-height wardrobes were installed on two sides of the bed to provide generous storage yet allow the homeowners to manoeuvre around the space comfortably. For grooming needs, a vanity was installed in a corner to make the room even more functional.
Common Bathroom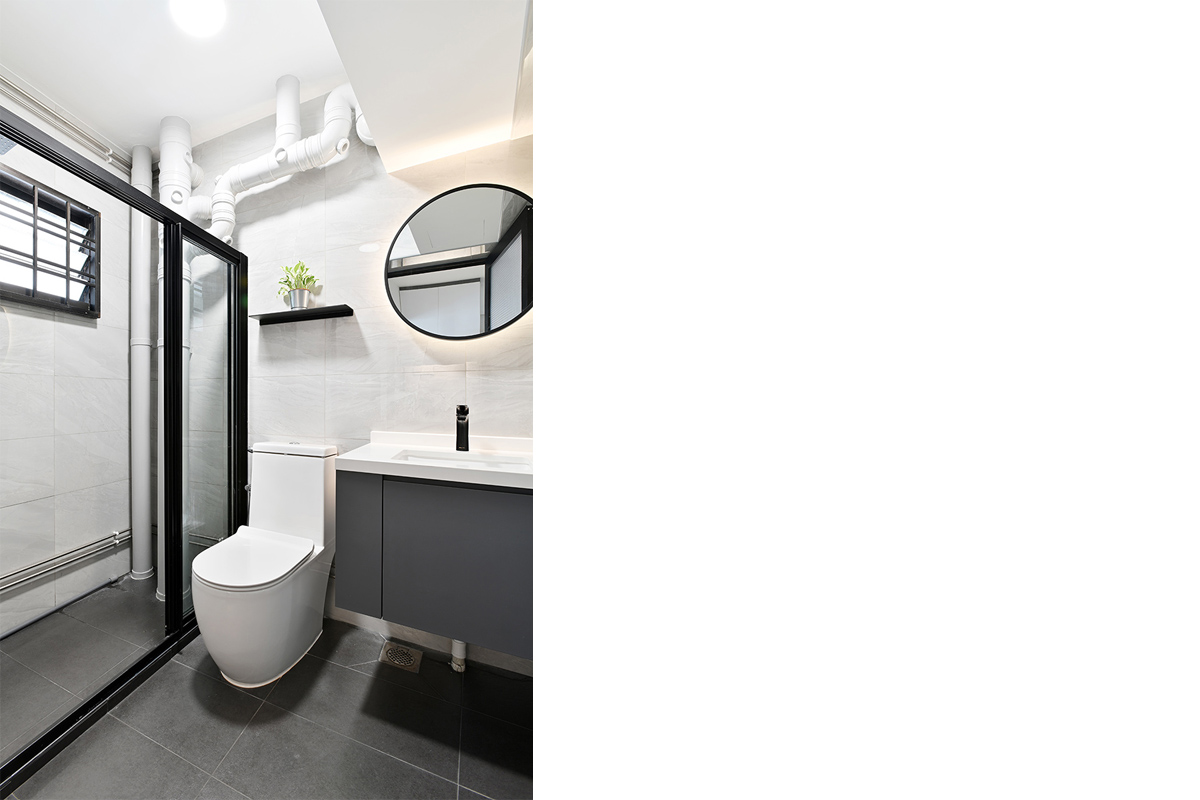 Unlike the rest of the house, the bathroom was given an edgier touch with a black and white scheme. Glossy grey tiles with marble-like veining were chosen for the walls for maximum reflectivity and easy maintenance. Additionally, the homeowners sourced a rain-shower from a local distributor that spreads water across a greater area for a luxurious shower experience.
"There's a lot of flexibility in this house as minimal fixtures mean the space can easily be modified in future."
About ZLC
Focusing on residential upgrades and HDB renovations, ZLC believes in offering sincerity, honesty and quality assurance to its clientele. By building their reputation through the years, they have grown to become a trusted name for homeowners plus commercial and industrial customers alike. Armed with a team of trusted professionals, ZLC aims to provide top-notch personable service and quality workmanship for all customers.
Address
280 Woodlands Industrial Park E5, #04-23, Harvest@Woodlands, 757322
Tel: 6284 0118
Email: [email protected]
This post was adapted from an article originally published in the April 2020 issue of SquareRooms.