With no strict design perimeters to follow and a result that's guaranteed to be timeless, there's something to be said for homes that don't cater to a specific design theme. Case in point: this five-room HDB apartment that had only one main design requirement – to be wood-centric. Under the purview of interior designer Jake Yeoh from ZLC, this home now boasts varying shades of brown and a collection of unobtrusive furnishings that carve out an atmosphere of warm tranquility.
Space: 5-room resale HDB unit
Size: 1,184 square feet
Location: Simei Lane
Home to: 2 adults
Designer: Jake Yeoh from ZLC
Reno Period: 10 weeks
Overall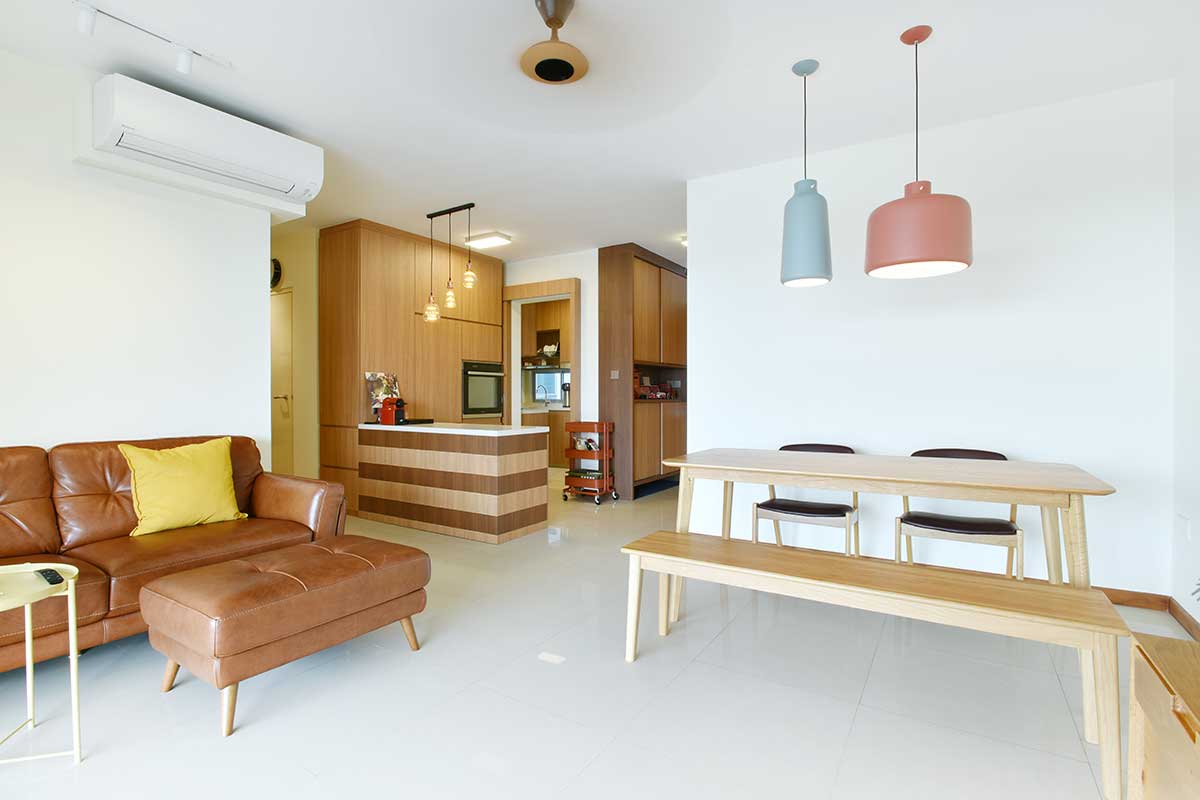 For a spacious and airy atmosphere, the walls in the communal zones were kept free from any built-ins, which pair well with the large-format homogeneous floor tiles that have been repolished to give it a new shine. The choice of an understated palette also helps to bring out the full depth of the sofa's rich caramel colour, as well as the natural wood layers from the adjoining fixtures and furnishings.
Dry Pantry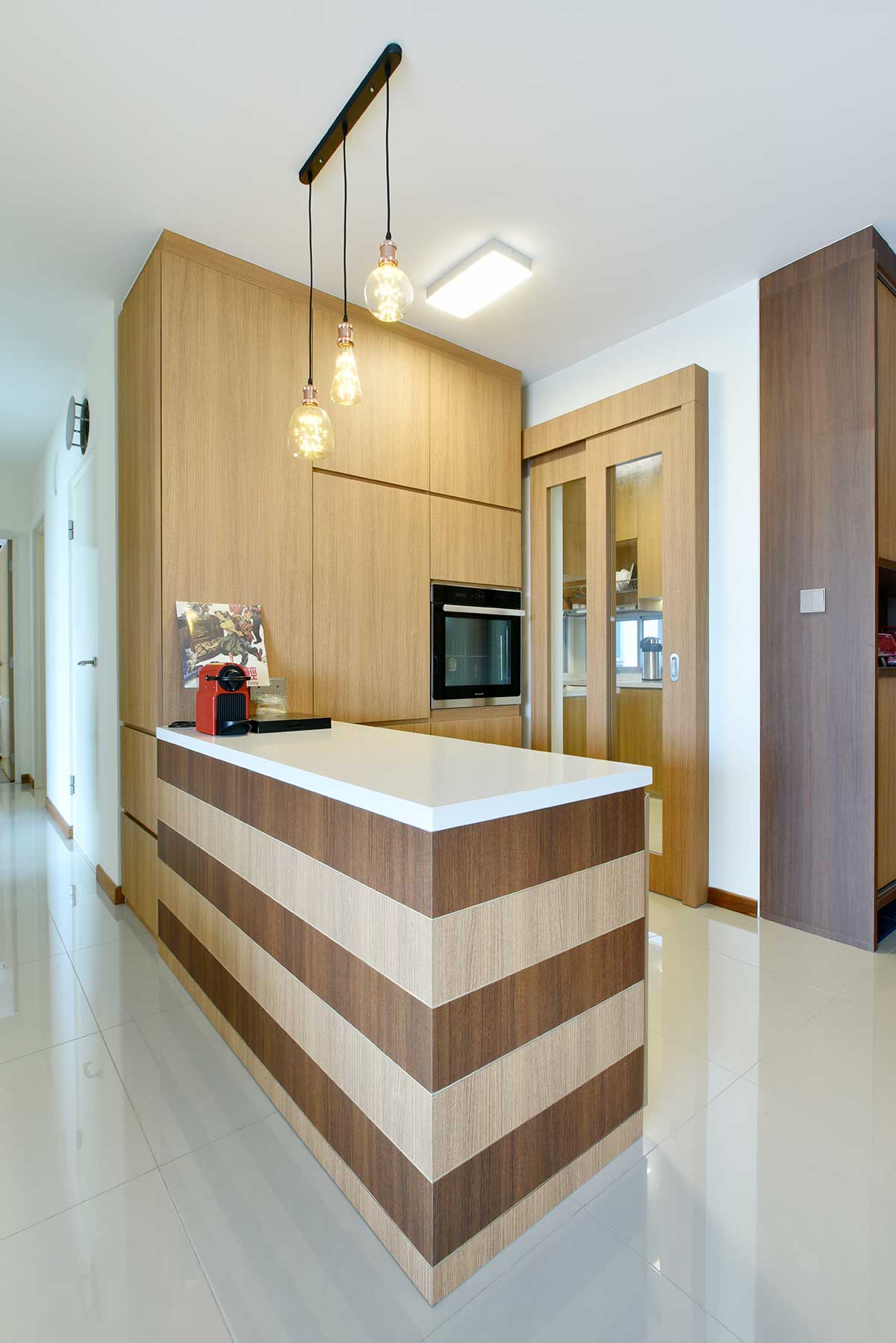 To make the owners' entertaining duties more seamless, Jake carved out a dry pantry outside the kitchen and filled it with plenty of thoughtful fittings. In addition to the floor- to-ceiling cabinets, a custom-made island unit dominates the space. Made out of a quartz worktop and dual-toned laminated base, the fixture offers additional prep space while encompassing hidden storage units beneath.
Entryway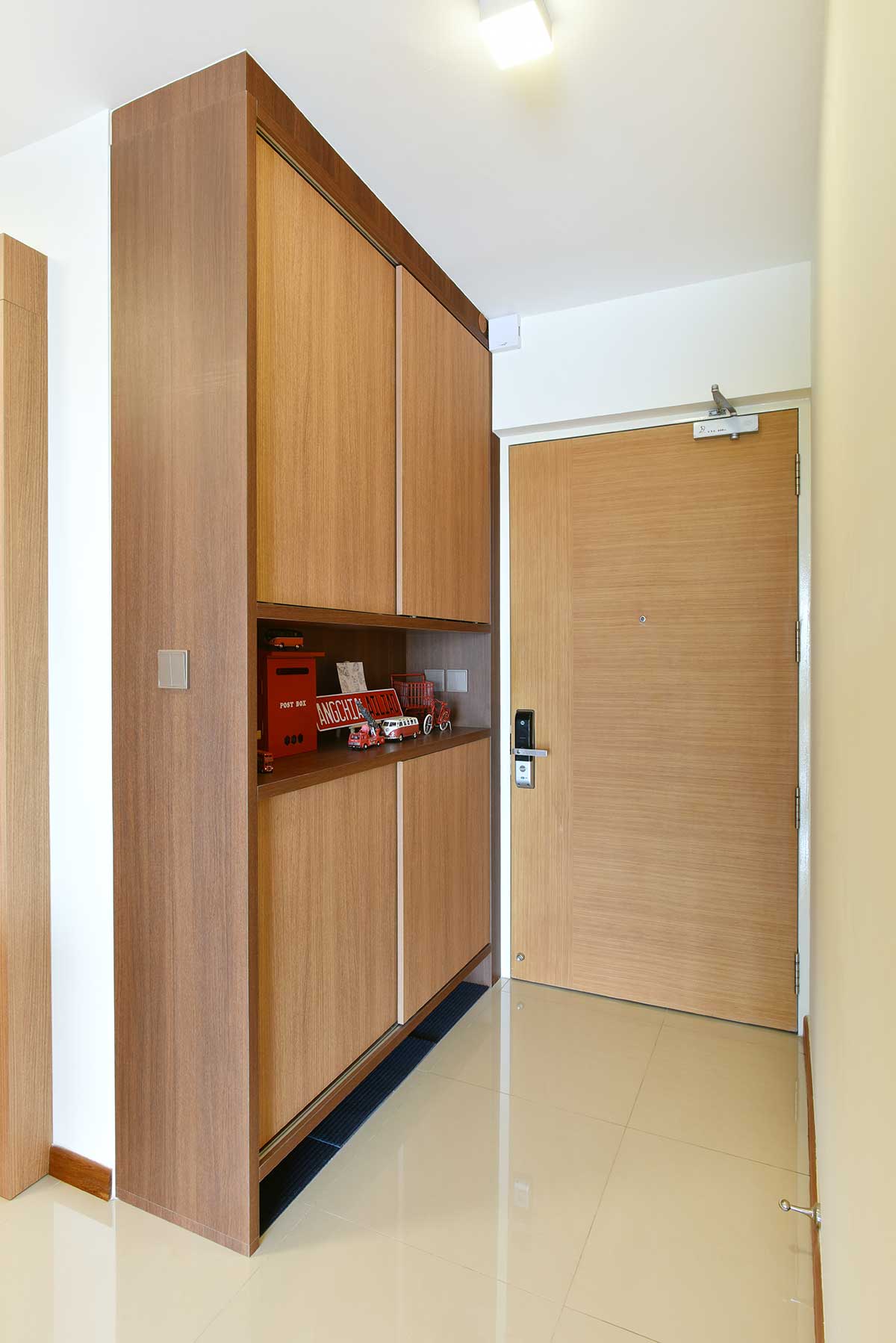 A full-height cabinet installed here helps keep shoes tidy and off the floor. Additionally, the use of sliding doors instead of swing doors prevents any unnecessary blocking of the entryway. Meanwhile, a couple of open niches offer the occupants added functionality. The first is the middle niche that serves as a landing spot for wallets and keys, while the bottom niche provides an easily accessible spot for shoes.
Kitchen
In order to keep up with the owners' frequent usage, the kitchen boasts plenty of durable materials, which can be seen from the quartz countertops, tempered glass backsplashes and plenty of wood-laminated cabinets and drawers. Adopting a galley-style layout, the entire kitchen is also fully maximised as both sides of the utilitarian zone serve a dedicated purpose.
Dining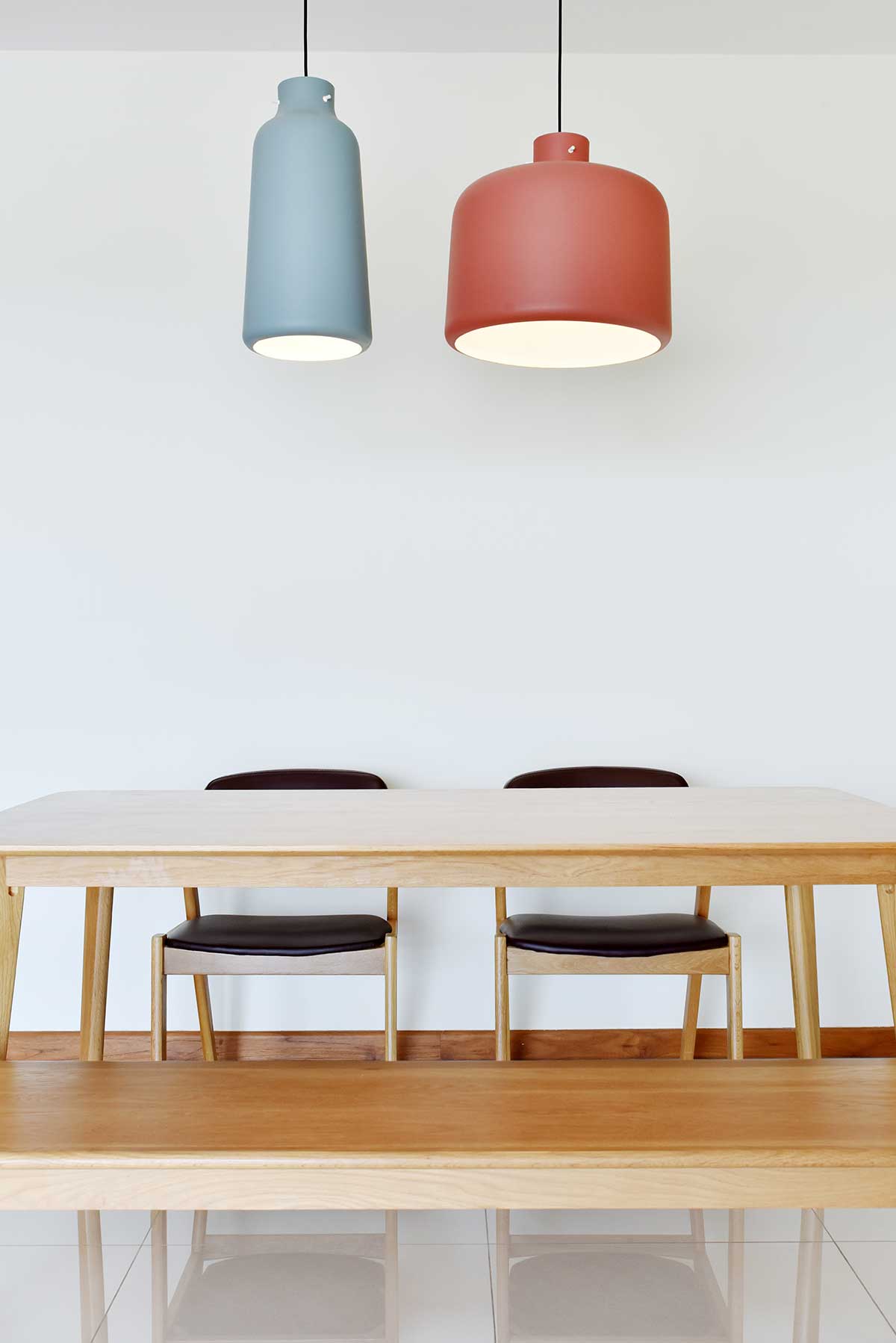 Keeping to the philosophy of less is more, the dining area comes furnished with a set of minimalist furniture for a simple but functional setup. The use of a dining bench on one end also offers more seating arrangements, perfect for when the occupants have guests over. Meanwhile, a pair of boldly hued pendant lights inject an added textural element into the eating zone.
Bathroom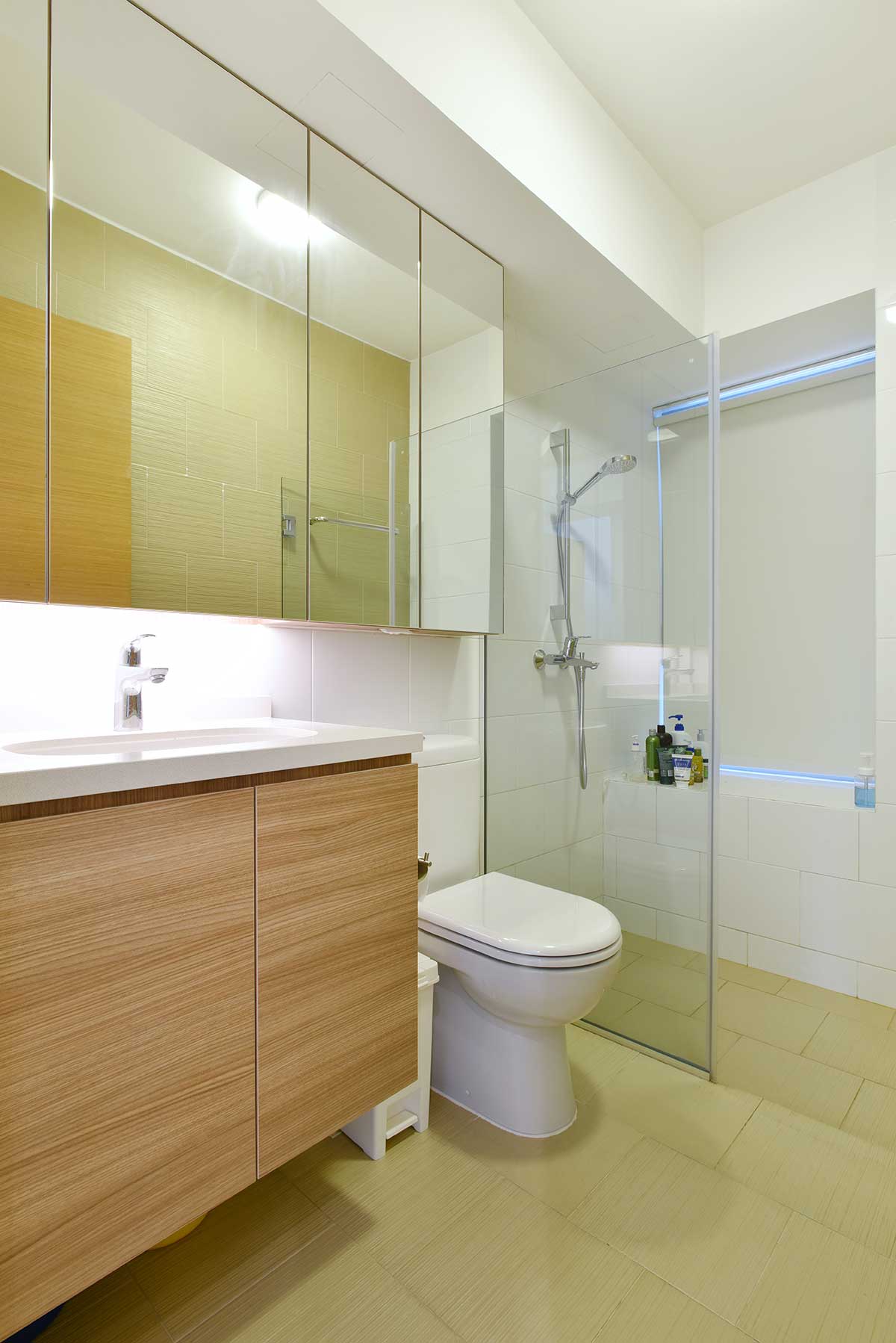 Boasting a palette of pristine whites and cosy wood tones, the bathroom presents the very image of a cosy private sanctuary. Completing the space are a couple of built-in fixtures that provide ample storage for toiletries, as well as the bay window that now serves as a landing spot for shower essentials.
About ZLC
Focusing on residential upgrades and HDB renovations, ZLC believes in offering sincerity, honesty and quality assurance to its clientele. By building their reputation through the years, they have grown to become a trusted name for homeowners plus commercial and industrial customers alike. Armed with a team of trusted professionals, ZLC aims to provide top-notch personable service and quality workmanship for all customers.
Address
280 Woodlands Industrial Park E5, #04-23, Harvest@Woodlands, Singapore 757322
Tel: 6284 0118
Email: [email protected]
This post was adapted from an article originally published in IdealHomes Vol. 11.