For the owners of this five-room HDB flat, the idea of a perfect abode was one that was spacious and modern in design. Based on this, interior designer Jake Yeoh from ZLC utilised copious amounts of wooden tones and neutral colours to carve out a fuss-free interior and elevated it with choice furnishings that are characterised by the twin qualities of functionality and simplicity.
Space: 5-room HDB unit
Size: Approx 1,184 square feet
Location: Bukit Batok West
Home to: 2 adults
Designer: Jake Yeoh from ZLC
Reno Period: 10 weeks
Overall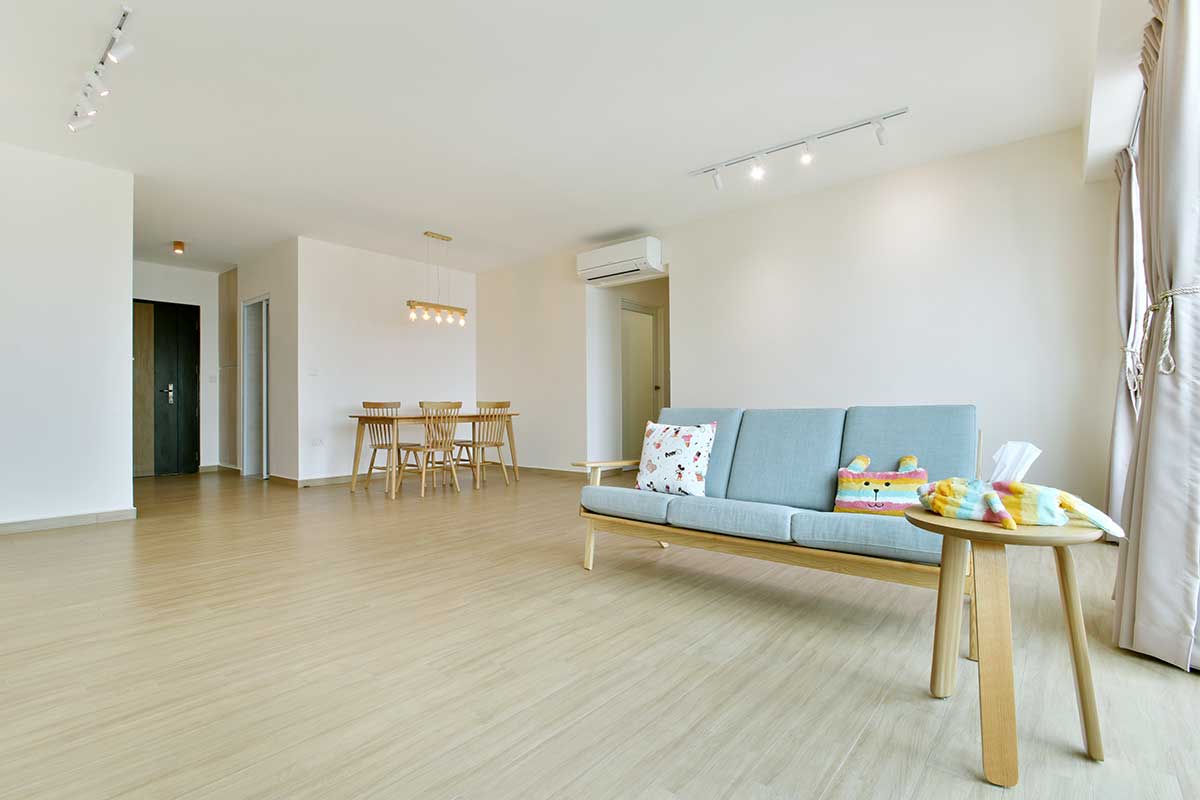 Compromising a modestly-sized living room and dining area, the home's communal spaces adopt some common cues of minimalist design with their uncluttered appearance and a simple textural palette. By keeping things fuss-free, the home is easily adaptable should the couple decide to expand their family in the future. Meanwhile, the choice of wood-effect homogeneous floor tiles adds a soft, natural touch to the otherwise pared-down space.
Living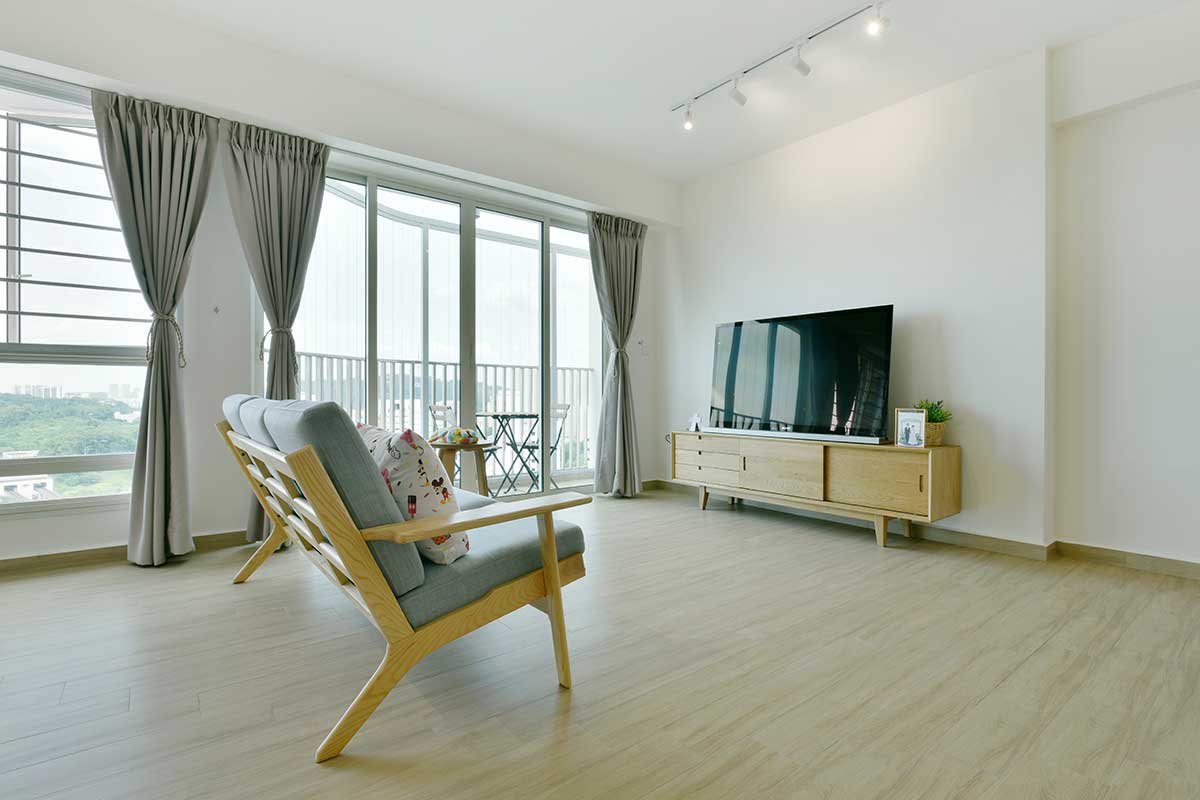 In the living room, whitewashed walls further enhance the home's airy atmosphere by visually amplifying the space. As a way of livening up the serene surroundings, several choice accessories were added to the room, in the form of a wooden TV console and coffee table that maintains a uniformed Scandi-inspired look, and blue-accented cushions that inject some much-needed colour into the space.
Kitchen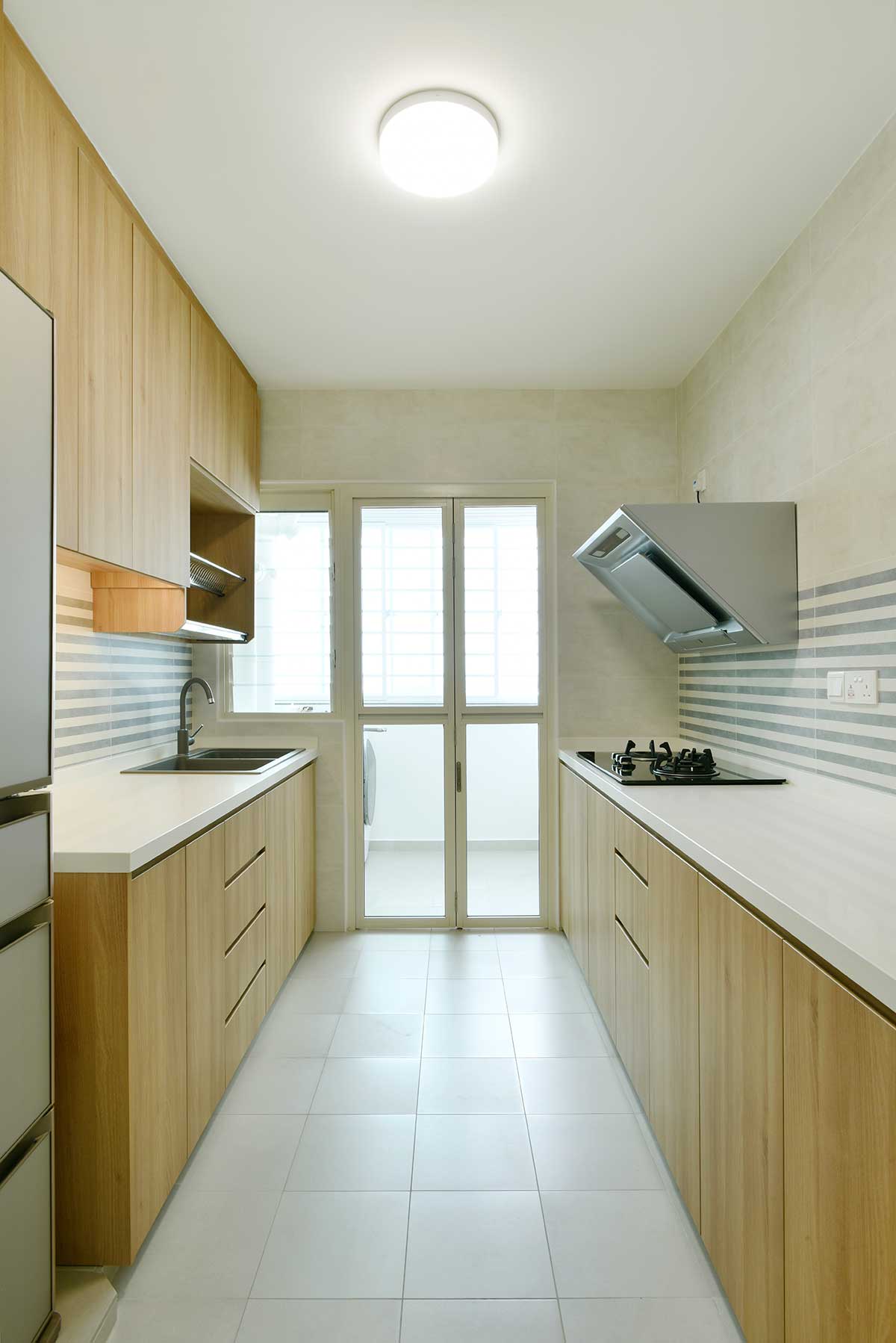 To optimise space usage, a galley- style layout was adopted in the kitchen. Lined on both sides by white quartz countertops and wood laminated cabinets, the cooking zone echoes the same muted colour scheme found in the adjacent communal areas. For the backsplash, off-white cement screed-effect tiles were used for added durability, with its striped pattern injecting an interesting visual element into the predominantly functional space.
Balcony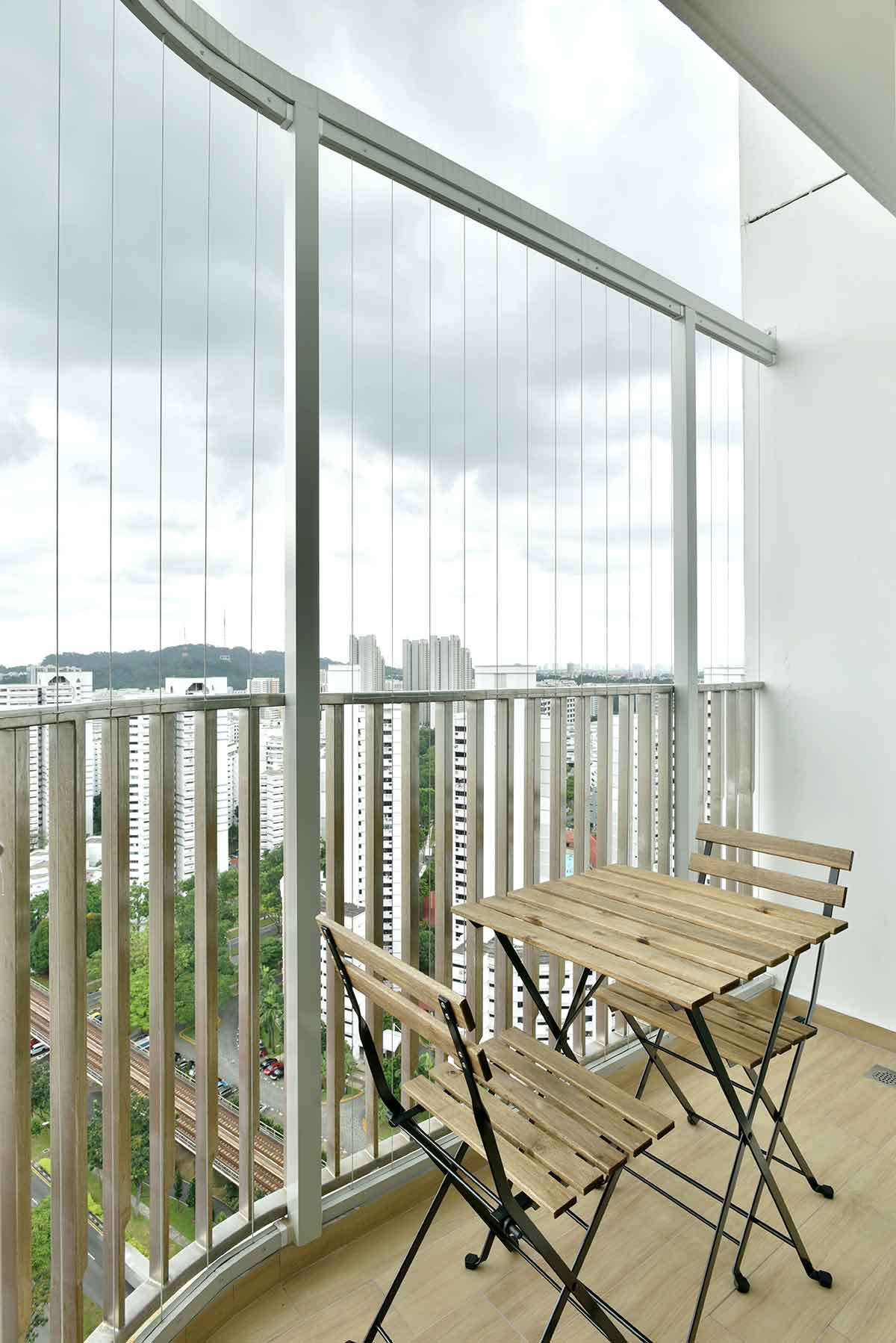 Organic surfaces make an appearance in the balcony, as seen through the casual setup of wood- accented slatted outdoor furniture that makes for a cosy alfresco dining area where the owners can escape the bustle of everyday life. Meanwhile, invisible grilles were installed to provide additional safety without blocking out the view.
Master bedroom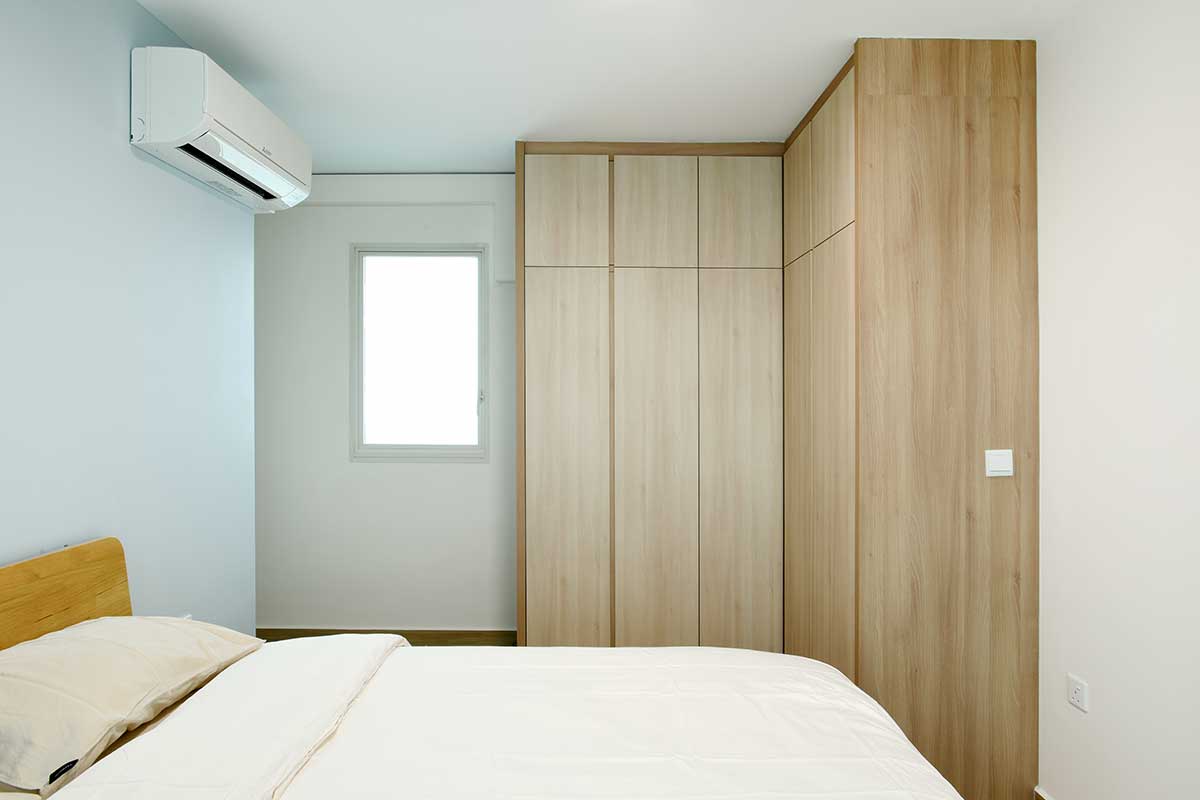 Not unlike the other spaces, the master bedroom features a bright and airy interior with a natural look. Concurrently, walls that have been painted over with a pastel blue hue contributes to a calming ambience perfect for daily rest. To fully maximise available wall space, an L-shaped wardrobe stands tall in the corner of the room, providing ample storage for the occupants' clothes and accessories without obstructing foot traffic.
Master en suite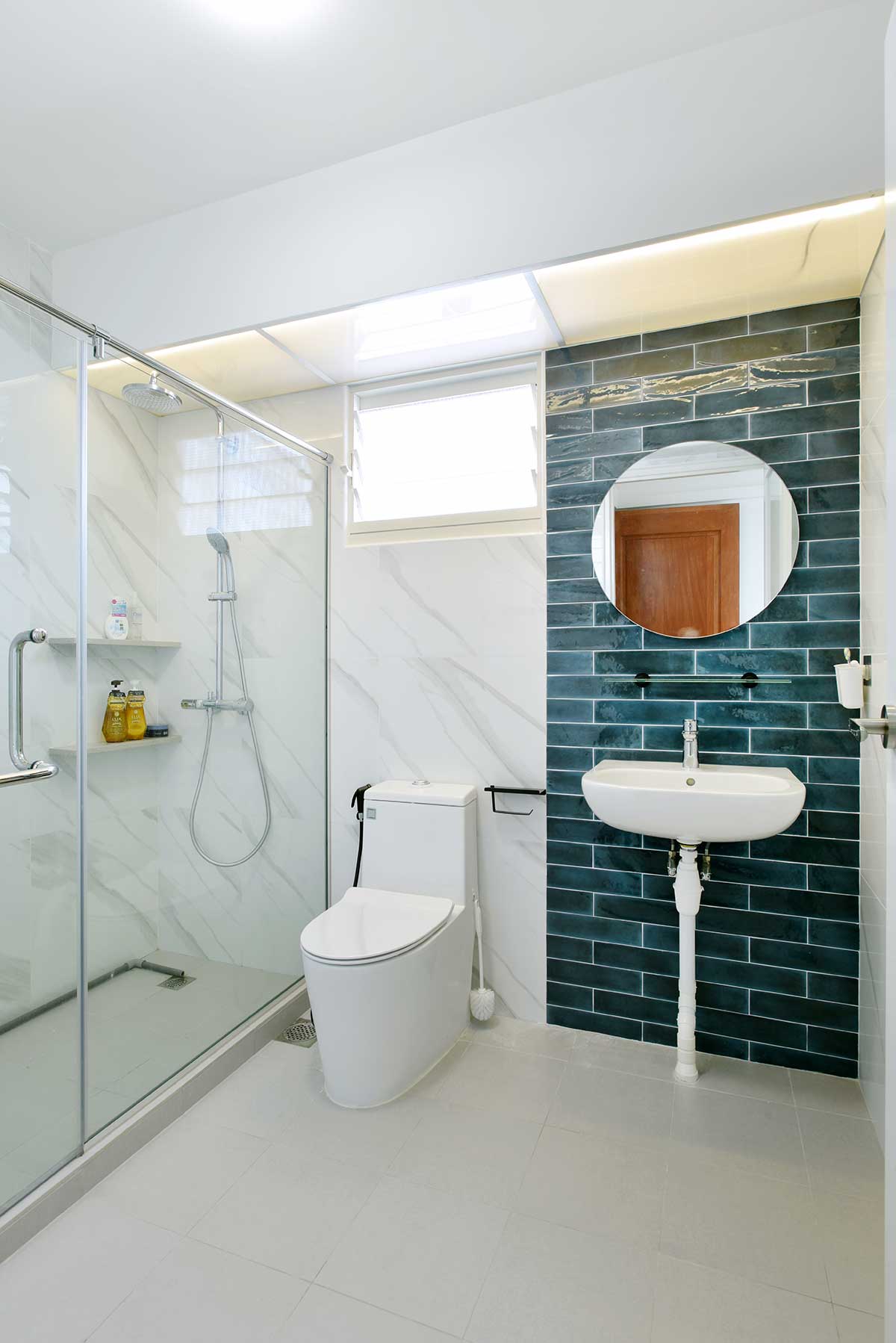 In contrast to the rest of the bathroom's surroundings, the vanity wall was laid over with subway tiles in a dark teal finish that stand out from its off-white ceramic counterparts. This contrast of surface materials also add a visual punch into the utilitarian zone. Meanwhile, thoughtful fittings like a glass swing door segregates the wet and dry areas, while a pair of ledges serve as a landing spot for shower essentials.
About ZLC
Focusing on residential upgrades and HDB renovations, ZLC believes in offering sincerity, honesty and quality assurance to its clientele. By building their reputation through the years, they have grown to become a trusted name for homeowners plus commercial and industrial customers alike. Armed with a team of trusted professionals, ZLC aims to provide top-notch personable service and quality workmanship for all customers.
Address
280 Woodlands Industrial Park E5, #04-23, Harvest@Woodlands, Singapore 757322
Tel: 6284 0118
Email: [email protected]
This post was adapted from an article originally published in IdealHomes Vol. 11.