What should you look for in a water heater? Effective heating, precise controls and stable, consistent water temperatures are just some of the essential features a great water heater should have. The most important one? Safety for the whole family.
Hailing from Allendorf in Germany, Viessmann water heaters are a testament to the company's expertise and heritage of over 100 years.
Passionate about creating living spaces for generations to come, Viessmann has fine-tuned the perfect balance between convenience and safety over the years.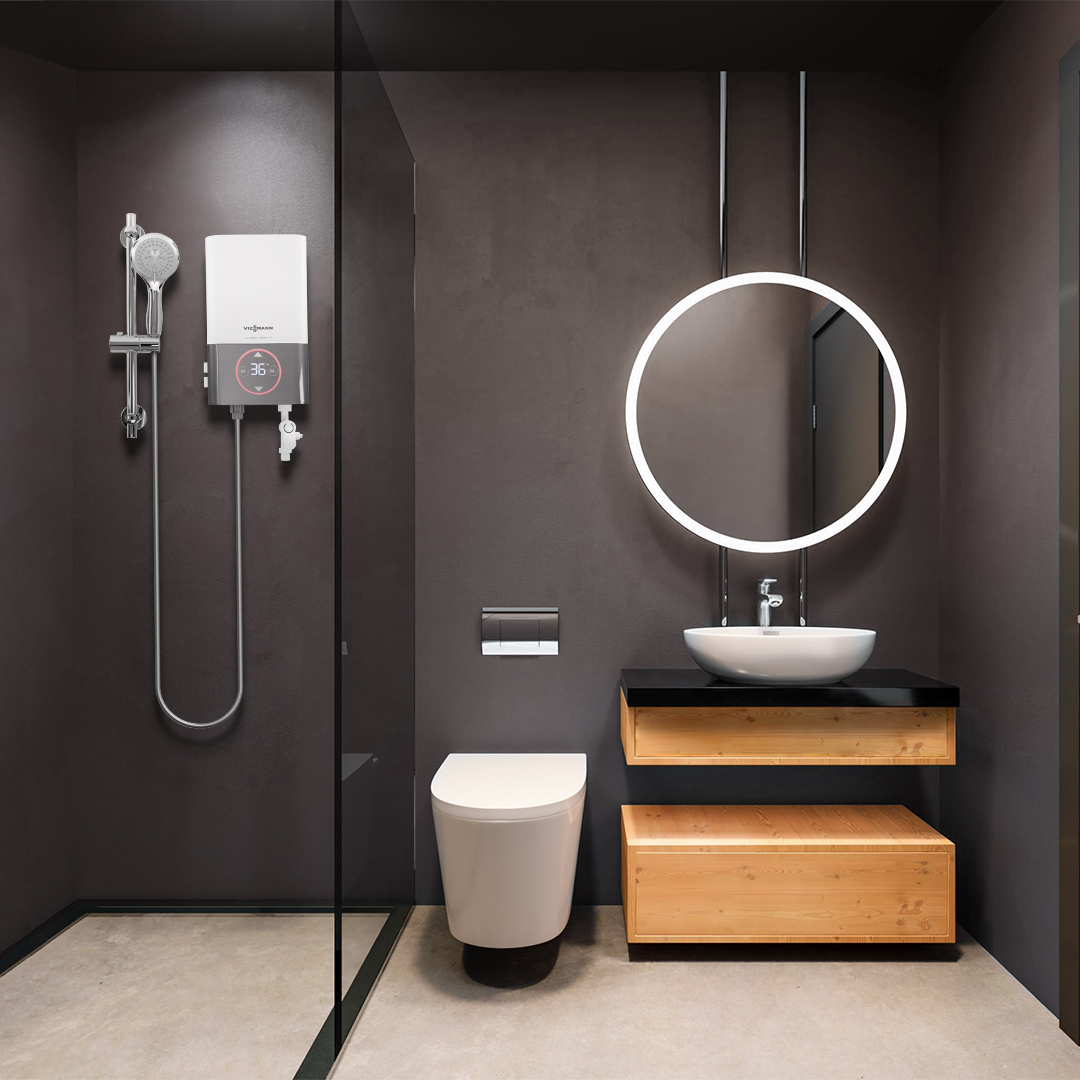 Their extensive research and development have paved the way for Viessmann Vitowell water heaters, a range that's defined by the best of German technology and elevates well-being and comfort in the bathroom, one shower at a time.
Pure, clean and consistently warm water meets unparalleled practicality as well as safe operation all around, so the whole family can shower with peace of mind.
Viessmann's range of technologically-advanced water heaters adheres to the strictest quality standards, offering high-level precision of the controls, as well as exceptional safety and durability.
The Viessmann Electric Instant Water Heaters and Electric Storage Water Heaters are available in Classic, Premium and Deluxe models with minimalistic designs that complement most bathroom aesthetics.
Vitowell easy Electric Instant Water Heaters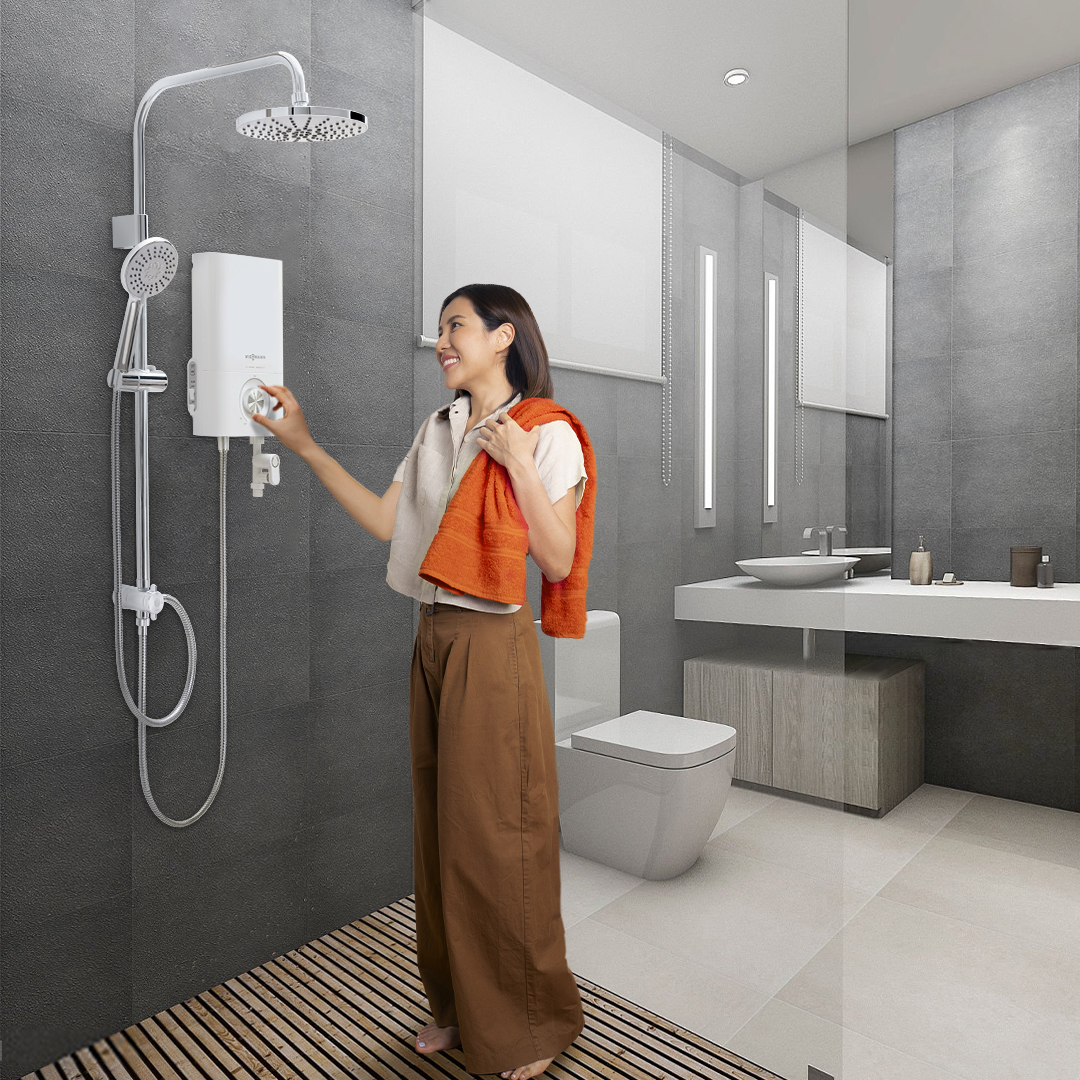 No more waiting for your water to heat up—with the Vitowell easy Electric Instant Water Heaters, you can enjoy warm water at the touch of a button, as well as a consistent water temperature throughout your shower.
Anti-scalding technology is a key feature for this range of water heaters, automatically shutting down the unit at 55 degrees Celsius.
The Vitowell easy Deluxe also comes with an electronic soft-touch display, which ensures maximum accuracy and visibility for your temperature settings.
Featuring a memory function that enables up to two preset water temperatures, the Vitowell easy Deluxe offers unrivalled convenience for the perfect shower experience.
Vitowell comfort Electric Storage Water Heaters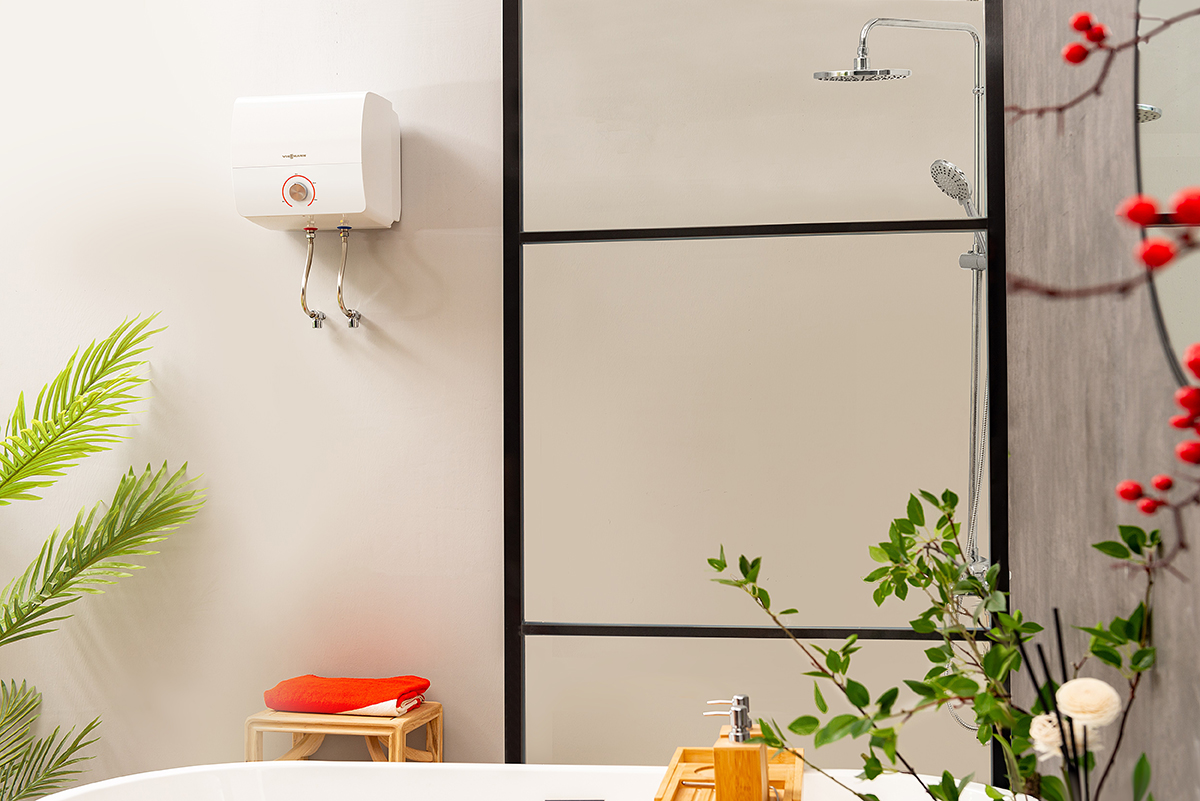 If you have massage jets or a rain shower in your bathroom, a storage water heater may be the ideal choice for your home!
The Vitowell comfort Electric Storage Water Heaters come in capacities of 15, 20 and 30 litres, depending on the size of your family and your shower habits.
Built on Ceratech Technology, they incorporate a protective enamel coating formula that keeps internal corrosion at bay and extends the durability of the water tank. The range also has an IPx4 rating to protect against water splashes from all directions.
The top-of-the-range Vitowell comfort Deluxe also offers exceptional convenience with its electronic timer mode that allows programming of up to two heater-activation periods.
With this mode, the unit automatically turns on at set times of the day to check the temperature of stored water and heat it to the desired temperature, if necessary.
All of Viessmann's electric storage water heaters are CE-marked, which means that they have been certified to meet the stringent safety, health and environmental protection requirements of the EU—a guarantee of a fantastic water heater for parents, kids and elders alike.
For more information, visit the Viessmann website or drop by their official stores on Lazada and Shopee.
Viessmann Singapore
25 International Business Park
German Centre #04-01/02
Singapore 609916
tel: 6970 8411
viessmann.sg
lazada.sg/shop/viessmann
shopee.sg/viessmannsg
This post was brought to you by Viessmann.